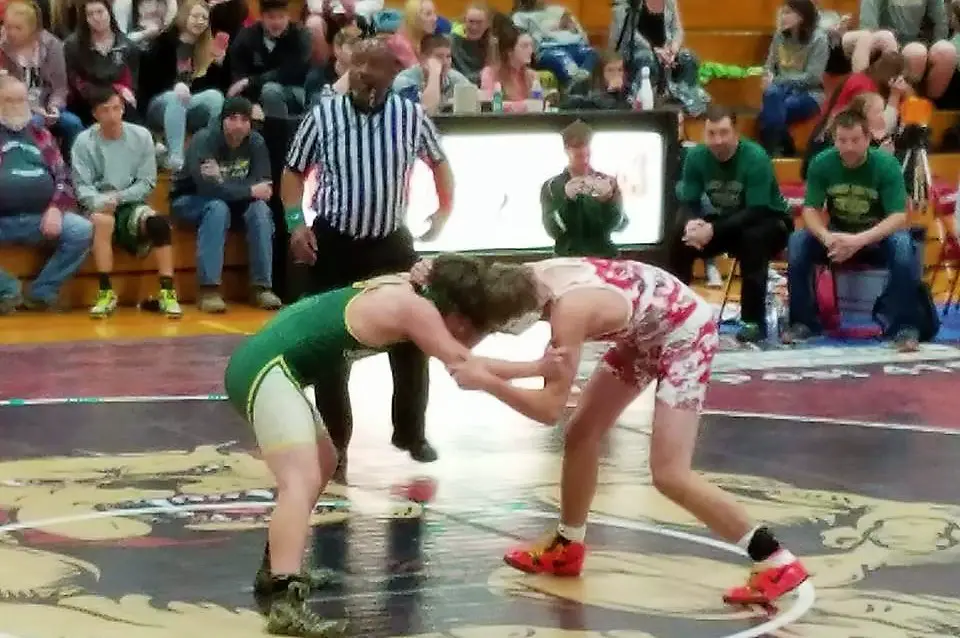 Dec. 30 wrestling results.
(Photo: Bryan Layton of Redbank Valley during the Redbank Valley Duals. Photo by Kim Constantino)
Brockway and Kane Perfect at Redbank Valley Duals
NEW BETHLEHEM, Pa. — Brockway and Kane, two of nine District 9 teams at Saturday's Redbank Valley Duals, finished with perfect 5-0 records in the 16-team event.
No team titles were awarded, so it was just a scheduled day of matches that also included host Redbank Valley (4-1), Clarion (4-1), Curwensville (3-2), Oswayo Valley (2-3), Smethport (2-3), Punxsutawney (1-4) and Keystone (0-5).
Brockway beat Mercer (45-22), Marion Center (57-24), Slippery Rock (41-36), Youngsville (66-9) and Punxsutawney (45-19). Kane topped Marion Center (51-27), Slippery Rock (48-24), Youngsville (58-15), Punxsutawney (64-18) and Keystone (66-9).
For complete results go www.trackwrestling.com at this link: http://www.trackwrestling.com/tw/seasons/MainFrame.jsp?TIM=1514693034991&twSessionId=ymjgvjbdqluxrpg&loadBalanced=true
Five District 9 Wrestlers Medal at Powerade Tournament
CANONSBURG, Pa. — District 9 had five wrestlers earn medals at Saturday's Powerade Tournament held at Canon McMillan High School.
Two of the three teams at the tourney from D9 — Brookville and DuBois — account for all five medals with the Raiders placing Colby Whitehill fourth at heavyweight, Tyler Cook fifth at 220 and Xavier Molnar sixth at 195.
For DuBois, Ed Scott and Kolby Ho were fourth at 126 and 145 respectively.
Brookville wound up 12th in the final team standings while DuBois finished 18th. Ridgway, the other D9 team invited, placed 47th in the 51-team event.
For complete results, go to: https://arena.flowrestling.org/event/a71e2126-d956-6909-61c0-800ab6738d0e