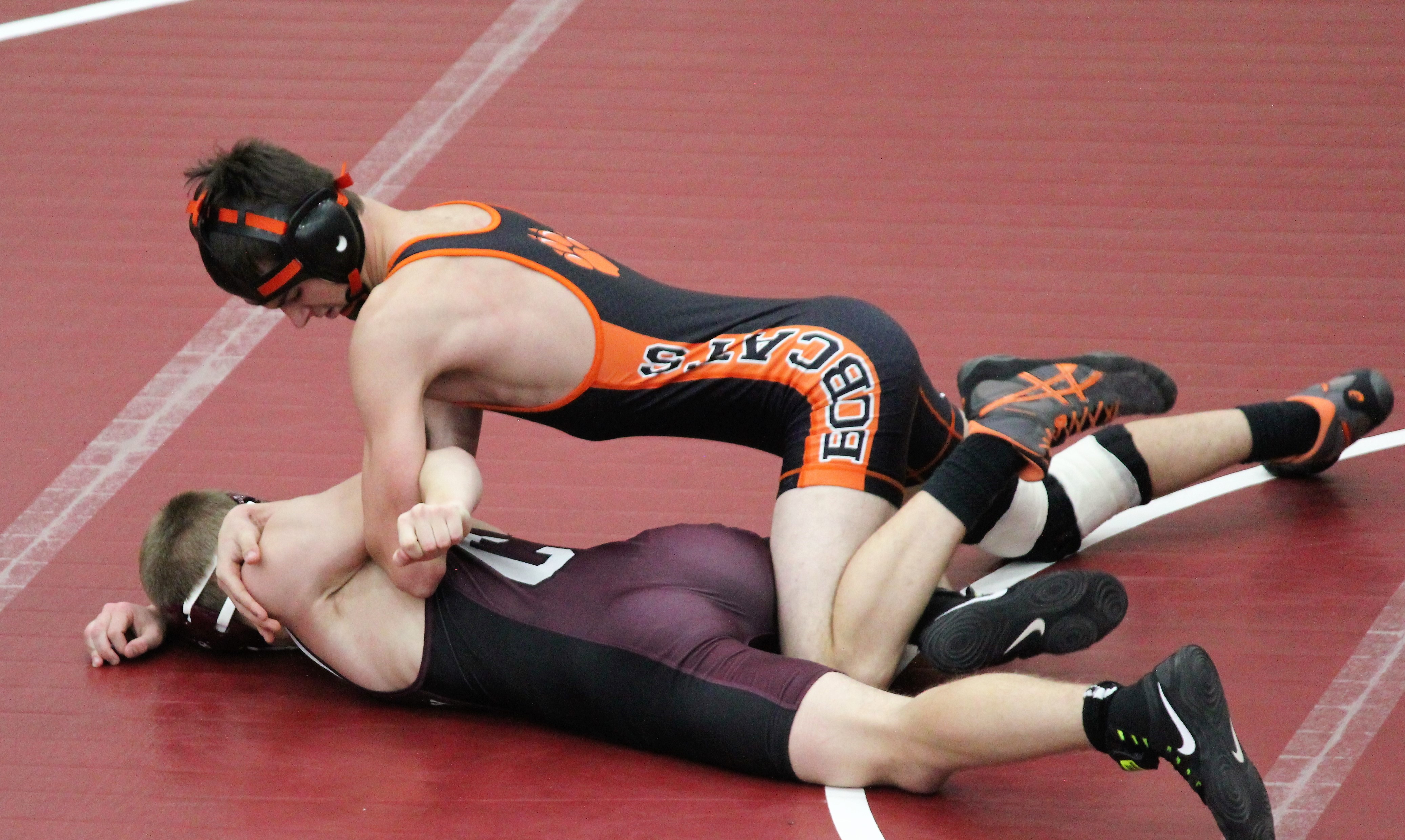 FALCONER, N.Y. – This past weekend three District 9 wrestling teams crossed the state's northern border to compete in New York.
(Photo of Clarion's Login Dehner, who won the Morales Tournament Title at 120 pounds over the weekend. Photo courtesy of Clarion Sportszone.com)
Kane and Clarion headed to Falconer, N.Y., to grapple in the Patrick J. Morales Tournament (Jan. 11-12) and Cameron County participated in the Franklinville (N.Y.) Wrestling Tournament (Jan. 12).

District 9 wrestling coverage on D9Sports.com is brought to you by Luton's Plumbing, Heating, and Air Conditioning.
At the Morales, Kane and Clarion each had an individual champion, while the Wolves also had three wrestlers take second and another two claim third. Three others were place winners. In addition to a titlist, the Bobcats had five individuals who staked out a place on one of the podium's lower steps.
Alec English of Kane reeled off three straight victories to win the crown at 160 pounds. He took a 17-4 major decision over Axel Andrews of Sweet Home (Amsterdam, N.Y.) and downed Cheektowaga's Austin Sliwinski 9-2 in the semifinals. In the finals, English, currently ranked fourth in the state by PA Power Wrestling (PAPW), took a 13-6 win against Alex Barnett of Eisenhower.
Clarion's Login Dehner won four matches to secure the 120-pound championship. He began by earning a 12-2 major decision against Daniel O'Brien of Jamestown and then collect a 4-2 victory over Chautauqua Lake's Hunter Harris. In the semifinals, Dehner squared off against Kane's Harley Morris, a rematch of a bout from the Thursday (Jan. 10) meeting between the Bobcats and Wolves. Like two days prior, Dehner prevailed in a close match, 4-2, to secure a spot in the finals. Dehner took a tight 13-12 decision against Luke Tomlinson of Maple Grove to win the tournament.
Relegated to the wrestlebacks after losing to Dehner, Morris (3-2) fell in the consolation semifinals before winning fifth place with an 11-1 major decision against Michael Karnes of Southwestern.
Kane 138 pounder, Noah Blankenship, reeled off three straight pins to reach the championship bout against Falconer's Jimmy Kramer. Victims in Blankenship's streak were Dylan Muntz of Randolph (0:52), Colin Tondreu of Sweet Home (1:23), and Jacob Bortz of Eisenhower (3:52). Blankenship fell to Kramer in the finals, 4-0, going home with second place.
Like his teammate, Aiden Hulings also went 3-1 winning all his bouts via pin and took second at 152 pounds for the Wolves. All of Hulings's pins came in the first period as he decked Chautauqua Lake's Zach Wolcott (1:44), Randolph's Luke Pagett (1:36), and Clarion's Cutter Boggess (1:46). Hulings, ranked sixth by PAPW, fell, 8-7, to Cattaraugus-Little Valley Central's Sam Grey in the finals.
Boggess (3-2), after losing to Hulings for the second time in three days, decisioned Nate Holt of Eisenhower 4-2 in the consolation semifinals before being pinned by Bryce Bagli of Falconer in the consolation finals (2:36). He wound up in fourth.
Cameron Whisner, wrestling at 170 pounds, was the third Kane wrestler to earn runner-up status.
Whisner took a 16-0 technical fall against Eisenhower's Ethan Chambers in the first round, pinned Corry's Dylan Gourley in the second period of their quarterfinal bout (2:18) and reached the finals with a 9-4 decision against Falconer's Brock Johnson. Kaleb Shank of Akron-Coventry stopped Whisner's run of good fortune with a pin in the second period of the finals (2:33).
Placing third for Kane with 4-1 records were 113 pounder Dillon Illerbrun and 285 pounder Ty Stahli. The Wolves' Alec Bechakas went 2-2 for fourth at 99 pounds (a weight wrestled in New York) and Dom Cartwright was sixth at 195-pounds with a 1-2 record.
Clarion 285 pounder Zack Kellerman (3-2) finished fourth, 182 pounder Cam Boggess (1-2) fifth, and 132-pounder Colton Zacherl and 160-pounder Donovan Edmonds sixth (both with 3-2 records).
Overall, Kane was third in the 16 team field, while Clarion took eighth.
At the Franklinville Tournament, Cameron County was 11th among the 13 teams competing.
Caleb Pifer was the highest placer for the Raiders winning third at 170 pounds with a 3-2 mark.
After being pinned by Portville's Jayden Lassiter in the quarterfinals (2:22), Pifer took three straight on the consolation side of the bracket.
He began by pinning Chris Bargy of Olean in the second period (2:15), after which he secured a major decision, 12-2, against Hunter Brandes of Wellsville and pinned another Portsville wrestler, Miska Young, in the consolation finals (1:40).
Lassiter, who defeated Pifer in the quarterfinals, went on to finish second.
Tim Hasselman posted a 2-2 record at 285 pounds, including one pin, for fourth place and Devin Geitner went 3-2, collecting two pins, to take fifth at 195 pounds.