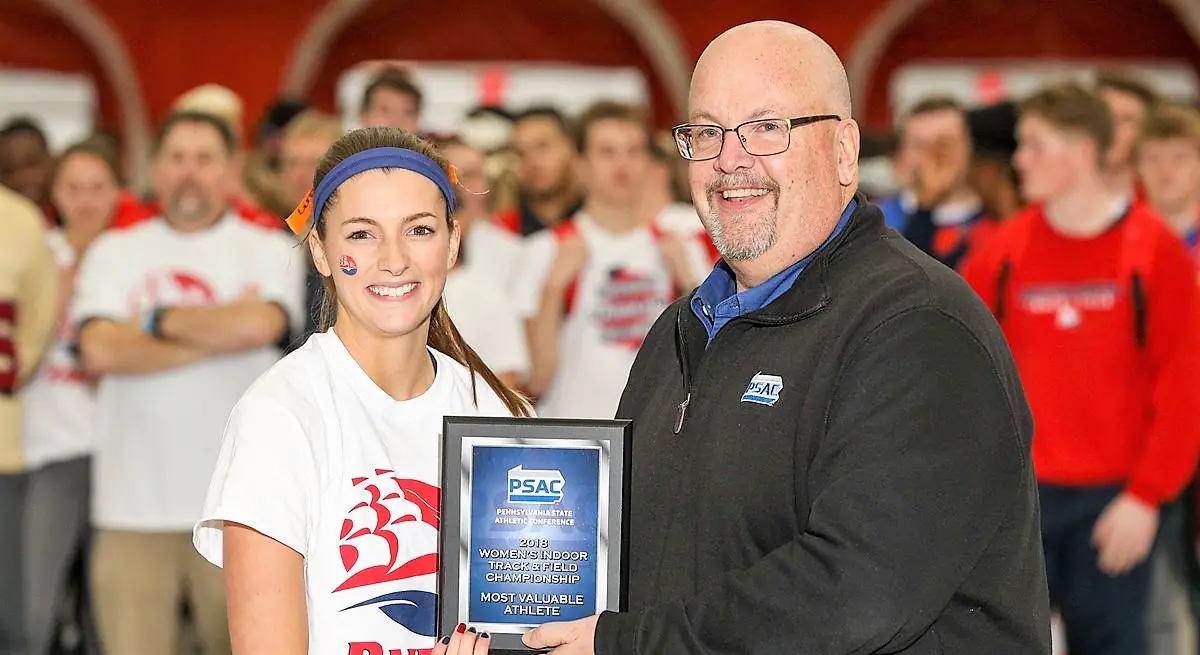 LOCK HAVEN, Pa. – Redshirt-senior Danielle Sciremammano of the Shippensburg University women's indoor track & field team and a DuBois High School graduate was named to the 2017-18 Pennsylvania State Athletic Conference (PSAC) Winter Top 10 squad as announced by the league office.
(Photo: Sciremaammano was named the PSAC Indoor Women's Track and Field MVP earlier this year. she was presented her plaque by PSAC Commissioner and Cameron County graduate Steve Murray. Photo courtesy of Shippensburg Athletics)
Sciremammano, an early childhood education and special education major, holds a cumulative grade-point average of 3.69. She is one of five selections from an incredibly talented group of nominees. The average combined cumulative GPA of the five Winter women's award winners is 3.85.
The other PSAC Winter Top 10 selections are Bloomsburg distance runner Hannah Boudreau, Seton Hill high jumper Kaitlyn Germanoski, California distance runner Summer Hill, and Gannon basketball player Maggie Mitchell.
Sciremammano is the 2018 U.S. Track and Field and Cross Country Coaches Association (USTFCCCA) Atlantic Region Women's Indoor Track Athlete of the Year and the 2018 PSAC Indoor Championships Most Valuable Athlete who broke the all-time PSAC indoor record in the 60-meter hurdles.
At this year's conference championships, Sciremammano ran 8.53 seconds in the 60-meter hurdle prelims to break the record for the first time. She then ran 8.47 seconds in the finals to win the conference title and break her own record set in the prelims. Sciremammano also won the PSAC title in the long jump with a top mark of 19 feet, 2 ½ inches.
At the NCAA Indoor Championships, Sciremammano earned All-America honors with an eighth-place finish – becoming SU's first-ever All-American in the event. She also finished 13th in the long jump. Sciremammano finished the indoor season with a pair of USTFCCCA All-Region honors for her season bests in both the 60-meter hurdles and the long jump (19 feet, 6 ¾ inches, recorded at Kutztown).
Sciremammano completed her PSAC indoor career as a four-time All-PSAC (Top 3) finisher in the 60-meter hurdles and a three-time place-winner in the long jump.
With the selections of Sciremammano and Alex Balla, Shippensburg maintains the lead among conference institutions with 65 all-time PSAC Top 10 recipients – the league honor was first awarded in the fall of 1997. It is the first PSAC Top 10 award for Sciremammano, making her the 39th Raider in school history to receive the award.
To be a candidate for the PSAC Top 10 Awards, a student-athlete must achieve a minimum of a 3.50 cumulative grade point average (GPA) and be a starter or key reserve with legitimate athletic credentials. A total of five men and five women are selected as award winners after each of the three competitive seasons (Fall, Winter, Spring).