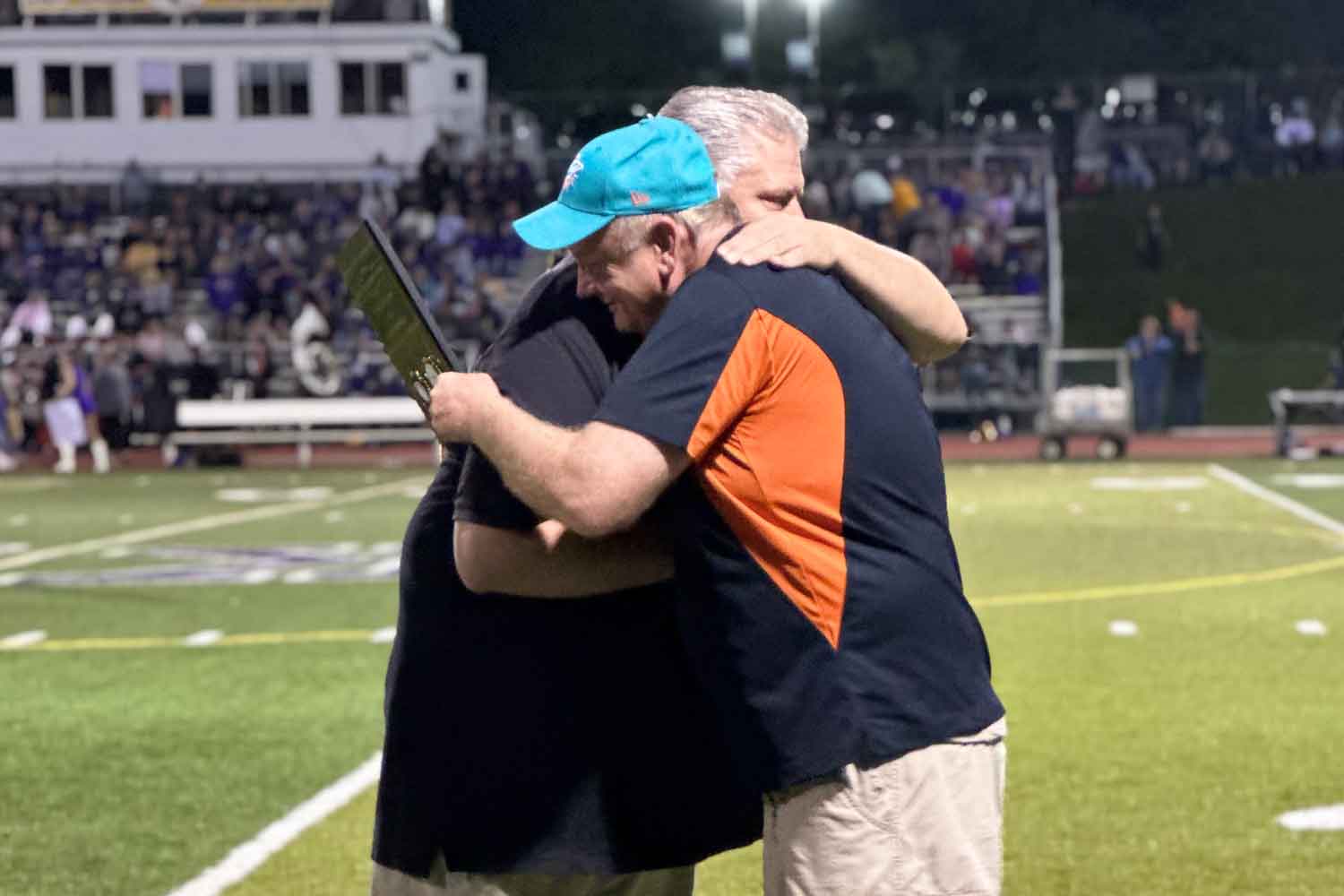 CLARION, Pa. (EYT/D9) — When Mike Kalinowski was a kid in the late 1970s, he could often be found throwing a ball off the roof of his grandmother's barn.
(PHOTO ABOVE: Mike Kalinowski (left) congratulates Bob Dunkle who was recently presented a plaque recognizing his 36 years of broadcasting high school sports.)
While most his age pretended to be ballplayers — guys like Willie Stargell, Dave Parker and Phil Garner — Kalinowski pretended to be Lanny Frattare.
"I would always listen to the Pirates on the radio and Lanny had become their voice," Kalinowski said. "And he was really, really good."
One day when Kalinowski was announcing his exploits while throwing a ball off of that barn roof and catching it, his grandmother yelled out the window.
"Michael, you want to do that someday for a living?" she bellowed. "You're really good at it."
At the time, Kalinowski shrugged it off.
"I was like, 'OK. Whatever,'" he said.
Turns out his grandmother saw into the future.
Kalinowski had always had a love for broadcasting and pursued his passion for it.
"It was just one of those things that I always wanted to be on the radio," Kalinowski said. "Mom got me a Mr. Microphone — probably the biggest mistake she ever made. It kind of gets into your blood and you just can't get rid of it."
Kalinowski has had that announcer blood coursing through his veins for more than three decades. His voice can still be heard broadcasting football, basketball and volleyball for the EYT Media Network.
He teamed with longtime partner Bob Dunkle, who recently retired, for many of those years.
"We were in college together (at Clarion University)," Kalinowski said. "And when we started broadcasting, I was actually doing Clarion University football and Bob and Pat Kahle were doing high school football."
Kalinowski and Dunkle formed a formidable broadcasting team.
The secret of their success was friendship beyond the booth.
"After so many years, you kind of get a feel for that person," Kalinowski said. "It's almost like a flow you get into. We always knew what each other was going to say before we even said it, so it was really easy. We have so many common experiences, and we're able to talk about those things. Sometimes they're sports related. Sometimes they're not."
"It's more than being a broadcast partner," Dunkle said. "We've vacationed together. We've been a part of each other's lives personally. That's one of my big struggles as I go south. I'm not going to be around for a significant amount of time. Normally he's either a phone call or a half-hour away. We've been a part of each other's lives for a long time."
That close relationship showed in the booth on their broadcasts.
They received a great deal of positive feedback over the years.
"It's very, very nice," Kalinowski said. "It does make you feel good. It makes you feel like you're doing something right."
Kalinowski and Dunkle take a lot of pride in their work.
"Bob and I, we don't puff out our chests. We don't see any value in that," Kalinowski said. "It's really just been about quality broadcasts for the kids. It's about doing something special for the kids. And I think we've managed that."
Kalinowski now has a new partner — Dave Katis.
The two have worked together before on Clarion University football games.

(Dave Katis and Mike Kalinowski during a Clarion University football broadcast.)
Their first high school football broadcast together was on Friday at Brookville. The duo didn't miss a beat.
Kalinowski said he was concerned at first about the new dynamic. Those fears quickly waned.
Dunkle, watching and listening from afar, concurred. He said it sounded like they had been together for years.
Kalinowski, who has been a high school English teacher for 27 years — the first five at Clarion-Limestone and the last 22 at Commodore Perry — has also done work for several broadcast outlets over the years, from Clarion to Charleroi to Brookville and even in Pittsburgh, where he did voice work for WDVE.
His partnership with Dunkle is certainly one of his most cherished gigs.
"Honestly, it's hard to believe it's been so many years," Kalinowski said. "It seems like yesterday we started."