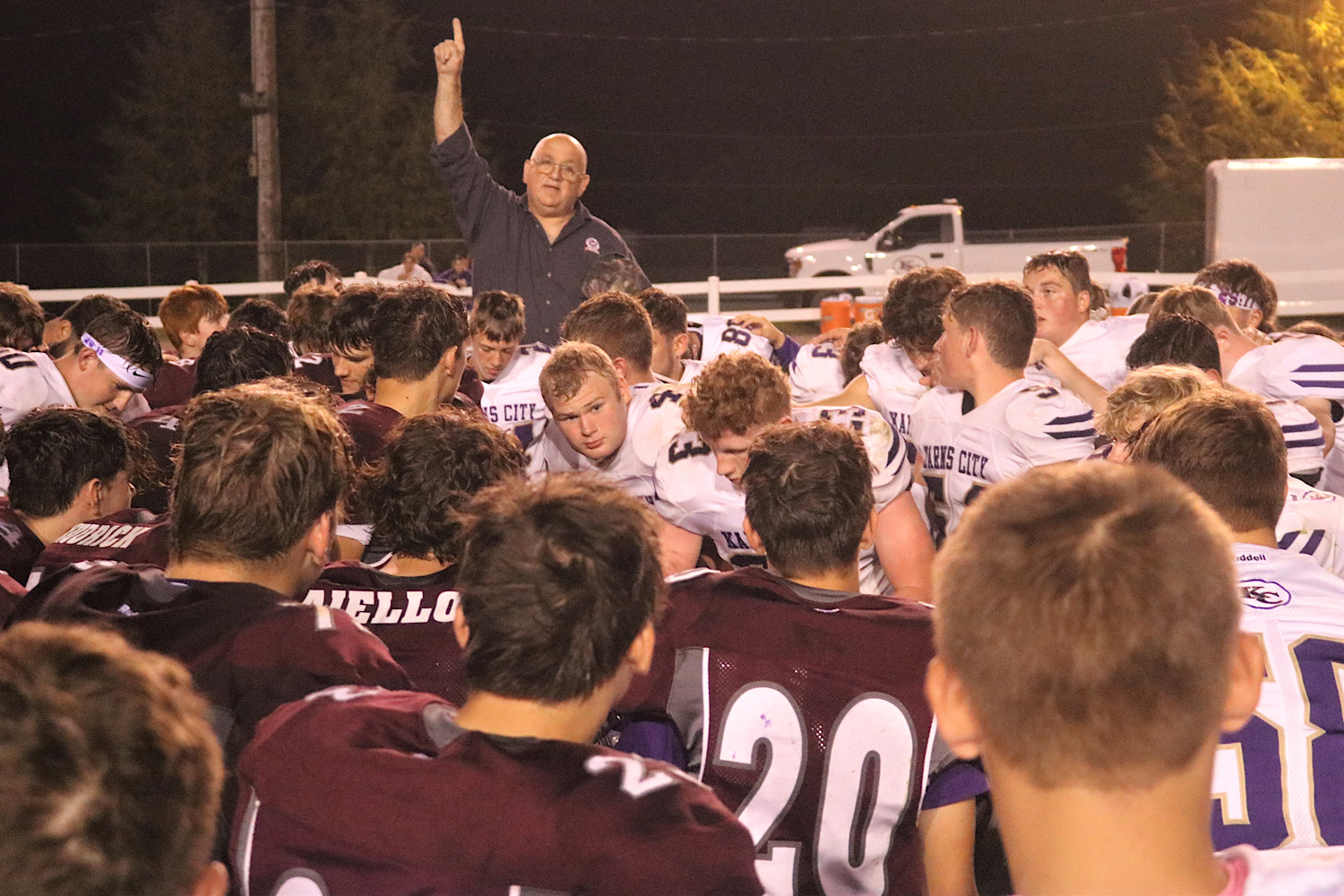 RIDGWAY, Pa. (EYT/D9) — As the teams huddled in prayer after the game, there was no shortage of tears.
What happened during the game was largely moot.
Sure Karns City, playing for the first time since senior quarterback and safety Mason Martin suffered a life-threatening brain injury last week, won the game 35-14.
That's not what was on everyone's mind.
Martin was foremost in thoughts as he continues to fight for his life in a Pittsburgh hospital.
(Pictured above, both the Karns City and Ridgway football teams gathered for a prayer for Mason Martin after the game/photos by Bob Parana of the Ridgway Record)
"It was an emotional week for our whole team," said Karns City coach Joe Sherwin, trying in vain to hold back tears. "I was just proud of the way guys played. Whether we won our lost didn't really matter. Obviously, you want to win the game, but just being out here and representing our team and Mason's family and Mason himself — I told the guys I couldn't be prouder of them."
As if on cue, Hunter Scherer took the opening kickoff 80 yards for a touchdown for Karns City.
A script writer couldn't have penned something better.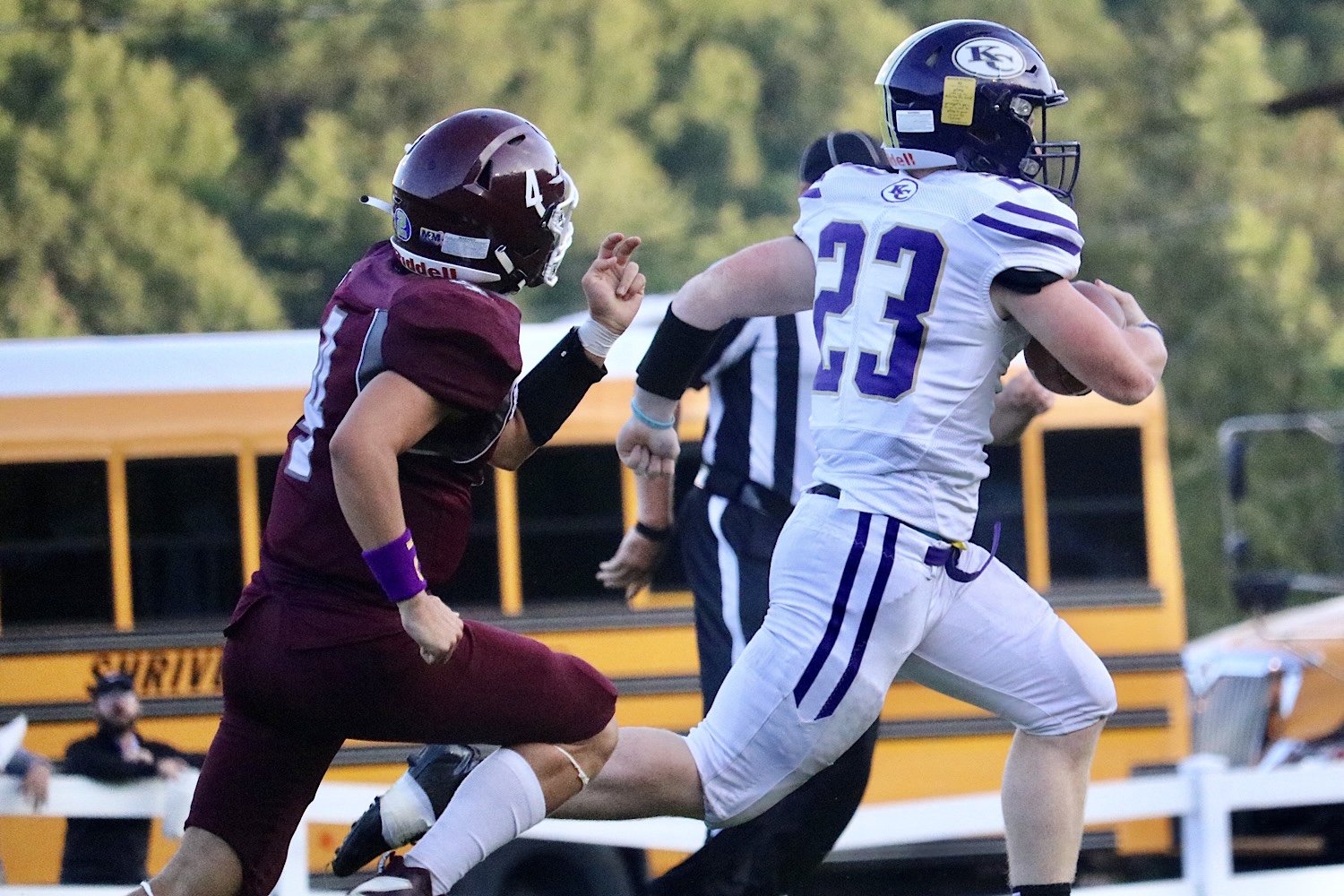 "Yeah, that was sweet," Sherwin said. "It couldn't start out in a better way for us."
Ridgway coach Mark Heindl said it was a tough for both schools playing with so much emotion and thoughts weighing on their minds.
The bleachers were awash in purple on both the home and visitor sides. Rigway encouraged fans to add a touch of purple to their maroon and white to honor Martin.
"Any way you shake it, tonight was about Mason and his family and to see the outpouring tonight of purple, to me that says something," Heindl said. "It's beyond playing a game. It's beyond what's on the scoreboard. It's life lessons. And I think both teams, both communities, took a lot tonight."
On the field, Karns City played like, well, Karns City.
Between the lines, the churned out yardage on the ground, rushing for 206 yards as a team.
Scherer led the way with 92 yards on 12 carries. Zach Kelly added 42 yards on just three carries, including a 29-yard TD run, and Owen Heginbotham also rushed for 42 yards, adding a 10-yard score.
Luke Cramer also scored a rushing TD from 13 yards out just before the half to give the Gremlins a 20-7 lead at the break.
Freshman Cole Johnston threw for 79 yards and hooked up with Shane Peters for a 35-yard score to give the Gremlins the lead for good at 12-7.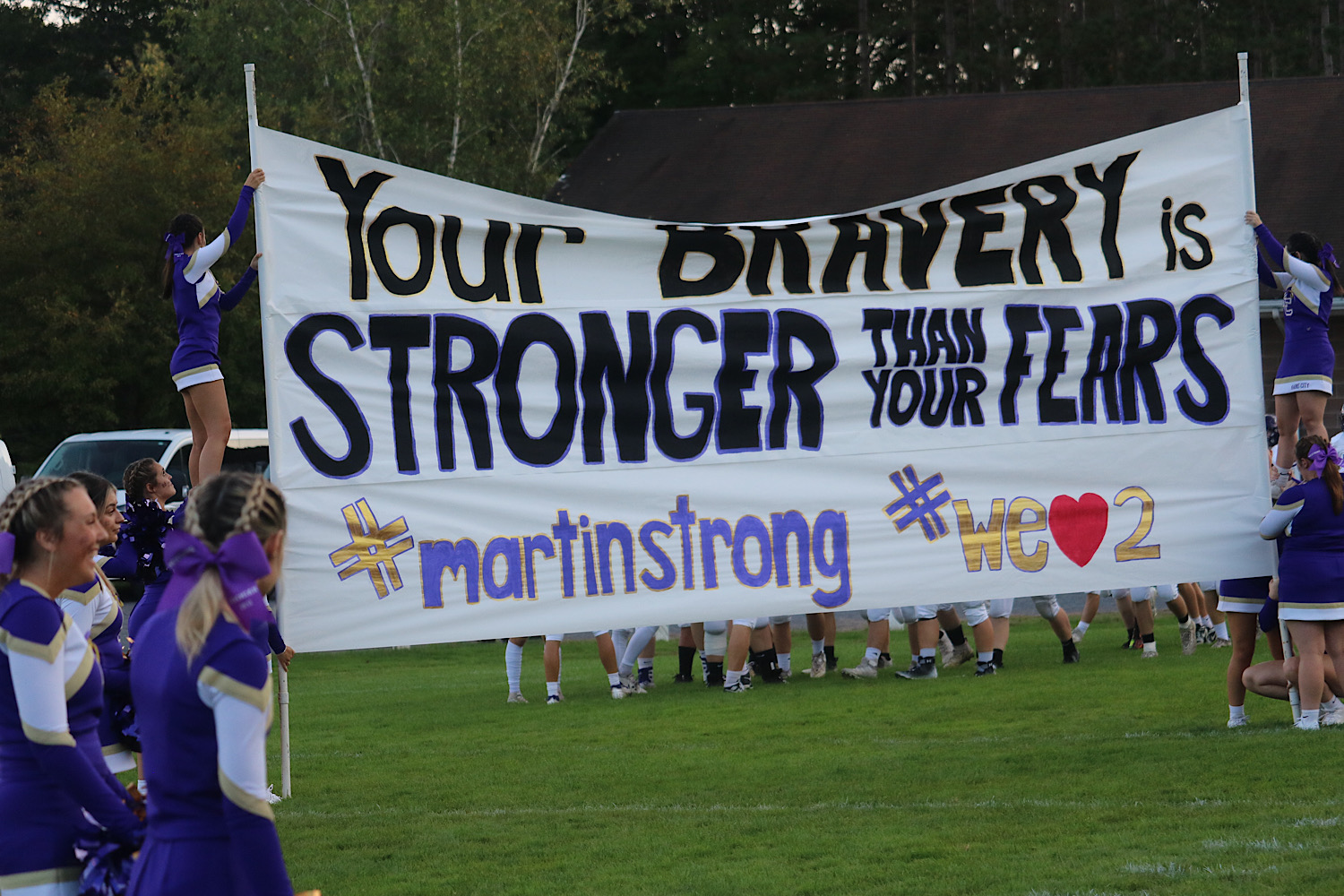 (Hunter Scherer takes the opening kickoff 80 yards for a touchdown for Karns City)
"It was a tough game. A tough battle," Sherwin said. "We have a lot of young guys out there. The quarterback's a freshman. Get one game under his belt and hopefully he'll improve as the season goes on. I told the guys it was nice, but keep it rolling."
Karns City will now try to find some semblance of normalcy — an impossible task given Martin's condition, which is still critical.
"Hopefully this next week … we can get back to just playing football and enjoying it and having some fun," Sherwin said.
Bob Parana of the Ridgway Record contributed to this story