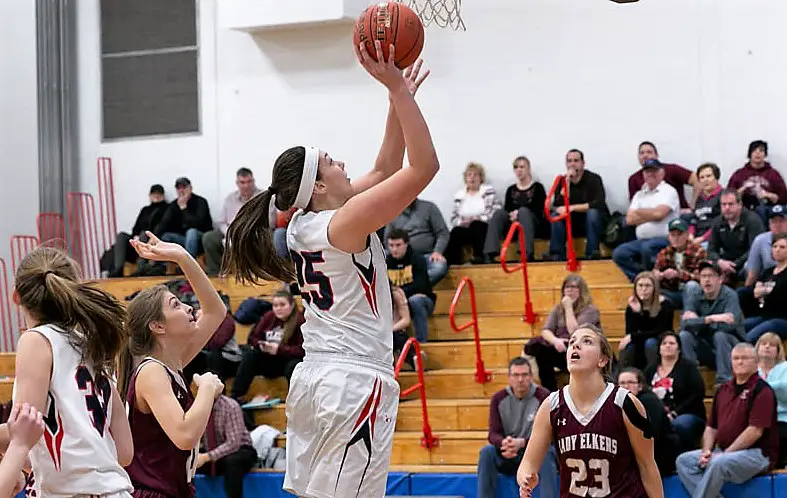 Feb. 11 girls' basketball recaps.
(Photo: Kane's Ella Marconi scored two of her 23 points Monday night as Ridgway's Gaby Rohr looks on. Photo by Tessa Boschert. Check out more of Boschert's work here)
KANE 66, RIDGWAY 37
KANE, Pa. – Ella Marconi led a foursome of Kane players in double digits with 23 points, as the Lady Wolves defeated visiting Ridgway, 66-37, in AML action.
Hannah Buhl added 12 points for Kane with Sarri Swanson scoring 11 and Hannah Brown 10.
Marconi finished off a double-double with 11 rebounds and also blocked six shots. Buhl dished out eight assists and Brown came away with four steals.
Gaby Rohr had a team-high 18 points to go with four steals for Ridgway. Alyssa Kasmierski added 11 points, seven rebounds and four assists.
JOHNSONBURG 48, PORT ALLEGANY 21
JOHNSONBURG, Pa. – Holding visiting Port Allegany to single digits in the first half, Johnsonburg rolled to a 48-21 win over the Lady Gators.
The Ramettes led 24-9 at halftime thanks to 12 points from Maria Jones, who finished with a game-high 16 tallies. Cassidy King added 15 points, Lindsey Kocjancic chipped in eight points and Rylee Casilio contributed seven tallies for Johnsonburg.
Bree Garzel paced Port Allegany with six points with Cierra Lannager adding two points, six rebounds and three blocked shots and Cailey Barnett four points, five rebounds and three steals.
ST. MARYS 65, SMETHPORT 14
SMETHPORT, Pa. – Led by 15 points from Kyla Johnson, nine different St. Marys players scored in a 65-14 road win for the Lady Dutch at Smethport.
Megan Quesenberry added 13 tallies for St. Marys with Maria Chiappelli and Lauren Eckert each adding nine points.
Erin Herzog had a team-high nine points for Smethport.
PUNXSUTAWNEY 61, HOMER-CENTER 31
PUNXSUTAWNEY, Pa. – Punxsutawney overcame a slow start to knock off visiting Homer-Center, 61-31.
The teams were tied at six at the end of the first quarter before the Lady Chucks took a 24-12 halftime lead and then outscored the Lady Wildcats 20-7 in the third quarter.
Kate Horner had a game-high 16 points while adding four steals, two rebounds and two assists for Punxsutawney with Abby Gigliotti adding 14 points, eight rebound and two steals and Riley Presloud 13 points, four rebounds and two steals.
Marlee Kochman paced Homer-Center with 15 points.
CLARION 48, BROCKWAY 36
CLARION, Pa. – KK Girvan led a balanced Clarion attack with 14 points, as the Lady Cats knocked off visiting Brockway, 48-36.
Kait Constantino and Wendy Beveridge each added 13 points for Clarion.
Danielle Wood paced Brockway with 16 points. Selena Buttery added six points and 13 rebounds and Morgan Lindemuth had eight points.
KARNS CITY 47, LEECHBURG 25
KARNS CITY, Pa. – Emma Johns and Alyssa Stitt each scored 12 points to help Karns City to a 47-25 win over visiting Leechburg.
Madeline Staavi added eight points and Lizzy DeRose six for the Lady Gremlins. Staavi is a foreign exchange student from Norway who had never played basketball until this season and got her first start in this game.
Aubry Skeel paced Leechburg with 12 points.
OSWAYO VALLEY 48, BOLIVAR-RICHBURG 45
SHINGLEHOUSE, Pa. – Karina West and Mackenzie Gross combined for 34 points to help Oswayo Valley knock off visiting Bolivar-Richburg, 48-45.
West had a game-high 19 points for the Green Wave with Gross adding 15.
Sydney Root paced Bolivar-Richburg with 13 points with Aliyah Cole adding 11.
A-C VALLEY 51, DUBOIS CENTRAL CATHOLIC 35
DUBOIS, Pa. – Behind 19 points from Olivia Boocks, visiting A-C Valley beat DuBois Central Catholic, 51-35.
Cami McNany added 11 points for the Lady Falcons with Andrea Meals chipping in 10 tallies and Kylee Eaton nine.
Ashley Wruble and Jordy Kosko each scored eight points for DCC.
BROOKVILLE 57, REDBANK VALLEY 35
BROOKVILLE, Pa. – Using a 19-0 run to start the game, Brookville rolled past visiting Redbank Valley, 57-35.
Morgan and Madison Johnson combined for 32 points and eight steals for the Lady Raiders, who led 17-0 after on quarter, with Mogan netting a team-high 17 points to go with four steals and three assists. Madison chipped in 15 points and four steals.
Marcy Schindler also reached double digits for Brookville with 10 points while Lexis Hatzinikolas had four points and nine rebounds.
Tara Hinderliter had a game-high 21 points for Redbank Valley.
MONITEAU 46, NORTH CLARION 39
WEST SUNBURY, Pa. – Riding a strong second quarter, Moniteau continued its late-season surge with a 46-39 win over visiting North Clarion.
The Lady Warriors trailed 9-3 after one quarter but outscored the She-Wolves 16-4 in the second quarter to take a 19-13 halftime lead that they expanded to 29-22 after three quarters of play.
Aslyn Pry scored eight of her game-high 16 points in the second quarter. She also added eight rebounds and four blocked shots for Moniteau.
Kristin Auvil chipped in 13 points and Andie Arblaster had 10 points and eight boards for the Lady Warriors, who have won five of six.
Mackenzie Bauer led North Clarion with 12 points with Gabby Schamder, Abby Gatesman and Haley Sherman each scoring eight.