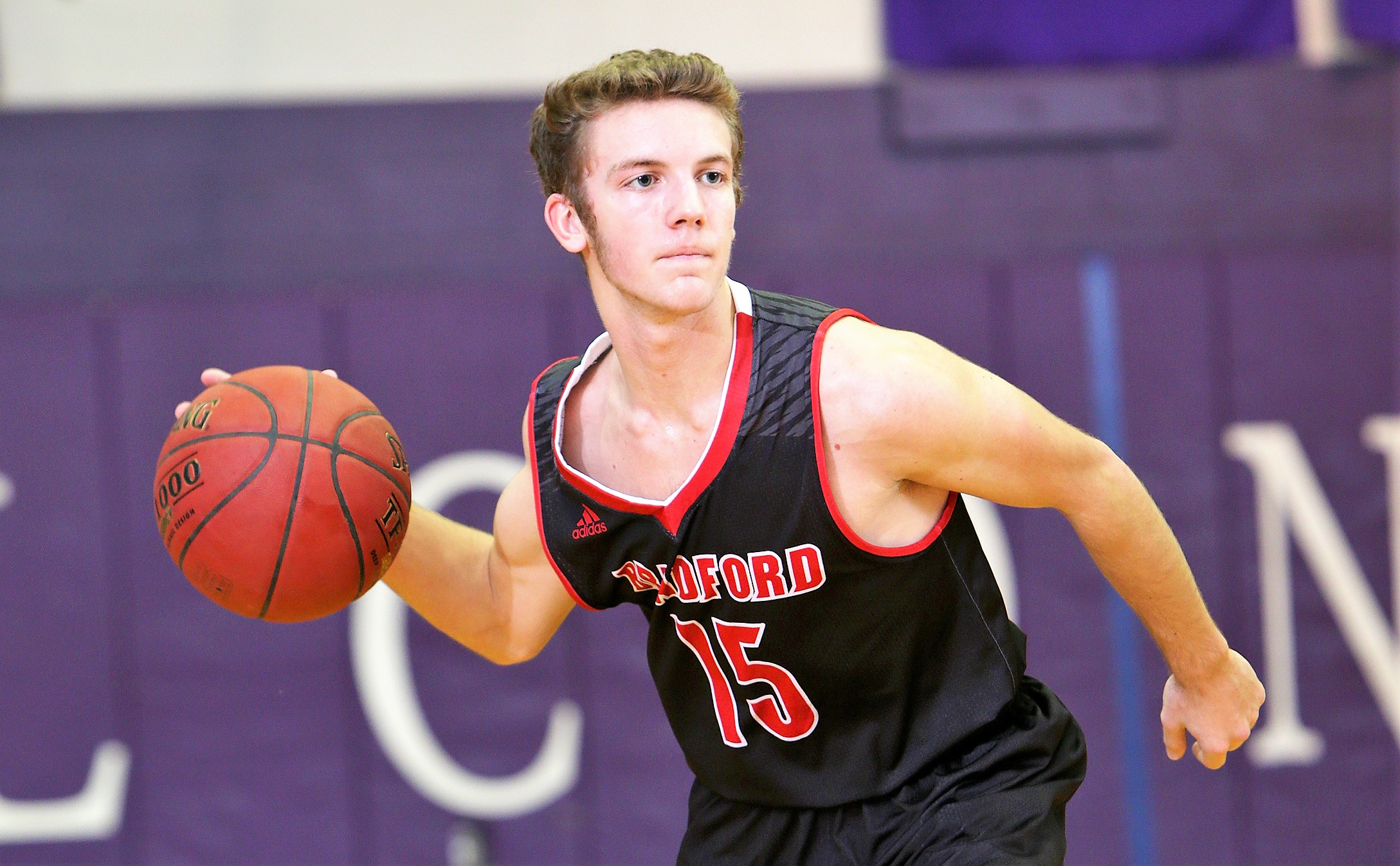 Feb. 13 recaps.
(Photo of Bradford's Tyler Gigliotti. Photo by Paul Burdick. Check out more of Burdick's work here)
BRADFORD 56, ELK COUNTY CATHOLIC 54
ST. MARYS, Pa. – Behind a game-high 24 points and eight rebounds from Tyler Gigliotti visiting Bradford kept its hopes alive for a share of the D9 League title with a 56-54 win at Elk County Catholic.
The Owls (12-8 overall, 7-2 D9 League) can clinch a share of the league title with a win over visiting Punxsutawney Friday night. A loss by Bradford to the Chucks would give ECC (18-4, 8-2), which has already clinched a share of the league crown, the title outright.
But ECC's loss does push the Crusaders to the No. 2 seed in the District 9 Class 1A playoffs behind North Clarion (19-3), which secured the No. 1 seed by beating Keystone, 60-51, Tuesday night.
It was also ECC's second straight D9 League loss after winning 53 league games in a row and marks the first time the Crusaders have lost back-to-back games since they fell to Bradford (42-39) and Johnsonburg (60-37) in back-to-back contests during the 2012-13 season.
Deondre Terwilliger added 11 points, six rebounds and five assists for Bradford with Donny Pattison chipping in eight points.
Logan Hoffman's 12 points led ECC with Ryan Newton scoring 11, Alec Wheeler 10 and Leo Gregory and Alex Breindel nine each.
With Bradford leading 56-53 with four second left, Newton tried to tie the game with a three from the corner, but the shot was short. ECC did get the rebound, and the Owls fouled with 0.7 seconds left. The Crusaders made the first free throw then missed the second on purpose, but Terwilliger secured the rebound to clinch the win.
NORTH CLARION 60, KEYSTONE 51
FRILLS CORNERS, Pa. – Nathan Banner netted a game-high 18 points and added eight rebounds to help North Clarion secure the top seed in the District 9 Class 1A playoffs with a 60-51 win over visiting Keystone.
Senior Noah Meyers added a career-high 11 points on Senior Night for North Clarion while Logan Minich chipped in nine tallies
Nate Wingard paced Keystone with 16 points with Corey Rapp adding 12 and Brooks LaVan and Dalton Jones eight each.
The Wolves second win over the Panthers in five days coupled with Elk County Catholic's 56-54 loss to Bradford gives the top seed to the 19-3 Wolves, who finished a game better than ECC (18-4) in the regular season.
Keystone, meanwhile, fell to 16-6 overall and failed to secure the No. 3 seed in the Class 2A bracket. The Panthers are now tied with Clarion (16-6) in the fourth position a half game back of Clarion-Limestone (16-5), who closes out the regular season at Karns City Wednesday. A Lions win would give C-L the third seed, Keystone the fourth and Clarion the fifth (Keystone and Clarion split a pair of meetings this season but Keystone is 15-5 vs. District 9 teams for a .750 winning percentage while Clarion is 15-6 for a .714 winning percentage, which is the next tiebreaker). If C-L loses to Karns City leaving all three teams at 16-6 it isn't 100 percent certain how the tiebreaker would work. C-L lost to Keystone but beat Clarion twice. That might keep head-to-head out of the equation taking it to winning percentage vs. District 9 opponents. If that is the case, then Keystone would be the third seed followed by C-L (14-5, .736 vs. D9 opponents) and then Clarion. Of course, all of those calculations are unofficial.
RIDGWAY 75, SHEFFIELD 20
RIDGWAY, Pa. – Ridgway completed a perfect 22-0 regular season by rolling past visiting Sheffield, 75-20 in AML action.
Andy Breier and Josh Thorwart each scored 17 points for Ridgway, which led 33-11 at halftime before outscoring the Wolverines 42-9 in the second half including 25-2 in the fourth quarter.
Johnny Mitchell chipped in 13 points and Neil MacDonald 12.
Cale Albaugh led Sheffield with nine points.
OTTO-ELDRED 66, NORTHERN POTTER 24
ULYSSES, Pa. – Sawyer Drummond and Jordan Sherwood combined to score 22 points as 12 different Otto-Eldred players scored in a 66-24 North Tier League road win over Northern Potter.
Drummond led the Terrors with 12 points with Sherwood adding 10.
Holden Cowburn paced Northern Potter with 11 tallies.
KANE 66, CRANBERRY 39
SENECA, Pa. – Chad Greville exploded for 30 points to pace a 66-39 road win for Kane over Cranberry.
Reed Williams added 13 tallies for the Wolves.
Thomas Flinspach led Cranberry with 14 points with Dan McQuaide adding 13.
GALETON 57, BUCKTAIL 46
RENOVO, Pa. – Isaiah Shuemaker hit four 3-pointers and scored 23 points to lead visiting Galeton to a 57-46 win over Bucktail.
Evan Brooks added 16 points for the Tigers and Joel Griffen nine.
Liam Dwyer paced Bucktail with 14 points.