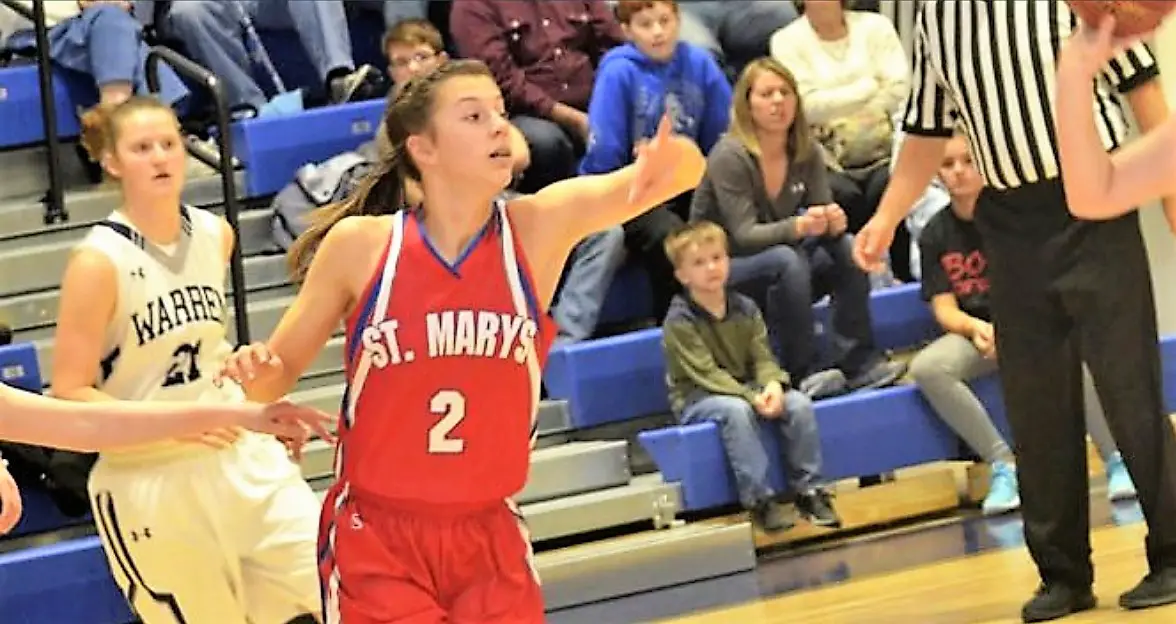 Feb. 18 regular-season girls' and boys' recaps.
(Photo of St. Marys' Kaylee Muccio, who hit the game-tying 3-pointer at the end of regulation and finished with 15 points in the Lady Dutch's win over Bradford. Photo by Andy Close of the Warren Times-Observer)
GIRLS
ST. MARYS 37, BRADFORD 36, OVERTIME
ST. MARYS, Pa. – Kaylee Muccio forced overtime with a 3-pointer at the horn, and Megan Quesenberry hit a free throw in overtime to lift St. Marys past visiting Bradford, 37-36, in the D9 League finale for both teams.
Down 36-33 as regulation was coming to an end, Muccio was able to hit the long shot to send the game to the extra four minutes.
In overtime, neither team was able to hit a shot from the field, and St. Marys struggled from the line going just 1 of 7. But that one free throw by Quesenberry was enough for the win, as Bradford was 0-for-2 from the line in overtime.
Muccio had a team-high 15 points for St. Marys with Quesenberry adding eight and Samantha Hayes seven.
Erica Marshall paced Bradford with a game-high 16 points with Hannah Lary adding 10.
BOYS
BRADFORD 49, ST. MARYS 38
BRADFORD, Pa. – In the D9 League finale for both squads, Tyler Gigliotti scored 20 points to lead Bradford to a 49-38 win over visiting St. Marys.
Steve Knowlton added 17 tallies for the Owls.
Cahil Parrish and Anthony Cortina both scored nine points for St. Marys.
CLEARFIELD 61, CURWENSVILLE 50
CURWENSVILLE, Pa. – Matt Pallo led a foursome of Clearfield players in double digits with 16 points, as the visiting Bison knocked off Curwensville, 61-50.
Karson Rumsky added 14 points for the visitors with Cade Walker scoring 12 and Andrew Lopez 10. Taye Lynch also added eight points for Clearfield.
Christian Bakaysa paced Curwensville with 14 points with Dakota Bloom adding 13.