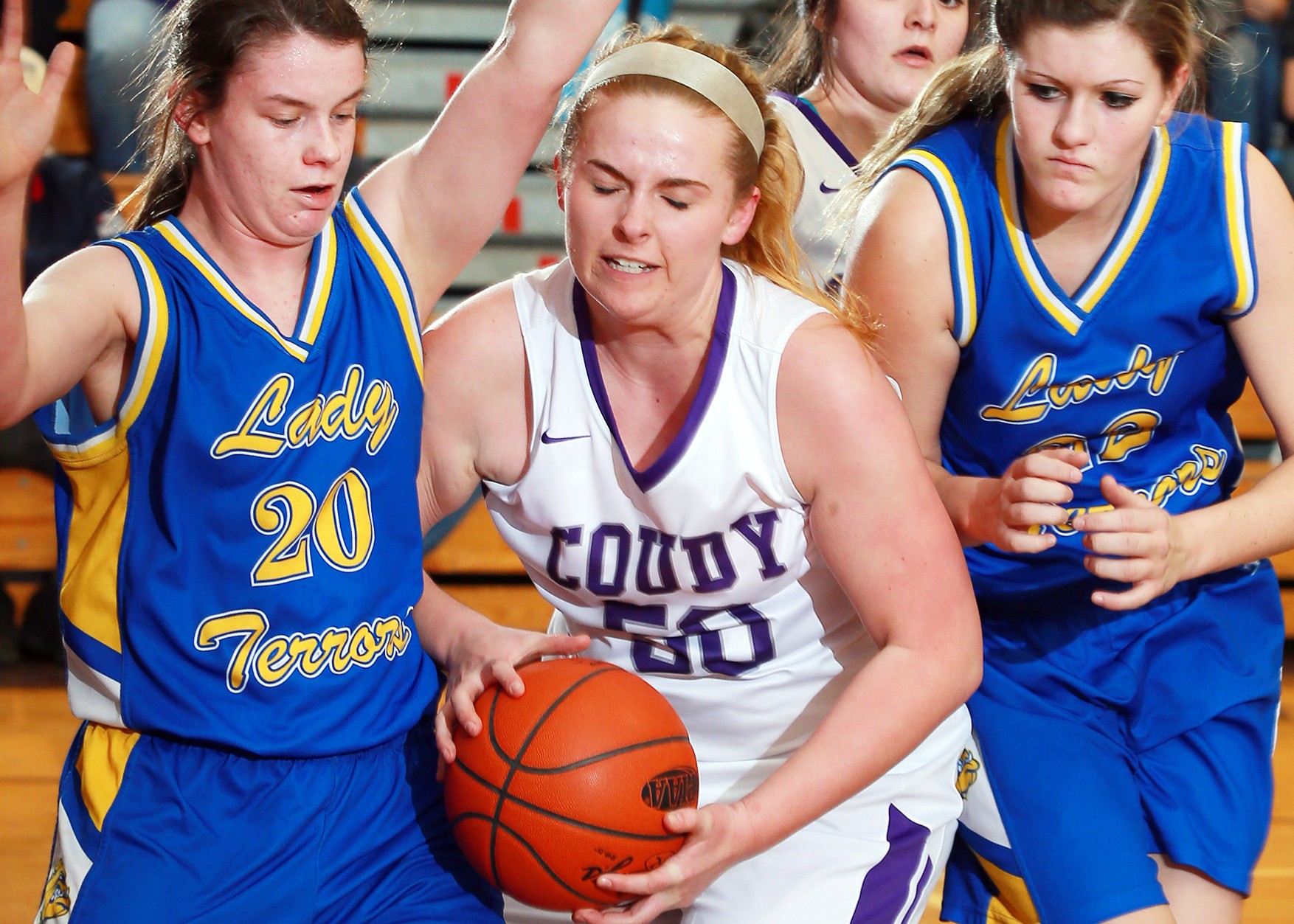 COUDERSPORT 51, AUSTIN 27
AUSTIN, Pa. – After a three-year hiatus, the North Tier League title has returned to Coudersport.
The Lady Falcons wrapped up their first NTL title since 2012 but their 12th in the last 16 years with a 51-27 win at Austin.
Tory Crosby had a double-double with 12 points and 11 rebounds, while Annie Chambers added 10 for shorthanded Coudersport, which had nine different players score despite not having the services of four of its five top scorers. Bryce Line chipped in seven points with Emily Morey and Emma Rae Easton each scoring six. Easton also added four blocked shots.
Not playing for the Lady Falcons were Haley Keck, Ally Easton, Kiara Perkins and Macy Gleason. Morey, the team's third-leading scorer, was the only one of the top five to participate in the game.  
After Coudersport had won seven straight NTL titles from 2006 to 2012 and 11 in 12 years from 2001 to 2012, Port Allegany had won each of the last three championships.    
Madison Hooftallen had seven points and 15 rebounds to lead Austin with Allyson Rotello also scoring seven points.
KANE 56, BROCKWAY 41
KANE, Pa. – Kane clinched the AML North title with a 56-41 win over visiting Brockway.
The Lady Wolves built a 21-point, 31-10, halftime lead on their way to the victory.
Trinity Clark and Ella Marconi both recorded double-doubles for the victors with Clark scoring 14 points to go with 10 rebounds and four assists and Marconi adding 14 points, 11 rebounds and four blocked shots. Sydney Dyne added 10 points and five steals with Rachel Morgan grabbing a team-high 11 rebounds to go with six points. Camryn Cummings added six points, seven assists and four steals.
Kaitlyn Morelli paced Brockway with 18 points with Leah Lindemuth adding 11.
Even though Kane could finish in either a 2-way or a 3-way tie for the AML North with Elk County Catholic or Elk County and Johnsonburg, the Lady Wolves win the title because they split their games with ECC and Johnsoburg, all three teams would have the same record against AML North opponents meaning the tiebreaker would be overall winning percentage, which Kane wins because the Lady Wolves can be no worse than 13-9 while Johnsonburg and ECC can finish no better than 12-10.
CURWENSVILLE 43, SHEFFIELD 21
CURWENSVILLE, Pa. – Thanks in large part to 16 points from Hannah Dixon, Curwensville claimed its first AML win of the season with a 43-21 victory over visiting Sheffield.
Hannah Dixon and Christine Limbert each added eight points for the Lady Tide.
Mya Grubs led Sheffield, which scored at least 20 points for the second straight game, with five points. Taya Bailey, Eliza Davidson and Emily Knowles each added four points for the Lady Wolverines.  
NORTHERN POTTER 53, OSWAYO VALLEY 43
SHINGLEHOUSE, Pa. – Sarah Morgan and Kali Cowburn combined to score 28 points to lead Northern Potter to a 53-43 North Tier League road win at Oswayo Valley.
Morgan netted 16 points with Cowburn adding 12 points and nine rebounds. Gracie Hamilton chipped in eight points and nine boards for the Lady Panthers.
Hope Howard had a game-high 17 points for the Green Wave.
CAMERON COUNTY 55, PORT ALLEGANY 44
EMPORIUM, Pa. – Behind the play of Madison Harrier and Kamme Guisto, Cameron County rallied past visiting Port Allegany for a 55-44 North Tier League win.
The Lady Raiders trailed 36-29 going to the fourth quarter but rode the strong play of Harrier and Guisto to outscore the visitors 26-8 in the quarter.
Harrier scored 11 of her game-high 19 points in the final eight minutes, while Guisto scored all nine of her career-high nine points in the final frame on three clutch 3-pointers. Amily Schatz added eight points for 15 rebounds for Cameron.
Autumn Buchsenschutz paced Port Allegany with 17 points with Mia Snyder adding a career-best nine tallies.  
The game was a Pink Game at Cameron County High School with both teams coming together to raise breast cancer awareness according to Cameron County head coach Dave Sullivan.
"It was much more important than the game itself," Sullivan said. "It was a night to remember."  
GALETON 53, SMETHPORT 45
GALETON, Pa. – A second-half rally lifted Galeton to a 53-45 win over visiting Smethport in North Tier League action.
The Lady Tigers trailed their guests 25-19 at the break but outscored the Lady Hubbers 34-20 in the second half including 18-7 in the third quarter to pull out the win.
Cortney Parsell exploded for a career-high 31 points while hitting four 3-pointers. Makaya Shadle added 15 points.
Abbey Woodard had 16 points for Smethport with Katie Treat adding 13 points and Emily Treat 11.  
PENNS VALLEY 59, CLEARFIELD 35
SPRING MILLS, Pa. – Maci Illgen scored a game-high 21 points to lead Penns Valley to a 59-35 win over visiting Clearfield in Mountain League play.
Peyton Homan added 14 points for the hosts, while Rachel Glenny led Clearfield with 10 points. Emily Ryan added nine for the Lady Bison.
With the win, Penns Valley, which led 27-14 at halftime, remains a game back of Tyrone in the Mountain League at 12-1 in league play and 16-4 overall. Clearfield drops to 9-11 and 7-6 in league action.
BRADFORD 41, DUBOIS 28
DUBOIS, Pa. – Morgan Roggenbaum led a balanced Bradford scoring attack with 12 points, as the visiting Lady Owls downed DuBois, 41-28, in D9 League action.
Bri Wells added 10 points for Bradford with Lee Woodmansee chipping in eight and Brinya Moffet seven.  
Ashley Hallowell led DuBois with eight points. Taylore Uplinger added seven tallies on 7 of 10 from the free-throw line.