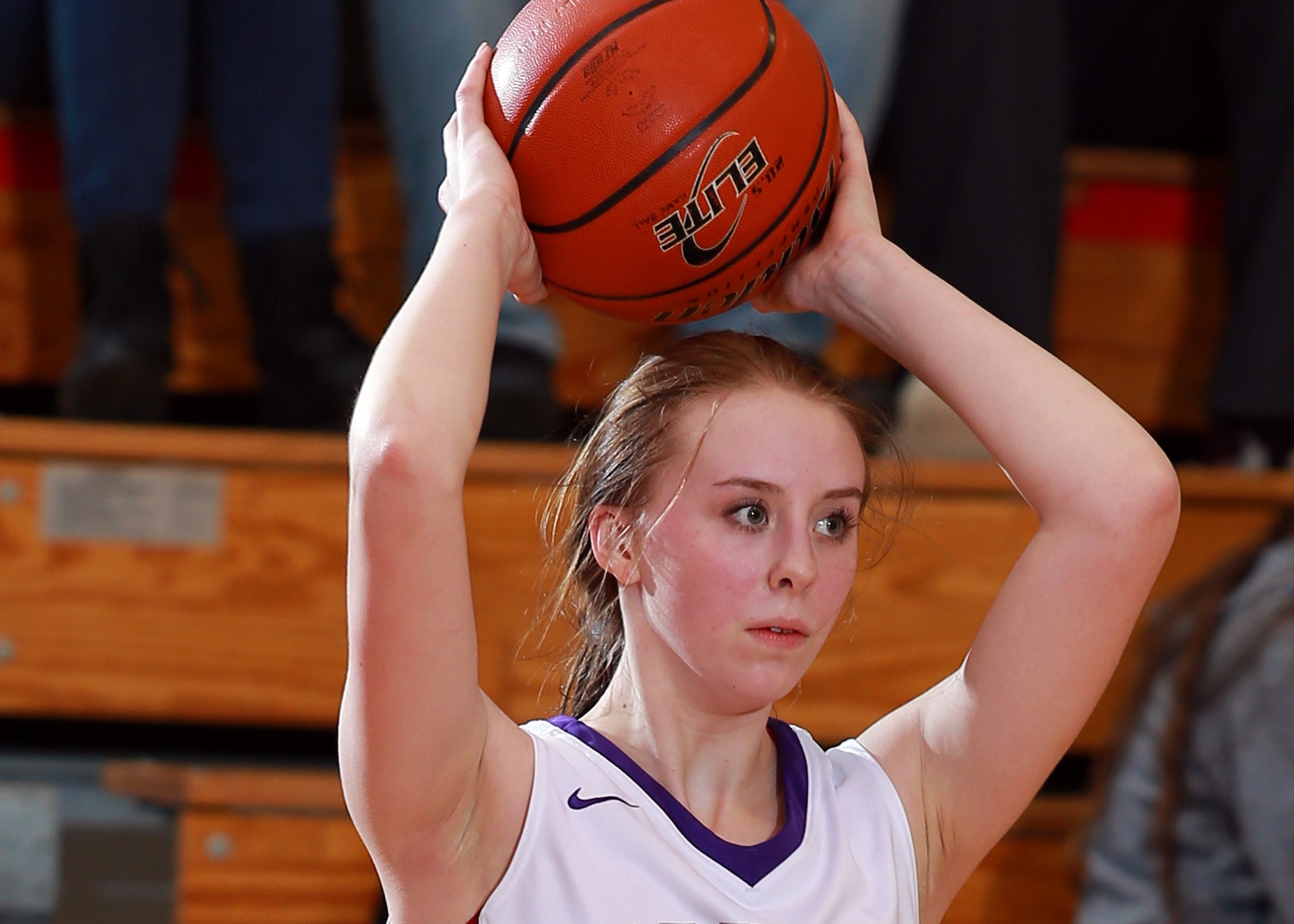 COUDERSPORT 52, SMETHPORT 39
SMETHPORT, Pa. – Coudersport entered the PennLive PIAA Top 10 at No. 10 Monday and then went out and beat Smethport, 52-39, on the road in North Tier League action to sew up the top seed in the District 9 Class A playoffs.
Ally Easton led the Lady Falcons (21-1 overall, 16-0 NTL) with 18 points and seven rebounds before fouling out. She scored all 18 of her points from the second quarter on. Emily Morey added 11 points and six assists for Coudy with Macy Gleason chipping in three points, six rebounds and four assists. Haley Keck also added 10 tallies.
Coudersport started hot and led 15-5 at the end of the first quarter with both Gleason and Keck hitting 3-pointers in the quarter.
Abbey Woodard had a game-high 19 points for Smethport (12-9, 9-6) with Addyson Gross-Benjamin adding 10 tallies.
BROCKWAY 58, SHEFFIELD 20
BROCKWAY, Pa. – Kaitlyn Morelli scored 10 of her game-high 18 points in the first quarter, as Brockway downed visiting Sheffield, 58-20, in AML action
Thanks in part to Morelli and Leah Lindemuth, who netted eight of her 12 points in the first quarter, the Lady Rovers led 25-0 after one quarter of play. Morelli added nine steals with Lindemuth completing a double-double with 10 assists.
Margaret Schmader and Katlyn Cappetta each added seven points for Brockway, which had eight different players score.
Eliza Davidson scored nine points, all in the third quarter, for Sheffield. She hit a pair of 3-pointer in the frame for the Lady Wolverines.
Brockway improves to 5-15 with the win including 4-5 in AML South play. Sheffield finishes its season 0-22 overall and 0-10 in the AML North. The Lady Wolverines will enter the 2016-17 season having dropped 39 straight.
NORTHERN POTTER 56, AUSTIN 7
AUSTIN, Pa. – Gracie Hamilton tickled the twine for a game-best 23 points, as Northern Potter had no problem getting a 56-7 win at Austin in North Tier League play.
Kalie Cowburn, Sarah Morgan and Becca Morgan each added eight points for NoPo with Mikayla Lewis adding seven tallies.
Madison Hooftallen scored three points to pace Austin hitting a first-quarter 3-pointer.
Northern Potter is now 16-5 overall and 12-3 in the NTL with Austin falling to 0-21 and 0-15 in conference play.
GALETON 32, PORT ALLEGANY 26
GALETON, Pa. – Behind a balanced effort, Galeton topped visiting Port Allegany, 32-26, in North Tier League action.
Laura Parsell scored nine points to lead the Lady Tigers, while Cortney Parsell and Olivia Pagano each added eight tallies.
Autumn Buchsenschutz scored a game-high 17 points for Port Allegany.  
The win moves Galeton to 14-6 overall and 11-4 in the NTL, while Port Allegany drops to 6-15 and 4-11 in conference play.
DUBOIS CENTRAL CATHOLIC 53, BROOKVILLE 48
BROOKVILLE, Pa. – A 19-4 fourth-quarter advantage lifted visiting DuBois Central Catholic to a come-from-behind 53-48 win at Brookville in non-conference action.
After being outscored 20-14 in the third quarter, the Lady Cardinals trailed the host Lady Raiders, 44-34, going to the fourth quarter but got points from six different players in the final eight minutes to rally for the win.
Macey Hanes led the fourth-quarter push with five points, while Riley Assalone and Jordy Frank each scored four with Frank's all coming from the free-throw line. Caitlyn Manduley, Stephanie Rossi and Gabby Caruso each added two points apiece in the quarter.
Assalone finished with a game-tying-best 14 points for DCC with Frank, who was 6 of 6 from the line, adding 10 points and Caruso eight.
Hali Olson led Brookville with 14 points with Elaina Powell adding 13 including 10 in the third quarter.
With the victory, DCC finishes the regular season 14-8 and can be no lower than the fifth seed and no higher than the fourth seed in the upcoming D9 Class A playoffs. Brookville, which still has a game left in the regular season falls to 12-9. The Lady Raiders will be the fifth seed in the District 9 Class AA playoffs.
PUNXSUTAWNEY 52, CLARION 30
PUNXSUTAWNEY, Pa. – Hope Bridge scored nine of her game-high 13 points in the second quarter, as Punxsutawney overcame a slow start to beat visiting Clarion, 52-30, in non-conference play.
The Lady Chucks trailed 8-5 at the end of the first quarter but outscored the Lady Cats 19-7 in the second to take a 24-15 halftime lead.
Alli Lunger and Kate Horner each added 10 points for Punxsutawney.
Anna Reed led Clarion with 11 points.  
Punxsy is now 16-4 on the season while Clarion drops to 11-10.
OTTO-ELDRED 58, CAMERON COUNTY 33
EMPORIUM, Pa. – Camryn Thomas scored 19 points and grabbed eight rebounds to lead visiting Otto-Eldred to a 58-33 North Tier League victory at Cameron County.
Allison Cousins added 15 points, five rebounds, four assists and three steals for the Lady Terrors with Tiffany Bair chipping in seven points, five rebounds and four assists.
Madi Guisto had 13 points to lead Cameron County with Amily Schatz adding 14 rebounds. 
Otto improves to 12-9 overall and 8-7 in the NTL with Cameron County falling to 6-15 overall and 5-10 in league play.
DUBOIS 47, RIDGWAY 39
RIDGWAY, Pa. – Dayna DeSalve came out on first scoring 19 of her game-high 22 points in the first half to lead DuBois to a 47-39 win at Ridgway in non-conference play.
DeSalve hit five first-half 3-pointers while helping the Lady Beavers gain a 26-22 halftime lead.
DuBois saw that advantage cut to one, 29-28, at the end of three quarters but outscored Ridgway 18-11 in the fourth quarter to pull out the win.
Courtney Chandler scored eight of her 11 points in the fourth quarter to the Lady Beavers with Taylore Uplinger adding five of her 12 points in the final quarter.
Emily Fullem led Ridgway with 14 points, 11 rebounds, five steals and four blocks with Jessica Kifer adding 10 points and two blocks and Hannah Park nine on three 3-pointers.  
DuBois is now 9-11 overall with Ridgway finishing the regular season 9-13. The Lady Elkers could still possibly make the AML Playoffs with a Brockway loss to Johnsonburg.