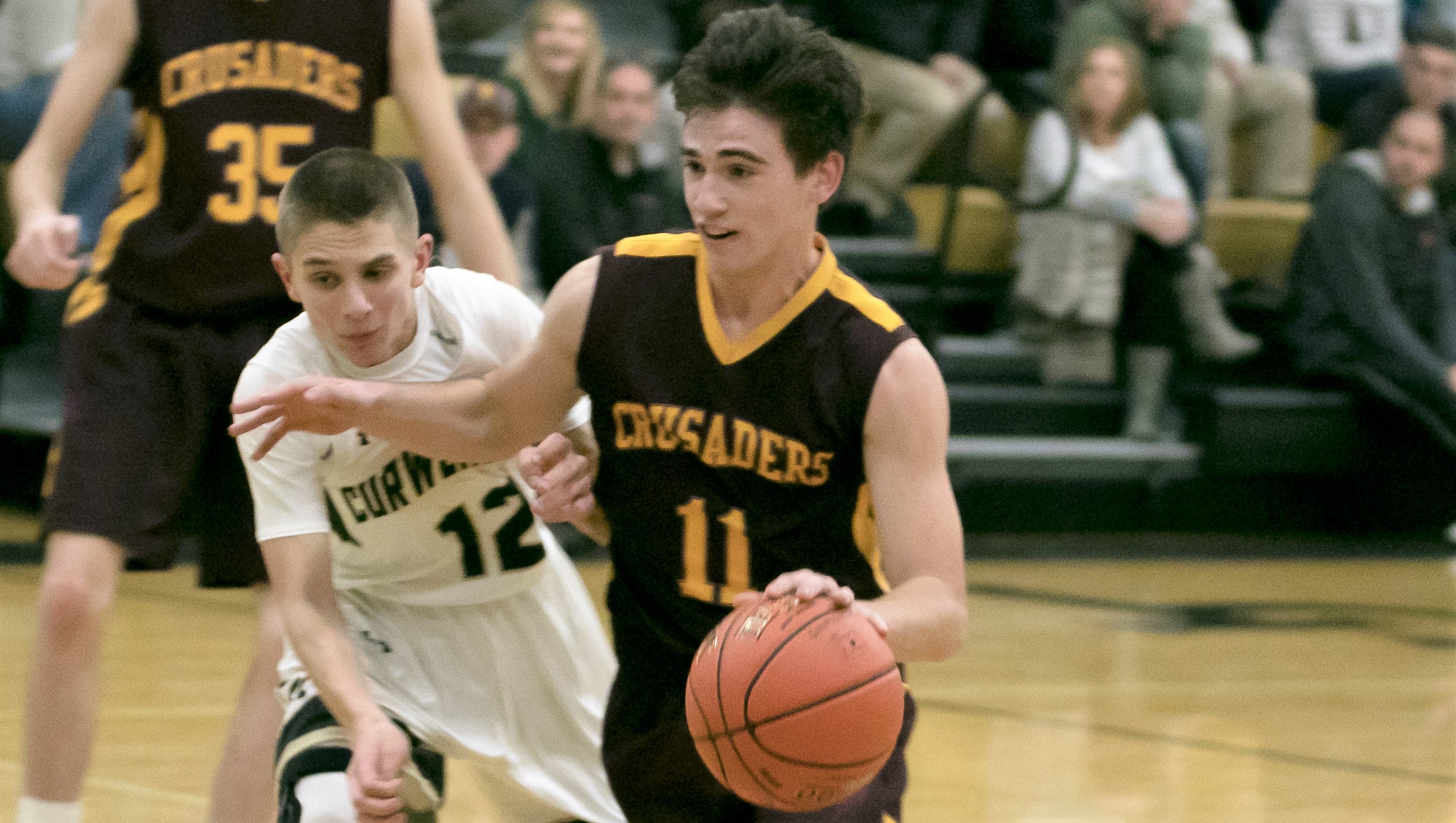 Feb. 8 boys' and girls' basketball recaps.
(Photo of ECC's Alec Wehler. Photo by Jared Bakaysa of JB Graphics. See more of Bakaysa's work here)
BOYS
ELK COUNTY CATHOLIC 59, DUBOIS 54, OVERTIME
ST. MARYS, Pa. – Alec Wehler scored four of his 13 points in overtime, as Elk County Catholic needed the extra four minutes to remain unbeaten with a 59-54 win over visiting DuBois in D9 League action.
DuBois had rallied from a 40-35 deficit going to the fourth quarter to tie the game at 51 after regulation. Alex Beers scored six of his 12 points in the fourth to help force overtime, while Justin Manduley hit a big 3-pointer in the quarter as well.
Regis Wortman led ECC with 20 points, Alex Breindel chipped in 10 and Carter Lindemuth nine.
Chase Husted netted 20 points for DuBois.
JOHNSONBURG 60, DUBOIS CENTRAL CATHOLIC 35
JOHNSONBURG, Pa. – Isaac Scholder tickled the twine for 21 points to lead Johnsonburg to a 60-35 win over visiting DuBois Central Catholic in AML play.
Austin Green added 16 points for the Rams.
Justin Miknis paced DCC with 15 points.
GLENDALE 60, CURWENSVILLE 39
CURWENSVILLE, Pa. – Josh Potutsching exploded for 25 points to lead visiting Glendale to a 60-39 Mo Valley League win over Curwensville.
Ryan Sinclair added 22 points in the win.
Christian Bakaysa paced Curwensville with 15 points with Trevor Lansberry adding nine points and Ty Terry eight.
BROCKWAY 69, KANE 58
KANE, Pa. – Alec Freemer netted 24 points to lead visiting Brockway to a 69-58 win over Kane in AML play.
Jon Wood chipped in 19 points with Zane Puhala adding 16 points.
Alex Rezzelle paced Kane with 24 points with Carson Whiteman scoring 14 points.
COUDERSPORT 83, GALETON 45
COUDERSPORT – Owen Chambers exploded for 37 points in an 83-45 win over visiting Galeton.
Hayden Keck added 17 points for the Falcons.
Joel Griffen scored 20 points for Galeton with Evan Brooks chipping in 12.
YOUNGSVILLE 53, UNION 49
YOUNGSVILLE, Pa. – Gage Heideickson netted a game-best 28 points to lead Youngsville past visiting Union, 53-49.
Caden Rainey led the Golden Knights with 11 points with Luke Bowser adding nine.
WARREN 61, BRADFORD 49
BRADFORD, Pa. – Jake Kupchella scored 15 points and Caleb Ei added 14 points to lead visiting Warren to a 61-49 win over Bradford.
Devin McMeans added four second-quarter 3-pointers to add 12 points for the Dragons.
Tyler Gigliotti led Bradford with 21 points.
GIRLS
A-C VALLEY 42, MONITEAU 34
WEST SUNBURY, Pa. – Cami McNany led a balanced A-C Valley attack with 14 points in a 42-34 KSAC South win at Moniteau.
Kylee Eaton added 13 points and Olivia Boocks chipped in 11.
Andie Arblaster paced Moniteau with nine points, Aslyn Pry added eight points and Kristin Auvil seven. Pry and Auvil each added eight rebounds.
PORT ALLEGANY 49, AUSTIN 14
AUSTIN, Pa. – Cailey Barnett had nine points, eight steals, six rebounds and four assists to help visiting Port Allegany to a 49-14 win over Austin in NTL action.
Cierah Lannanger added seven points and 10 rebounds, Bree Garzel had eight points, five rebounds and five steals, Erin Stauffer six points, eight rebounds and three steals, Jade Evens six points, seven rebounds and three blocks, Jenna Sprankle six points, five rebounds and Maleah Daniels one point, five rebounds and four steals.
Jordan Glover had four points for Austin.
GLENDALE 55, CURWENSVILLE 50
CURWENSVILLE, Pa. – Kyla Campbell led a balanced Glendale effort in a 55-50 win at Curwensville in Mo Valley League action.
Sydney Lumadue hit four 3-pointers on her way to 14 points and Molly Mulhollen chipped in 13 tallies.
Madi Weber had a game-high 29 points for Curwensville with Briana Swindell adding nine tallies.
JOHNSONBURG 44, DUBOIS CENTRAL CATHOLIC 36
JOHNSONBURG, Pa. – Maria Jones and Lindsey Kocjancic combined to score 30 points in a 44-36 Johnsonburg win over visiting DuBois Central Catholic in AML play.
Jones led the Ramettes with 17 points with Kocjancic adding 13 tallies. Also contributing for Johnsonburg with nine points was Cassidy King.
Alyssa Bittner led DCC with 10 points with Ashley Wruble adding nine.
ST. MARYS 38, ELK COUNTY CATHOLIC 26
ST. MARYS, Pa. – St. Marys rode a balanced attack to knock off visiting crosstown rival Elk County Catholic, 38-26, in D9 League action.
Kaylee Muccio netted 10 points, Allison Schlimm scored nine and Abigail Adamski chipped in eight tallies for the Lady Dutch.
Taylor Newton led ECC with 10 points.