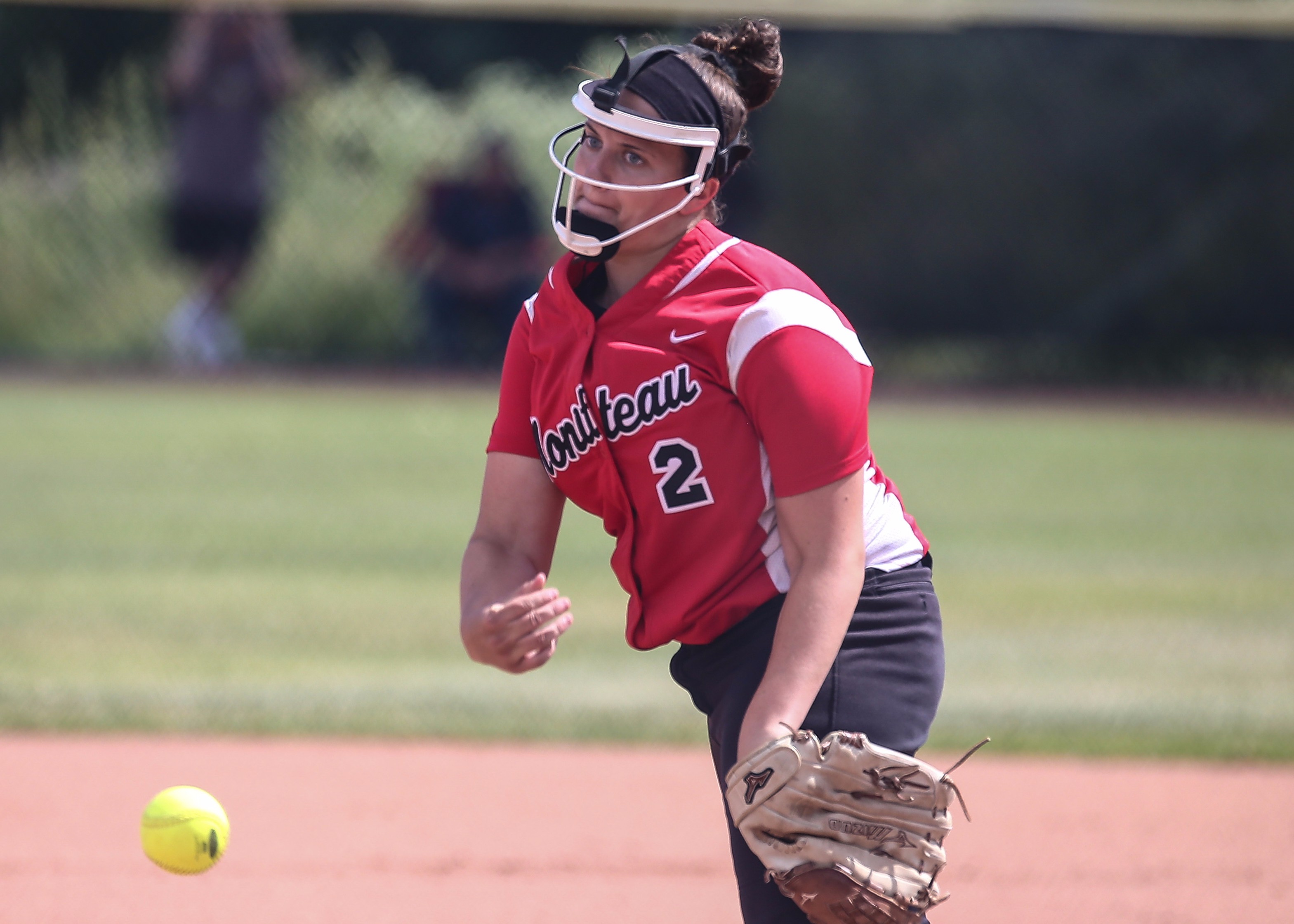 UNIVERSITY PARK, Pa. – A Moniteau softball team that hadn't given up a run in almost a month-and-half found itself down 5-0 at the end of a ½ inning and was never able to recover falling to Holy Redeemer 9-3 in the PIAA Class AA title game Thursday afternoon at Penn State's Beard Field.
The Lady Warriors receive the runner-up trophy, the first PIAA team trophy in school history.
A controversial call in the top of the first with Holy Redeemer, which defended its title from last season, leading 1-0 opened the floodgates allowing the Royals to score four more runs and all but put the game away.
With runners on first and second and two outs, Kristen Coffay hit a line drive in the near vicinity of Moniteau shortstop Cortney Claypoole.
But as Claypoole went to make a play, Holy Redeemer's Tiana Wren collided with the junior shortstop with the ball going into left field loading the bases.
At first, Holy Redeemer manager Jerome Paulukonis starting arguing with third base umpire Keith Delong that Claypoole should be called for interference and Wren should be awarded home.
Delong, according to PIAA softball statewide rules interpreter Dennis Mader, partially agreed with Paulukonis that interference did occur but that Wren should only get third base.
Delong and home plate umpire Gerald Orlando then met and confirmed the call.
"A call was made of obstruction," Mader told EYT Media after the game. "They felt the ball was past the shortstop and passed the runner. The runner ran into the shortstop. The shortstop was in the play, causing obstruction. They felt she won't advance beyond third."
Moniteau manager Dan Beebe said Claypoole had a different thought on the call.
"Cortney said it tipped her glove as they were hitting," Beebe said. "So, Cortney had something of a different view of it. She thought she was interfered with, but the umpire told me the ball was already past. There wasn't much more I could do other than ask what happened."
Interestingly, neither Delong nor Orlando though there was a need to include second base umpire Steven Sharp nor first base umpire Michael Paulson in the discussion.
"It was something I also asked," Beebe said when questioned why all four umpires weren't part of the discussion. "He (Orlando) said that was what they both saw, so they weren't going to go for a third opinion. It was definitely a tough call, but we still had seven at-bats to overcome that."
Mader had no issue with Orlando and Delong not asking the other two umpires for help.
'They did what they had to do," Mader said. "They talked to the two umpires that were involved in the call."
The call didn't score a run for Holy Redeemer, but it loaded the bases.
And Moniteau pitcher Kennedy DeMatteis, who had gone 60-plus innings without giving up a run before the first inning – April 30 was the last time she had been scored upon – walked the next batter Abigail Shorts to force home a run. Meghan Armstrong then followed with a base hit to left that scored a third run, and two more runs came home when leftfielder Courtney Sowinski missed played the ball, Moniteau's second error of the inning, giving the Royals the 5-0 lead.
The Lady Warriors, though, weren't going down without a fight.
A two-out double down the rightfield line by Kristina DeMatteis ended up scoring a heads up Kennedy DeMatteis all the way from first when Kennedy realized Holy Redeemer was slow getting the ball into the infield.
"We thought we could score five runs," junior Gabby Stewart said. "Five runs is not unreasonable. We've done it before. It's just about getting our heads in the right mindset."
And Moniteau kept battling offensively, but never could catch up to Holy Redeemer, which added a run in the third on another bases-loaded walk by Kennedy DeMatteis, one of nine walks issued by the junior ace who also gave up 11 hits and nine runs, six earned, while striking out one.
"I tried the hit the corners, but he (Orlando) didn't give the corners at all," DeMatteis said.
Beebe noted the strike zone was tight for all three of the game's pitchers – Holy Redeemer used a pair of hurlers with Coffary going three innings and Mogan Bienkowski four to get the win.
Moniteau got the run back in the bottom of the third when Kennedy DeMatteis doubled home Claypoole, who had reached on an error to make it 6-2. But DeMatteis was thrown out going to third on the play.
"I got Kennedy thrown out trying to turn a double into a triple," Beebe said. "We made a few mistakes. It's just the pressure of being down a little bit."
The teams then exchanged runs in the fifth to make it 7-3 Royals with Claypoole driving in Stewart for the Moniteau run before a two-run sixth put the game away for Holy Redeemer.
"We chipped away a little bit," Beebe said. "But at the end, the first inning was just too much for us to overcome today."
Extra Base
The game was originally scheduled to start at 3 p.m. but didn't get underway until 5:25 p.m. because the Class AAA title game, won 1-0 by Yough, was delayed before it started because of a strong line of showers that passed through State College."The whole day was just kind of weird," Beebe said. "We were thinking about practicing at 12 o'clock, and we don't even find out we are playing until 4. It's just kind of threw us off the routine. But it's no excuse for the way we played the game or the result.
Moniteau, which had committed just one error since early May had two in the first inning and four in the game
Kennedy DeMatteis had two of the Lady Warriors seven hits. Stewart, Claypoole, Kristina DeMatteis, who played despite the flu according to Beebe, Sara Hull and Alazia Greaves, each had one. All six of those players will return next year.
Bienkowski was 4-for-5 for Holy Redeemer. Coffay and Armstrong each added two hits. Bienkowski went four innings in the circle allowing one run on two hits while striking out six. Coffay pitched the first three innings allowing two runs, one earned, on five hits, a walk and a strikeout
Moniteau finished 24-2, the most wins in school history and the first team in Moniteau history to reach a PIAA title game.
Holy Redeemer, which had seven starters back from last year's title team, finished 25-3
HOLY REDEEMER 9, MONITEAU 3
Score by Innings 
Holy Redeemer 501 012 0 – 9
Moniteau 101 010 0 – 3
Holy Redeemer 9
Player, Pos, AB,R,H,RBI
Morgan Bienkowski 5141, Allyson Laiuvara dp 5000, Olivia Menning 2b 4100, Tiana Wren cf 3210, Brittany Hebda 3b 1200, Kristen Coffay 3121, Abigail Shorts c 3211, Sarah Kuderka cr 0000, Meghan Armstrong 1b 2011, Samantha Rejza lf 2021, Bailey Janowski ph 1000, Randy Kuhar rf 0000. Totals 29-9-11-5.
Moniteau 3
Player, Pos, AB,R,H,RBI
Gabby Stewart rf 4110, Cortney Claypoole ss 4111, Kennedy DeMatteis p 3121, Kristina DeMatteis c 3010, Sara Hull 3b 2010, Megan Hepler 1b 3000, Alyssa Dailey 2b 3000, Courtney Sowinski lf 3000, Alazia Greaves cf 3010. Totals 28-3-7-2.
LOB – Holy Redeemer 9. Moniteau 5. Errors – Holy Redeemer 1. Moniteau 4. 2B – Stewart, Kennedy DeMatties, Kristina DeMatties. SAC – Coffay. SB – Wreb, Shorts.
Pitching
Holy Redeemer
Kristen Coffay 3 IP, 5 H, 2 R, 2 ER, 1 BB, 1 K
Morgan Bienkowski 4 IP, 2 H, 1 R, 1 ER, 0 BB, 6 K
Moniteau
Kennedy DeMatteis 7 IP, 11 H, 9 R, 6 ER, 9 BB, 1 K
Winning pitcher – Morgan Bienkowski
Losing pitcher – Kennedy DeMatteis