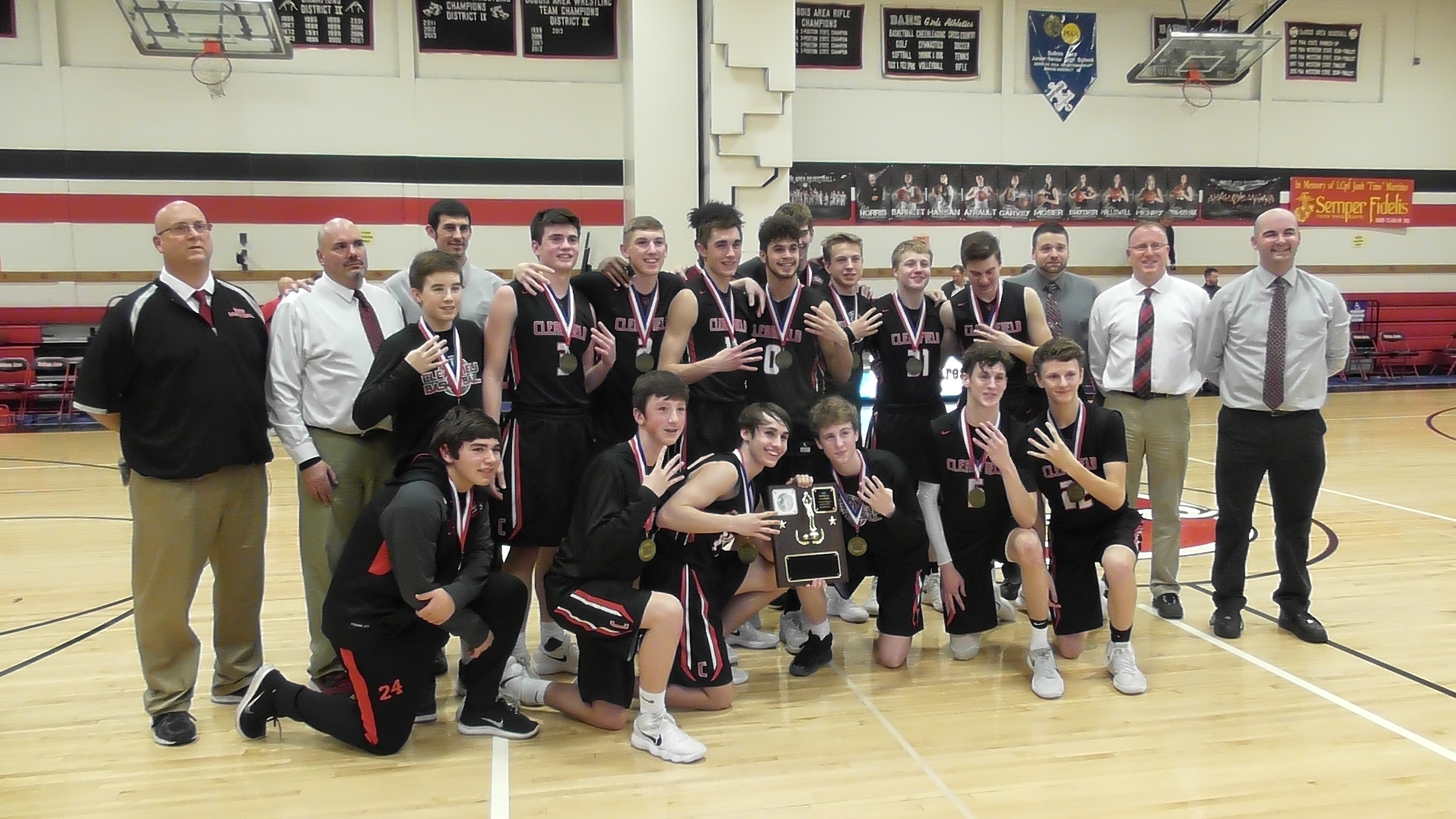 DUBOIS, Pa.  — It may not have been an eye-pleasing game, but when the Clearfield Bison boys' basketball team hoisted the District 9 Class 4A team trophy in celebration Wednesday night, how it appeared mattered not one bit.
The Bison were playing in their fifth straight title game and they won their fourth straight D9 title with a come-from-behind, 42-36, win over the Bradford Owls at DuBois Area High School.
Clearfield won the first two of its four crowns in Class 3A while the last two were in Class 4A.
"It means so much to me that the kids could experience this because they work so hard," Bison head coach Nate Glunt said. "We get so much participation in our off-season and the kids put the time in."
Listen to more of what Glunt had to say about the win.
With the Bison ice-cold on its shooting in the first half with just 12 points, the game turned for them in the third when Bradford took its turn to endure a scoring drought.
The Bison held the Owls to just one bucket in the first 10:04 of the second half while taking a 30-19 lead with 5:41 left in the game.
Reese Wilson, Clearfield's leading scorer at 11.9 points per game, was held without a point in the first half. But Wilson got it going in the second half with seven points in each quarter.
Wilson's 3-pointer with 3:19 left in the third tied the game at 19-19 and forced Owls head coach Brian Hobbs to call timeout.
But a minute later, Cade Walker's bucket gave his team the lead for the first time, and for good, at 21-19.
Ryan Chew's two free throws made it 23-19 at the end of the third.
Clearly still in the game, the Owls found the lid on the basket virtually impenetrable in the first 2:19 of the fourth quarter.
In that span of 10-plus minutes, the Bison went from down seven points to up by 11, 30-19.
"We held them to two points in the first 10 minutes of the half and that was the difference," Glunt said.
But the Bison still had work to do to claim their fourth straight title.
Bradford stormed back with a 12-4 run in a span of four minutes to make it a three-point game, 34-31 with 1:41 left to play.
But the next 26 seconds really sealed the fates of both teams.
Wilson hit a pair of free throws to make it 36-31 with 1:29 left.
Bradford came back with Adam Boyer hitting one free throw.
On the inbounds play, the Owls got a huge steal, but leading scorer Deondre Terwilliger watched a layup roll off the rim. It would have made it a one-possession game, 36-34, but the Owls never got that close again.
Clearfield salted away the win at the free throw line, making 11 of 18 in the fourth quarter.
Wilson ended up leading the champs with 14.
The Bison gets the WPIAL fifth-place team, which will be either Valley or South Fayette.
For the Owls, winners of six straight games and seven of their last seven, they had the start they wanted with a 17-12 lead at halftime.
But a two-point third quarter gave the Bison the opening it needed and Bradford never led again.
Tyler Gigliotti led the Owls with 12 points and Deondre Terwilliger scored 11. Adam Boyer scored seven, including five in the fourth as the Owls fought to stay in the game.
Bradford was back in a title game for the first time since 2013 when it won its second of two consecutive titles in 3A. From 2001 to 2013 Bradford won 10 3A championships while playing in 11 title games.
DISTRICT 9 CLASS 4A CHAMPIONSHIP
CLEARFIELD 42, BRADFORD 36
Score by Quarters
Clearfield 6 6 11 19 – 42
Bradford 9 8 2 17 – 36
Clearfield – 42
Ryan Chew 2 3-4 7, Jon Gates 1 2-4 4, Cade Walker 3 1-5 7, Reese Wilson 3 7-10 14, Jake Lezzer 0 0-0 0, Karson Rumsky 0 0-0 0, Taye Lynch 3 2-2 8, Wyatt Porter 1 0-0 2, Keagan Hess 0 0-0 0. Totals: 13 15-25 42.
Bradford – 36
Alec Kuzmeska 0 0-0 0, Donny Pattison 1 0-2 2, Steve Knowlton 2 0-0 4, Deondre Terwilliger 4 2-5 11, Tyler Gigliotti 5 1-1 12, Brice Whelan 0 0-1 0, Dan Manion 0 0-0 0, Adam Boyer 1 5-6 7, Caleb Nuzzo 0 0-0 0. Totals: 13 8-15 36.
Three-pointers: Clearfield 1 (Wilson); Bradford 2 (Terwilliger, Gigliotti).