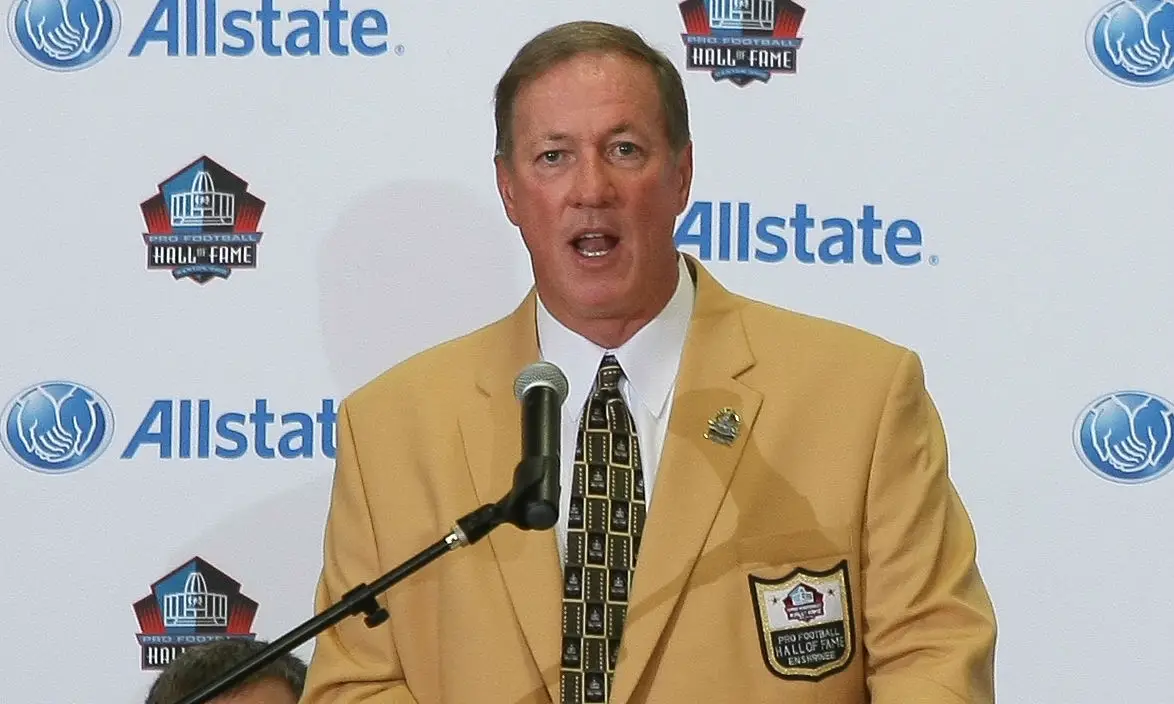 BUFFALO, N.Y. – The number 318 seems like just an ordinary number at the surface, but it is one that serves quite important in Canton, Ohio.
(Photo by Mike Schnelle)
The integer 318 is the number of inductees in the Professional Football Hall of Fame. To break this number down even further just 28 of these inductees played under center while 27 total inductees are from Pennsylvania.
It is truly elite company and for all, it was not an easy journey in the slightest.
For a kid from a small town of roughly 1,000 people, the journey to earn a Division I scholarship and play in the NFL may seem impossible. However, this proves false much in thanks to one District 9 alumni who is one of those 318 men forever enshrined in the Pro Football Hall of Fame.
East Brady High School graduate James (Jim) Edward Kelly will forever play a key part in cementing this small Pennsylvania town on the map.
As a member of the East Brady Bulldogs in the black and orange uniforms, Jim Kelly helped bring much attention to the Bulldogs football and basketball teams.
In Jim's high school career (1977-78), he passed for an astonishing 3,915 yards and 44 touchdowns in a day and age when running the football was more the norm. Kelly played in the BIg 33 Football Classic All-Star game representing the Western squad in a game that featured the Western side of the Commonwealth vs. the Eastern side.
In basketball, he posted 23 points and 20 rebounds per game to help lead the Bulldogs to the PIAA state quarterfinals. The East Brady native was surely on the right path since his days as a kid in Clarion County, but who helped Kelly achieve this level of excellence in his childhood?
When asking Jim what it was about East Brady that was so special to him, number 12 opened up and said the coaching he received there was truly top notch.
"My high school football coach Terry Henry along with my youth football coach Art Delano instilled such great qualities in me that allowed me to succeed both in my childhood and later on in my life," Kelly told D9sports.com. "Coach Henry and I have gone to 26 Super Bowls together so far, and I look forward to more. He sent film to many schools and coaches to help me receive attention from a lot of different schools. Coach Delano also worked out with me in my elementary and middle school days to help me make weight to play in our youth football games. We used to run the railroad tracks along the Allegheny River in the beaming sun to help me lose weight to play. We would then sit in his Volkswagen Beetle and sweat. I was a kid who grew fast in my youth, and this is what I needed to do in order to compete."
These coaches in different ways prepared Kelly to be noticed by coaches and scouts from all over the nation, but one school stuck out to Jim over others, the University of Miami.
The Hurricanes wanted Jim to be their quarterback, and Kelly decided it was an opportunity he could not pass up.
At Miami, Kelly helped mold the Hurricanes into a national powerhouse. He was one of the favorites for the 1982 Heisman Trophy, but a severe shoulder injury suffered in the third game of the season against Virginia Tech forced Kelly to end his senior season on quite a sour note.
Through his college career, Jim played against some of the best college football teams in the country. As a true freshman, Jim earned some playing time against one of the nations top schedules.
On Nov. 3, 1979, Jim played in a rivalry game against Penn State.
Just four hours before the game, he was alerted by coach Howard Schnellenberger that he would draw his first ever college start in Beaver Stadium. In that hostile crowd of nearly 80,000 fans, Jim led the Hurricanes to victory 26-10 against the 19th ranked Nittany Lions.
From that game on, Jim cemented himself as the Hurricanes starting quarterback. However, his next three starts of his freshman season included bouts with Alabama who was the No. 1 team in the country, Notre Dame, and Florida.
"As a kid from a small town in Western Pennsylvania, I admit I was nervous especially when I found out I was starting against Penn State," Kelly said. "I was so worked up I actually got sick prior to the game. I grew up quick and I knew after that four-game stretch I belonged on that field."
In 1983, Jim had a tough decision to make after the emergence of the United States Football League (USFL). He was picked 14th overall by the Buffalo Bills but elected to begin his career in professional football with the Houston Gamblers of the USFL.
Kelly shined in each of his two seasons for Houston.
He was awarded USFL MVP in his rookie season. He passed for an astonishing 5,219 yards and 44 touchdowns. The USFL was displaying offenses which featured a much greater percentage of pass plays than its competitor; the National Football League. While the USFL lasted only two years, Jim Kelly and the offenses he played within paved the way for the direction the NFL was heading; up-tempo through-the-air offense.
After the collapse of the USFL, Jim Kelly packed his bags for Buffalo to play for the Bills.
It would be with the Bills that Kelly played for some of the best teams the NFL has ever seen.
In his first NFL season, Jim started all 16 of the Bills games. It was a disappointing year for Buffalo, but the organization and fans had a good feeling for what was to come with Kelly playing under center.
Just two seasons later in 1988, the Bills cemented themselves as a contender for the Super Bowl. Although they fell to the Cincinnati Bengals in the AFC Championship game, the NFL began to recognize that the Bills would be one of the league's most feared teams for quite some time.
From 1990-1993, the Buffalo Bills represented the AFC in four straight Super Bowls. They truly became a dynasty much in large part to the K-Gun offense and a rock solid defense. Though the Bills came up short in each of these four Super Bowl appearances, the feat of heading to four Super Bowls in a row has not happened since and likely will not happen for quite some time.
Despite injuries to key players and tough schedules, the Bills always seemed to find a way back into postseason play and later in the Super Bowl. Some critics consider these Bills losses failures, but what many fail to realize is all of the accomplishments these men, and especially Kelly, racked up over this amazing stretch.
The Bills were the winningest AFC team in the 1990s thanks in large part to the play of Kelly even though he retired part way through the 90s in 1996.
Kelly made three straight Pro Bowls from 1990-1992, which were three of five overall during his career. Additionally, Kelly was named first-team All-Pro in 1991 while earning second-team All-Pro in the years 1990 and 1992. He also managed to throw the most passing touchdowns of any quarterback in the NFL in 1991 while earning the passer rating title the previous season in 1990.
Though Jim racked up many great accolades during his career, he said the thing he misses most about the game of football is not playing the game, but rather the locker room and socialization the game brought him.
"I am in a group message with 11 of my teammates from the Bills and we talk regularly in that group," Kelly said. "We travel together and attend a lot of great events with each other and our families. I have such a great time with those guys and to this day we still love to mess around with each other."
Additionally, Jim made some great friends who played the same position as him through the game of football. Kelly mentioned his idol Broadway Joe Namath and how he admires his spirit and charisma as a man. Additionally, he spoke about the close bond he shares with one of his former AFC foes Dan Marino.
"The Bills and Dolphins played a lot of games against each other because of our divisional alignment," Kelly said. "Whoever had the better day at quarterback often led their team to victory. I loved competing against him. More importantly, our friendship has extended beyond football. Dan has attended roughly 30 of my 33 charitable golf outings that I have hosted in my lifetime. His attendance and support mean a great deal to me."
These three Western Pennsylvania quarterbacks all ironically played for AFC East teams during their careers and all appeared in at least one Super Bowl. While the game of football has allowed Jim to have a great outlet of expression, it is not the only way Kelly has expressed himself and shown his greatness.
I think there is one word that can be used to sum up the kind of person Jim Kelly is, unselfish.
Even during his playing career, Jim found ways to give back to his community and many others in need. For the last 30 years, Jim has given several hundred kids each summer the opportunity to partake in the Jim Kelly Football Camps with some of the best football coaches in the country. It has been a great way for kids ages 8-18 to gain great insight and skills in the game of football. Since 1988, Kelly has attended the camp and directly participated in the camp in a variety of ways. It is one of the biggest football camps of its kind in the entire country.
Additionally, Jim has hosted a charitable related golf outing for 33 years which many celebrities and athletes have attended. He has also founded a charity named Hunter's Hope after his late son Hunter who was diagnosed with globoid-cell leukodystrophy or Krabbe disease as an infant. Kelly and his family have been instrumental in the fight of this disease and host Hunter's Day of Hope on Jim and Hunter's birthday, Valentine's Day. The Hunter James Kelly Institute was established at the University of Buffalo in 2004 to help neurology students better understand neurological illnesses. Additionally, Jim is a devout Christian man who has kept great spirit and faith through some tough moments during his lifetime.
No matter if Jim Kelly is fighting to win a football game, fighting to help children in need or fighting to live a healthier life once again, there is absolutely nobody who would not want a man like Jim Kelly on their team. The work ethic and unselfishness this man continues to show is unprecedented. No matter what obstacle this Pro Football Hall of Famer is faced with, he continues to find a way to empower and inspire others to do more and live such spiritual and full lives. He has truly given his entire life to setting others up for success. Whether those people are his teammates during his playing career or children in need; Jim has been there to help millions during his life.
Jim is quick to thank hundreds of others as he did in his Pro Football Hall of Fame speech in 2002, but shouldn't the rest of us thank him for inspiring and motivating us to achieve more than we think we ever could?