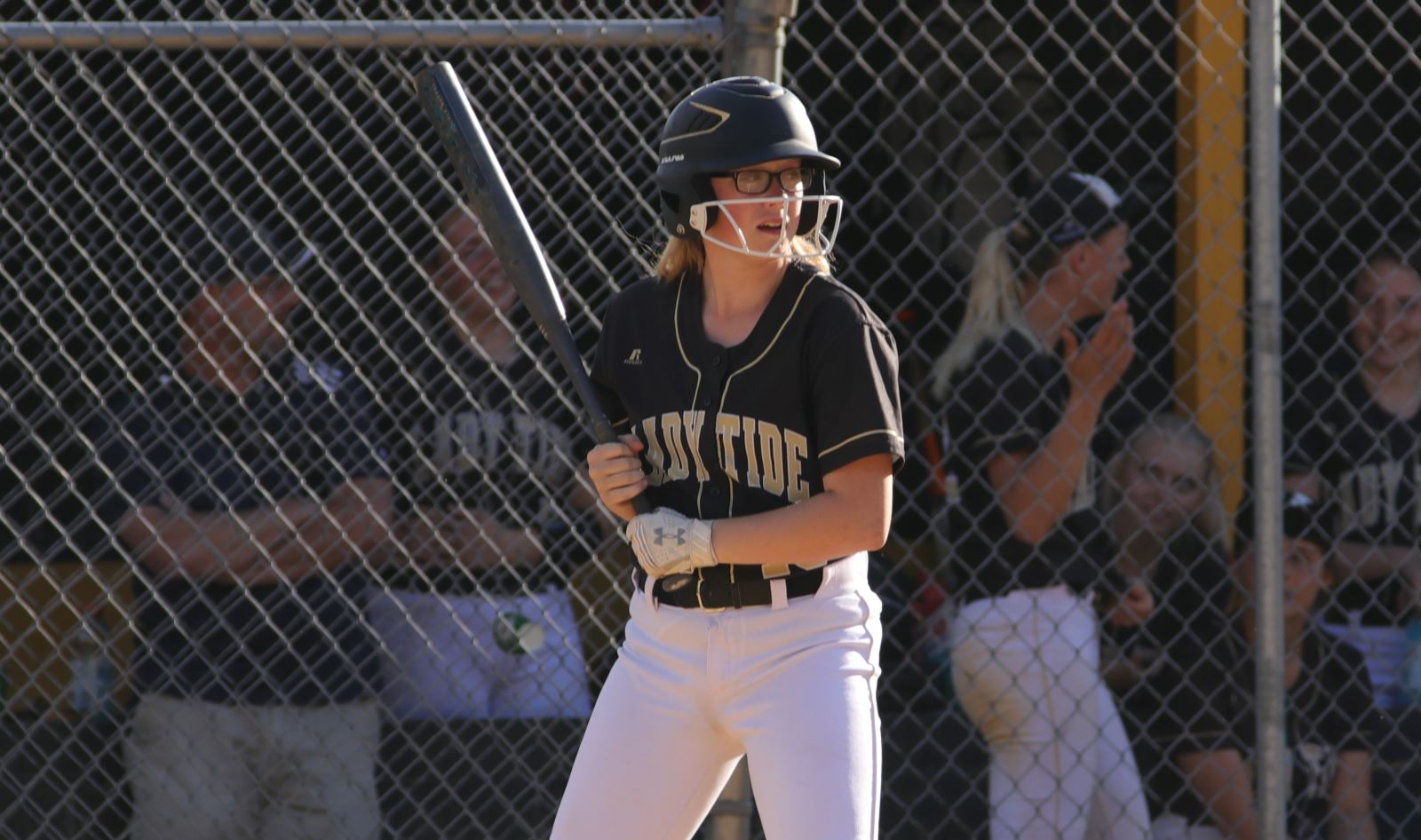 The Curwensville Baseball squad topped Elk County Catholic 5-0 for the Golden Tide's first win of the season, while Curwensville Softball fell to ECC, 12-8.
(This article was provided by our News Partner GantDaily.com.)
(Archived Photo by: Jared Bakaysa)
Curwensville Baseball 5, ECC 0
CURWENSVILLE, Pa. — In the hopes of finally getting on the winning side of the record for 2021, the Curwensville Golden Tide got another chance to be back in front of the home fans, although limited, on Thursday afternoon. An AML showdown with Elk County Catholic was on the docket, and both squads were ready to battle.
And battle they did. Neither team could figure out how to get on the scoreboard through four innings. It was the fifth inning that the Tide made everything happen, as they would score all of their runs in one inning, dropping the Crusaders, 5-0, for their first win of the season.
Pitchers for both teams were dealing all game long. Combined the Crusaders and Tide only had five hits between them.
A pair of singles for the Crusaders, plus a walk, put runners in scoring position. But Shawn Geci got picked off at first for the second out, and a strikeout ended the inning.
Things then stayed similar on both sides, as neither team saw more than four batters come to the plate through the middle of the fifth inning. But in the bottom of the fifth, suddenly Curwensville got things going, with a bit of help.
Following a single and a walk, Jake Mullins was hit by pitcher Jake DePrator to load the bases. Shane Hoover then hit a ground ball, but a fielding error from David Anderson allowed Nick Fegert to get home for the opening run of the game. Keegan Wilson followed that up in similar fashion, reaching first on another error. Thad Butler made it home to make the lead 2-0.
Two batters later, with the bases loaded after a fielder's choice at home saved one run, Shane Sunderlin blasted a fly ball into center field on the first pitch he saw. The ball landed and it brought Wilson, Matt Brown, and Hoover home for a three-RBI double to put the Tide up by five.
That ultimately was enough, as Sunderlin would shut out the Crusaders with 6.1 innings of work, striking out eight while walking just three. He would earn his first win of the season. DePrator would get tagged with the loss as he came in in the fifth inning after Matt Kraus went the previous four.
Curwensville (1-2) is back on the road Friday for a long road trip for a 5:30 p.m. first pitch against Karns City.
SCORE BY INNING
E.C. Catholic 000 000 0 – 0 3 3
Curwensville 000 050 X – 5 2 1
Elk County Catholic – 0
Tommy Slay 4010, Shawn Geci 3010, Joe Tettis 3000, Dominic Zambanni 1000, Luke Ginther 3000, Jordan DePrator 3010, Mark Kraus 2000, Andrew Dellaquila 2000, David Anderson 3000. TOTALS 24 0 3 0.
Curwensville – 5
Jake Mullins 1000, Spencer Hoover 3101, Keegan Wilson 4101, Matt Brown 3100, Shane Sunderlin 2013, Tyler Lee 2000, Jayson Rowles 1000, Shane Henry 2000, Chase Graham 2010, Nick Fegert 0100, Thad Butler 2100. TOTALS 22 5 2 5.
LOB: 7/7
E: Geci, Tettis, Anderson/Butler
ROE: Hoover, Sunderlin, Wilson
2B: DePrator/Sunderlin
FC: Kraus, Anderson/Brown, Butler, Lee
HBP: Dellaquila/Mullins
SB: Kraus/Butler, Mullins
PIK: Geci
GIDP: Rowles
Pitching
E.C. Catholic: Kraus-4 IP, 0 H, 0 R, 0 ER, 3 SO, 3 BB; DePrator-2 IP, 2 H, 5 R, 0 ER, 1 SO, 4 BB.
Curwensville: Sunderlin-6.1 IP, 3 H, 0 R, 0 ER, 8 SO, 3 BB; Lee-0.2 IP, 0 H, 0 R, 0 ER, 1 SO, 0 BB.
W-Sunderlin
L-DePrator
ECC Softball 12, Curwensville 8
ST. MARYS, Pa. – The Curwensville Lady Tide fell in a high scoring affair to the Lady Crusaders of Elk County Catholic Thursday afternoon by a 12-8 final count.
Though Curwensville took a 1-0 lead early in the game thanks to sharp baserunning and hitting from Abby Pentz, the offense from Elk County Catholic proved to be just a little bit too much for Curwensville as ECC collected 14 hits to Curwensville's nine for the game.
After falling behind 5-1 after two innings, Curwensville battled back to make it a 5-3 game in the top of the third. Joslynne Freyer kicked off the third inning rally by singling to right field. After Freyer advanced to second on an error, Mackenzie Wall singled to put runners at the corners with nobody out.
After a Wall steal of second, Teagan Harzinski recorded an RBI ground out which scored Freyer and advanced Wall to third base. Shyanne Rudy was able to plate Wall by way of an RBI groundout of her own which cut the ECC lead to 5-3. Unfortunately for the Lady Tide, it was the closest they would come to retaking the lead as the Lady Crusaders would add seven more runs in the game to secure the victory.
The Lady Tide were able to collect multi-hit games from their top three hitters in the lineup; Pentz, Logan Sheeder, and Freyer. Wall, Harzinski, Rudy, and Marlee Gasper all accounted for one hit each. It was the third straight game Curwensville scored eight runs, which is a key takeaway from a hard fought defeat.
Through three games, Curwensville has six hitters (Sheeder, Wall, Pentz, Freyer, Gasper, and Harzinski) with a .300 average or better.
Curwensville (2-1) will look to bounce back later today, April 9th, in a road game against Moshannon Valley High School. The game is scheduled to begin at 4:00 p.m.
CURWENSVILLE – 8
Abby Pentz (CF) 4320, Logan Sheeder (2B) 3120, Joslynne Freyer (P) 4112, Mackenzie Wall (SS) 4110, Teagan Harzinski (1B) 3011, Shyanne Rudy (3B) 4101, Maddie Butler (C) 2000, Kaylie Shaw (C) 0100, Rylee Wiggins (LF) 2000, AJ Swatsworth (LF) 1000, Marlee Gasper (RF) 3012 TOTALS 30 8 9 5.
Batting
3B: Joslynne Freyer
TB: Joslynne Freyer 4, Marlee Gasper, Teagan Harzinski, Abby Pentz 2, Logan Sheeder 2, Mackenzie Wall
RBI: Joslynne Freyer, Marlee Gasper 2, Teagan Harzinski, Shyanne Rudy
FC: Abby Pentz, Shyanne Rudy 2
HBP: Teagan Harzinski, Abby Pentz
SB: Marlee Gasper, Abby Pentz, Logan Sheeder, Mackenzie Wall
Fielding
E: Joslynne Freyer, Teagan Harzinski, Logan Sheeder
Elk County Catholic – 12
Lucy Klawhun (SS) 5432, Lydia Anderson (!B) 3222, Gabrielle Weisner (CF) 4134, Emily Mourer (P) 4132, Sydney Alexander (3B) 4100, Tessa Fledderman 4110 (DH), Hope Farley (RF) 4010, Katherine Kirst (2B) 3001, Ellie Baron (RF), Caitlyn Vollmer (C) 0000 3210 TOTALS 34 12 14 11.
Batting
2B: Lucy Klawuhn 2, Gabrielle Weisner 2, Emily Mourer, Ellie Baron
HR: Emily Mourer
TB: Lucy Klawuhn 5, Gabrielle Weisner 5, Lydia Anderson 2, Emily Mourer 7, Tessa Fleaderman, Hope Farley, Ellie Baron 2
RBI: Lucy Klawuhn 2, Gabrielle Weisner 4, Lydia Anderson 2, Emily Mourer 2, Katherine Kirst
SAC: Katherine Kirst
ROE: Lucy Klawuhn, Sydney Alexander, Hope Farley
SB: Lucy Klawuhn 3, Sydney Alexander 2, Hope Farley
Fielding
E: Katherine Kirst
Score by Innings
Curwensville 1022012
Elk County Catholic 323220X
Pitching
Curwensville Joslynne Freyer 6 IP, 14 H, 12 R, 9 ER, 2 BB, 5 K.
Elk County Catholic Emily Mourer 7 IP, 9 H, 8 R, 7 ER, 5 BB, 4 K.
W – Emily Mourer (1-0). L – Joslynne Freyer (2-1).