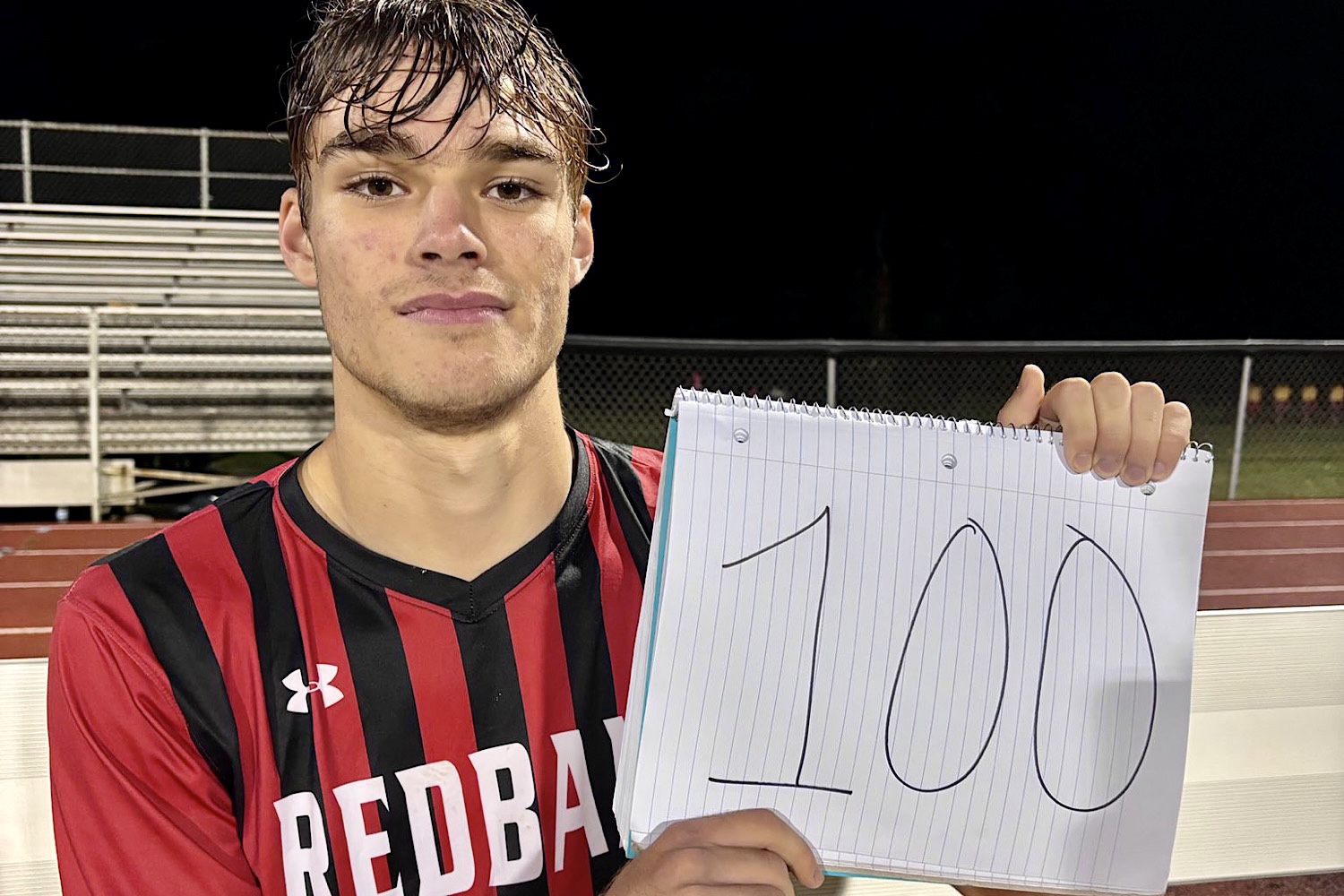 NEW BETHLEHEM, Pa. (EYT/D9) — Four years ago, Owen Clouse was a green soccer player with tremendous speed and athleticism.
That was enough.
(Pictured above, Owen Clouse holds up a notebook page with 100 written on it after reaching that goals-scored milestone in a win over Punxsutawney on Monday night)
His skills on the pitch were raw. After all, he had only played for a little more than a year, leaving the football field behind to tackle a new sport and a new challenge out of necessity — concussions had forced him to turn in the shoulder pads for the soccer kit.
Never did he think he'd become the all-time leading goal scorer for the Redbank Valley soccer team, let alone reach a special milestone.
Scoring 100 career goals.
But he did just that in a 12-0 win over Punxsutawney at home on Monday night. The senior forward came into the evening needing three goals to reach 100.
Clouse scored four.

Redbank Valley, Keystone, and Union/A-C Valley sports coverage on Explore and D9Sports.com is brought to you by Heeter Lumber.
"It means a lot, really," Clouse said. "I couldn't have done it without my whole team and coaches and everyone who has supported me."
Clouse wanted to continuing playing football, but at the time the risk was just too great. So he needed another athletic outlet in the fall and soccer was it.
There, he put his physical gifts on display, using his pure speed to score goals in bunches.
It didn't take him long to make a profound impact. As just a sophomore, he scored his 34th career goal — ironically against Punxsutawney — to break the goal scoring record at the school.
Keith Ochs had scored 33 in his time in a Bulldog uniform. That number had stood for 20 years.
Clouse blew right past it.
Clouse then set his sights on 100, but that seemed ambitious to him at the time.
"I never would have thought this would have happened," Clouse said. "But over the years, I was able to get so many goals, and I'm so grateful for the people who have helped me get it."
One of the people who has helped Clouse fill up the net is senior Ty Carrier, who recently set the career assists mark for the Redbank Valley boys soccer program. That mark had also stood for two decades.
Clouse has also had other potent offensive weapons around him, players like Owen Harmon, who graduated last year, and junior Caleb Root, who scored three of his own against the Chucks on Monday.
Clouse now has 20 goals this season.
Carrier also scored a pair of goals against Punxsutawney and Root added two assists to go with his hat trick.
Clouse has since returned to the football field. Last year, he was back as a place kicker. This year, he is still kicking, but is also hitting the field in an expanded role as a wide receiver and defensive back.
His twin brother, Mason Clouse, is the leading receiver for the undefeated Bulldogs.
Owen Clouse now has 101 goals in his career.

Redbank Valley, Keystone, and Union/A-C Valley sports coverage on Explore and D9Sports.com is brought to you by Heeter Lumber.