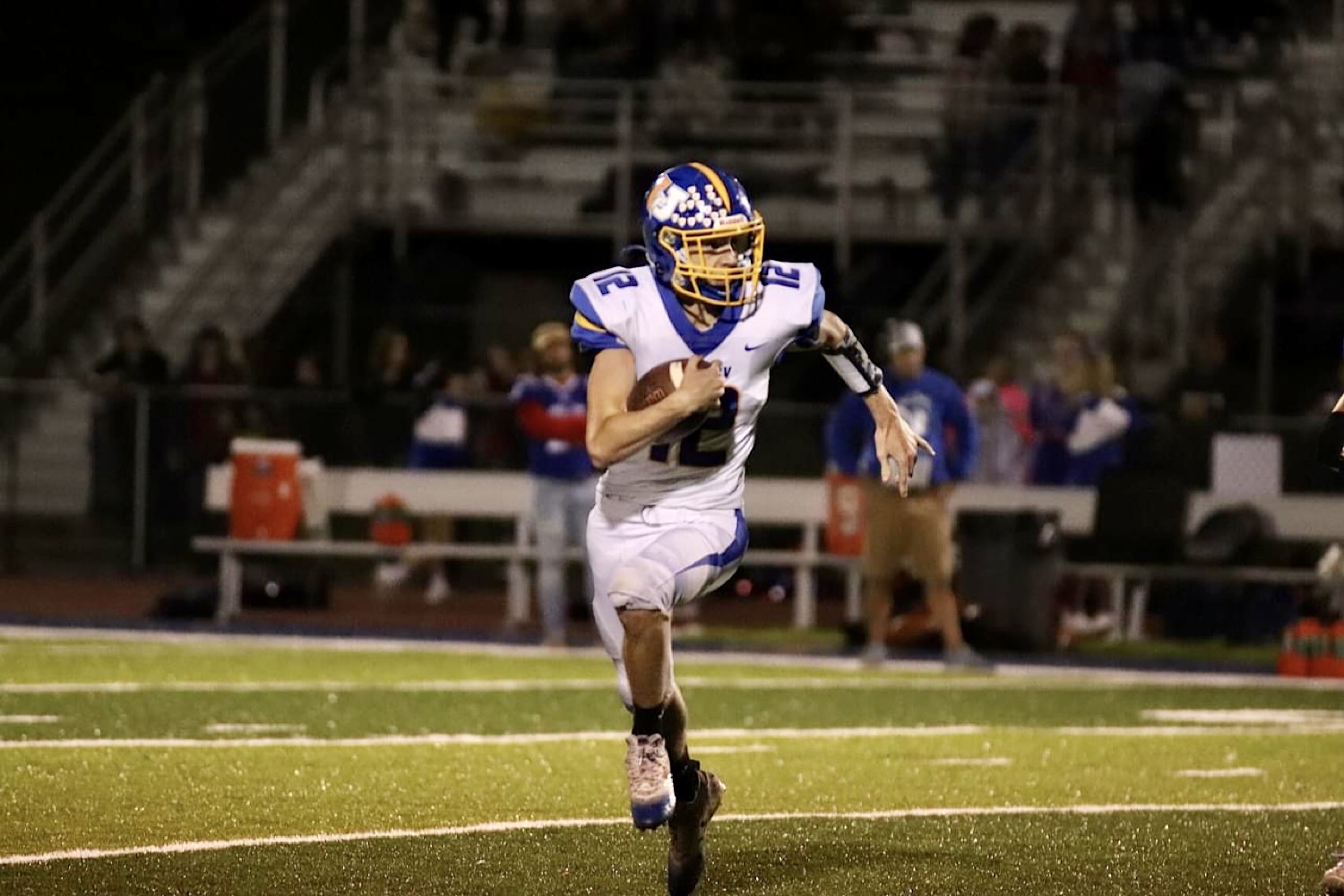 RIMERSBURG, Pa. (EYT/D9) — The Union/A-C Valley football team has seen this all before.
Spread offense. Star quarterback. Dangerous receivers. Effective running game. A nightmare to try to stop.
For the third time in four weeks, the Falcon Knights will take on an offensive juggernaut when they host red-hot undefeated Redbank Valley on Friday night.
(Pictured above, Union/A-C Valley's Owen Bish in the open field against Kane last week/submitted photo)
But Union/A-C Valley has a little advantage.
They've been there, done that against Central Clarion and Brockway, teams that run very similar offensive attacks as Redbank.
"Our defensive backs have stepped up the last couple of weeks and played a lot better," said Union/A-C Valley coach Dan Reed. "Hopefully our d-backs can step up and make some plays and we can put some pressure on this quarterback."

Redbank Valley, Keystone, and Union/A-C Valley sports coverage on Explore and D9Sports.com is brought to you by Heeter Lumber.
Things did not go well for the Falcon Knights when they faced that kind of attack against Central Clarion. The Wildcats blew open the game on the way to a 72-0 win.
But the next week against another talented offense in Brockway, the Falcon Knights held the Rovers to just seven points in a 12-7 victory.
Last week, the defense again shined again in a 40-0 win over Kane, intercepting two passes and forcing a fumble that was returned for a touchdown.
"It helps that we've seen that kind of speed," Reed said of Redbank Valley. "They have some really good athletes, but it's not like it's something brand new that we haven't seen.
"We have some experience back there," Reed said of his secondary. "We have good athletes. Hopefully they can step up to the challenge."
And they certainly will be challenged.
Redbank Valley sophomore quarterback Braylon Wagner has completed 68-of-90 passes — a gaudy 75.6% — for 1,319 yards and 18 touchdowns.
Mason Clouse is having a breakout season with 23 receptions for 527 yards and eight touchdowns. Ashton Kahle is also a dangerous deep threat with 19 catches for 389 yards and three scores.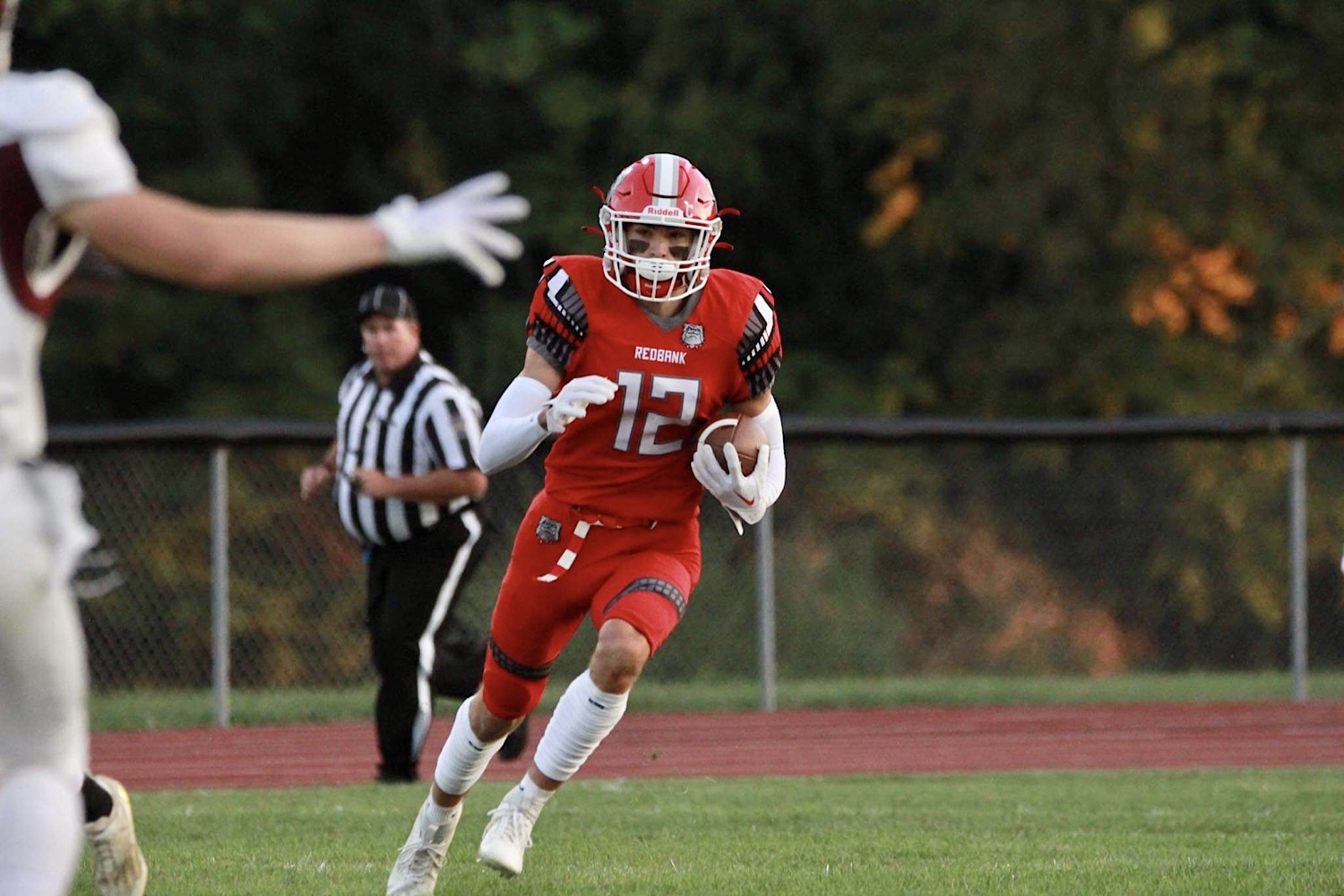 (Redbank Valley senior Mason Clouse head upfield during a win at home against Ridgway last week/photo by Madison McFarland)
The Redbank running game has also flourished with Drew Byers averaging 7.1 yards per attempt for 424 yards and five TDs. Wagner has also shown the ability to run with 230 yards on just 27 carries and six touchdowns.
Despite all of that and averaging 52 points per game through five weeks, Bulldog coach Blane Gold is not completely satisfied.
"We're definitely not where we want to be right now," he said. "There's been some times this season that we've been fortunate, we've been lucky, we've had the ball bounce our way. We need to focus on putting ourselves in a position where we're not relying on that luck."
Redbank Valley has also been in some tough battles with Union/A-C Valley over the years.
While the Bulldogs are 8-1 overall, most of those games have been close.
"Their defense has always gives us a hard time," Gold said. "The last time we went there in 2021, we really struggled to score points. I think we had the ball inside their 10 five or six times and only scored liked one offensive touchdown. They always have a tremendous defensive game plan against us, one that typically gives us fits."
That's the plan again for Union/A-C Valley, which is 3-2 but 3-0 in Region 2, tied with Redbank Valley (5-0, 3-0) and Port Allegeny (4-1, 3-0) atop the standings.
"They're a good team and they're undefeated in the region," Gold said. "We're gonna have our hands full."
Union/A-C Valley has found a potent 1-2 punch in the backfield in Owen Bish — who has ties to Redbank Valley — and Logan Skibinski.
Bish, who has moved around at various positions this season, leads the Falcon Knights with 285 yards rushing on just 32 carries with three touchdowns.
"There's no shortage of respect over here for Owen Bish," Gold said. "He's the cousin of Dalton and Cole Bish, who are probably two of the most dedicated and toughest football players that I've ever coached. So if that kid's got the same blood pumping through his veins as Cole and Dalton do, we know as a team we have our hands full."
Skibinski has gained 233 yards on the ground on just 31 attempts and scored twice.
Those two may be a key this week in keeping that Redbank Valley offense off the field.
"We have to try to keep moving the ball with our base offense in the running game and when we have the chance, make big plays down field," Reed said. "I think we've been fairly successful doing that this year."
Especially the last two weeks.
After that disheartening loss to Central Clarion, the performance of his team the last two games has made Reed proud.
"That game could have been a season-killer for a lot of teams," Reed said. "You have to attribute that bounce back to our kids being resilient. I think we realized that Central Clarion is very good and we're not near as bad as what we showed that night.
"Like I said at the beginning of the year, there aren't any easy games," Reed added. "There's a lot of really good football teams with some great quarterbacks with good team speed."
Redbank certainly qualifies.
There were question marks in New Bethlehem this season with Wagner, a sophomore, building on that four-game audition he had at the end of last season, and replacing some top talent on both sides of the ball.
The Bulldogs haven't missed a beat, especially on offense where coordinator Jason Kundick has managed to reload again.
"I really have to give a ton of credit to Jason. He does a great job. I don't do anything with the offense," Gold said. "We're not a team that has a lot of big record-holders as far as single-season records and things like that because Jason always does a phenomenal job of spreading the ball around. He does a really, really good job as far as coming up with game plans. In my mind, he's one of the top offensive minds in the district.
"I'm sure people have watched our team from afar and expected a fall off," Gold added. "Not to say that's not going to happen — that always happens in high school sports — but he always does a really good job every year of finding ways to win with different guys. He's good at taking guys enrolled at our school and scoring a lot of points with them."

Redbank Valley, Keystone, and Union/A-C Valley sports coverage on Explore and D9Sports.com is brought to you by Heeter Lumber.