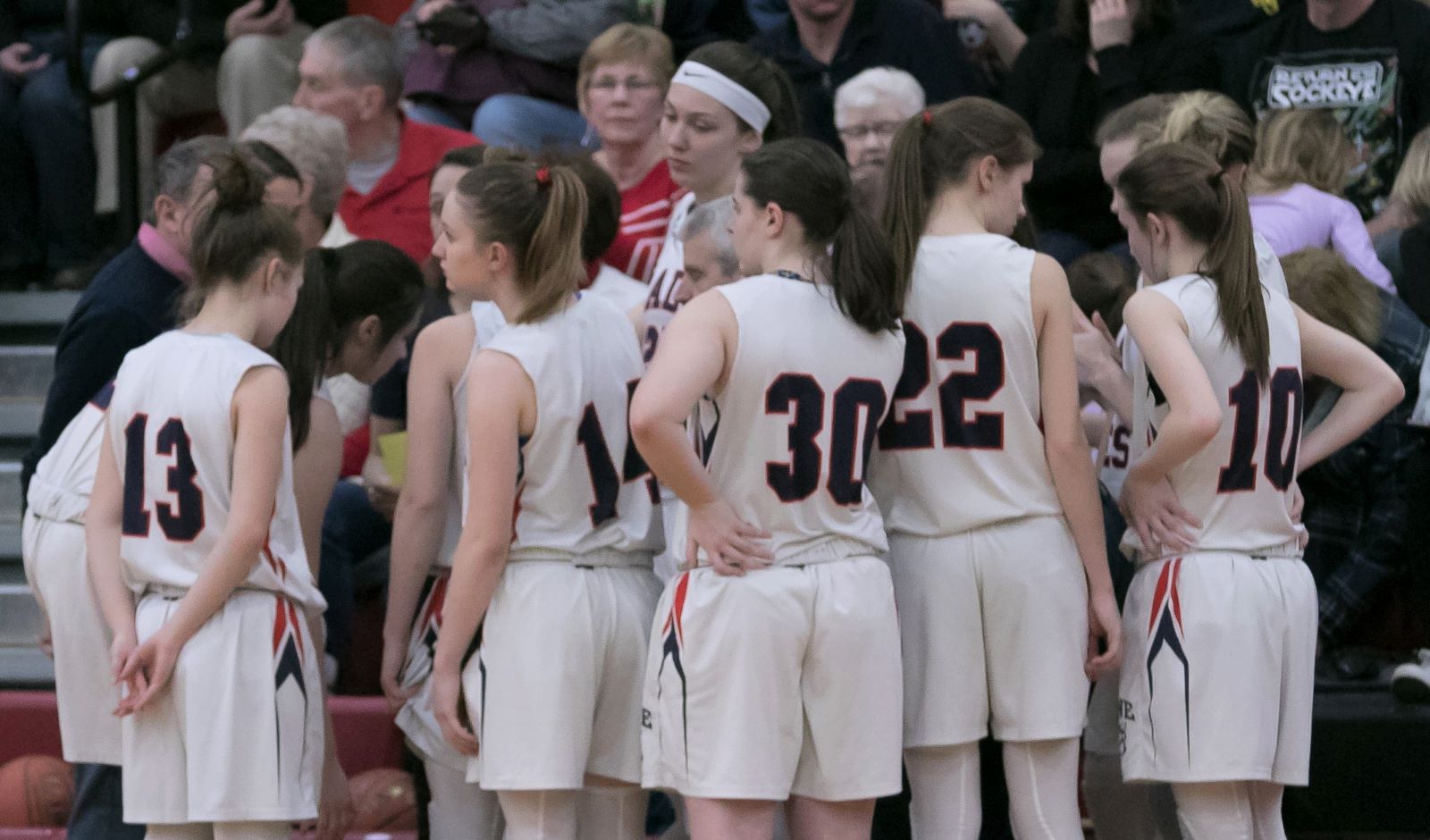 FRANKLIN, Pa. – All good things come to an end.
(Photo by Jared Bakaysa of JB Graphics. See more of Bakaysa's work here)
District 9 Champions Kane saw its 20-game winning streak and a bid at the PIAA Class 2A Final Four come to an end with a 61-31 defeat to District 10 Champion West Middlesex in the PIAA Class 2A Quarterfinals at Franklin High School Friday night.
Turnovers were a big key in the loss, the Lady Wolves struggled to break the Big Red press and senior Ella Marconi was held to only 12 points on the night.
"This was an off night," Kane head coach Dave Kiehl, who returned to the sideline for the first time since Feb. 26 where he suffered a heart attack following a win over Clarion in the District 9 Semifinals, said. "Turnovers hurt us. We haven't struggled against the press all year. That was not our best tonight."
The Lady Wolves looked to be in the hunt early trailing the Big Red, 15-14, after one quarter thanks to a pair of 3-pointers from Emily Buchheit and Hannah Buhl and four points from Marconi.
However, the Big Red outscored the Lady Wolves 21-6 in the second quarter behind seven points from MaKennah White and five apiece from freshman duo Carlie Beatty and Emily Anthony. Kane couldn't buy a bucket until 2:28 remaining in the second. Marconi tallied four points and Sarri Swanson knocked down a pair of free throws with 10 seconds left to make it a 36-20 deficit heading into the half.
Things didn't get much better for the Lady Wolves in the second half, as Hannah Buhl's 3-pointer with 5:14 left in the third quarter was the only points scored by Kane in the quarter.
Meanwhile, the Big Red were paced by Karsyn Rupert's six points and saw themselves with a 48-23 lead at the end of three.
"That's the best I saw (them shooting)," Kiehl said. "I watched a lot of film the past couple days, and that's the best I saw (Rupert) and (Grace Mild) shoot all year."
The fourth quarter saw Marconi net another four points and a Buhl 3-pointer for the Lady Wolves, but the Big Red got six points from Beatty and three from Rupert to stretch the lead and wrap up a 61-31 victory.
Beatty and Rupert each finished with 15 points to lead the Big Red. MaKennah White added 12 points and Emily Anthony chipped in for 11.
Marconi paced the Lady Wolves with a team-high 12 points and finished 1,735 in her career, the most ever at the school, with Buhl netting nine, all 3-pointers and Emily Bucheit chipping in for six.
Kane finishes the season 25-4 and saw the program win its first District 9 Championship and a PIAA playoff game – two be exact – in school history.
"I've been the coach for 18 years and that's the most improved team I've seen from beginning to end," Kiehl said. "They're all great kids. I told them don't remember your season by tonight."
West Middlesex will take on District 5 Champion Everett, who defeated A-C Valley, 59-36, on Monday, March 18, in the PIAA Class 2A Semifinals.
WEST MIDDLESEX 61, KANE 31
Scores by Quarters
Kane 14 6 3 8 – 31
West Middlesex 15 21 12 13 – 61
KANE – 31
Hannah Buhl 3 0 0-0 9, Ella Marconi 6 0-0 12, Emily Bucheit 1 1 1-2 6, Sierra Hillman 0 0-0 0, Hannah Brown 0 0-0 0, Emma Ely 0 0-0 0, Madi Koza 0 0-0 0, Audri Marconi 1 0-0 2, Sarri Swanson 0 2-2 2, Kaitlyn Young 0 0-0 0, Rainee Wright 0 0-0 0. Total 12 3-4 31
WEST MIDDLESEX – 61
Taylor Tomko 1 0 0-0 3, MaKennah White 4 2-3 12, Emily Anthony 5 1-2 11, Karsyn Rupert 6 3-4 15, Carlie Beatty 7 1-2 15, Grace Mild 1 1 0-0 5. Totals 26 7-13 61
Three-pointers:Kane 4 (Buhl 3, Bucheit), West Middlesex 2 (Tomko, Mild)