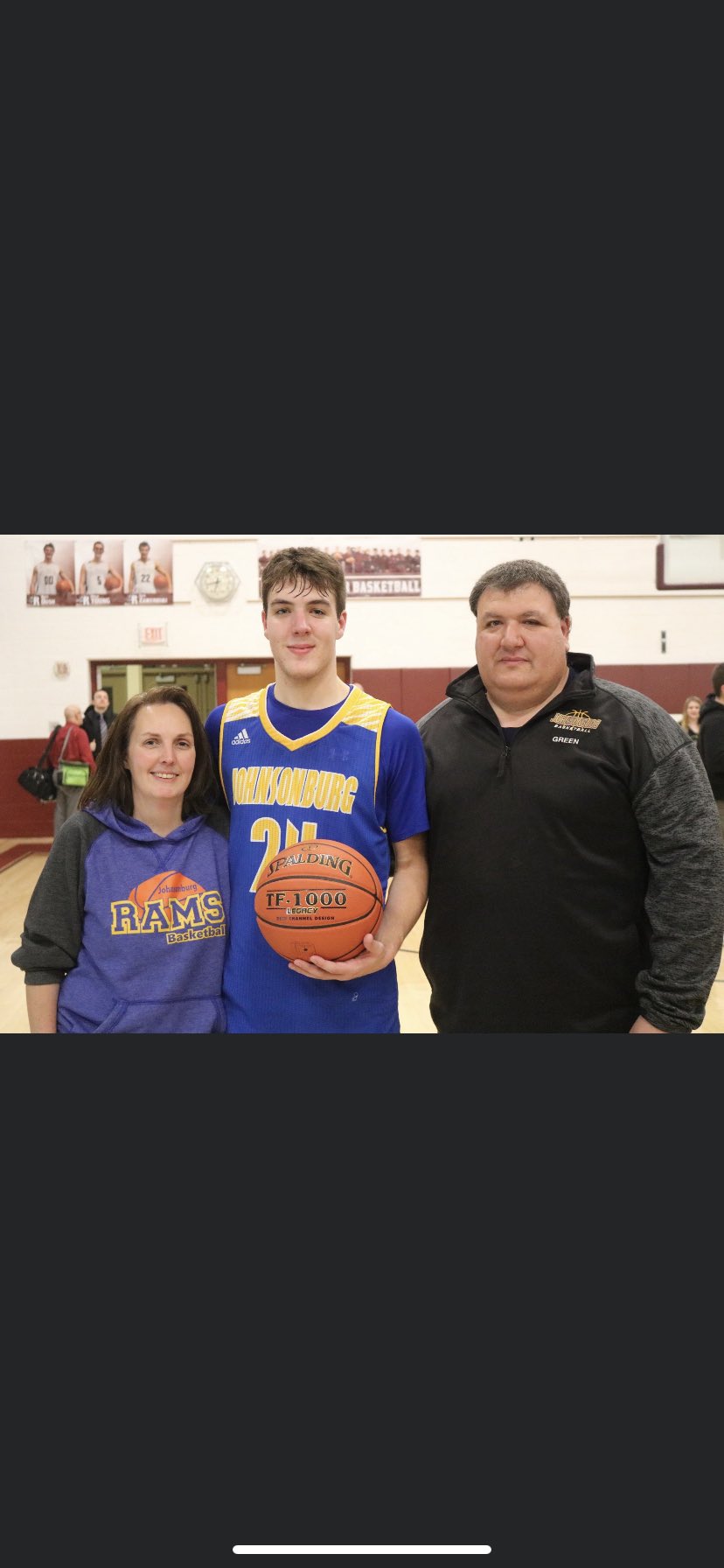 RIDGWAY, Pa. – Austin Green became the eighth player in Johnsonburg boys' basketball history to score his 1,000th career point during the Rames 40-32 win over Ridgway Friday night.
(Photo of Austin Green of Johnsonburg, who scored his 1,000th career point Friday night. Submitted Photo)
Green came into the night needing 11 points and score exactly 11, including six in the fourth quarter to help the Rams hold off the Elkers.
Green is the first Johnsonburg player to score 1,000 points since Cole Peterson and Cameron Grumley both reached that mark in careers that ended in 2014. Peterson is the Rams second-leading scorer with 1,598 career points while Cameron Grumley is Johnsonburg's third all-time leading scorer with 1,513 career points. Cameron Grumley's older brother, Calvin Grumley, is the all-time leading scorer at Johnsonburg with 2,257 career points, the second most in District 9 history.
Prior to Calvin Grumley topping 1,000 points, the las Johnsonburg 1,000-point scorer was in 1988 when Bill Scilingo finished his career with 1,258 career tallies. Green is currently in eighth place on Johnsonburg's all-time list behind the above four, Larry Zuroski (Graduated in 1983, 1,218 career points), Chris Parana (Graduated in 1984, 1,141 career points) and Bernie Kanski (Graduated in 1969, 1,046 career points).
Green is averaging 13.3 ppg for the Rams, who improved to 7-5 with the win.
Editor's note: If anyone has a photo of Green with his 1,000th point ball, it can be submitted to sports@d9sports.com.