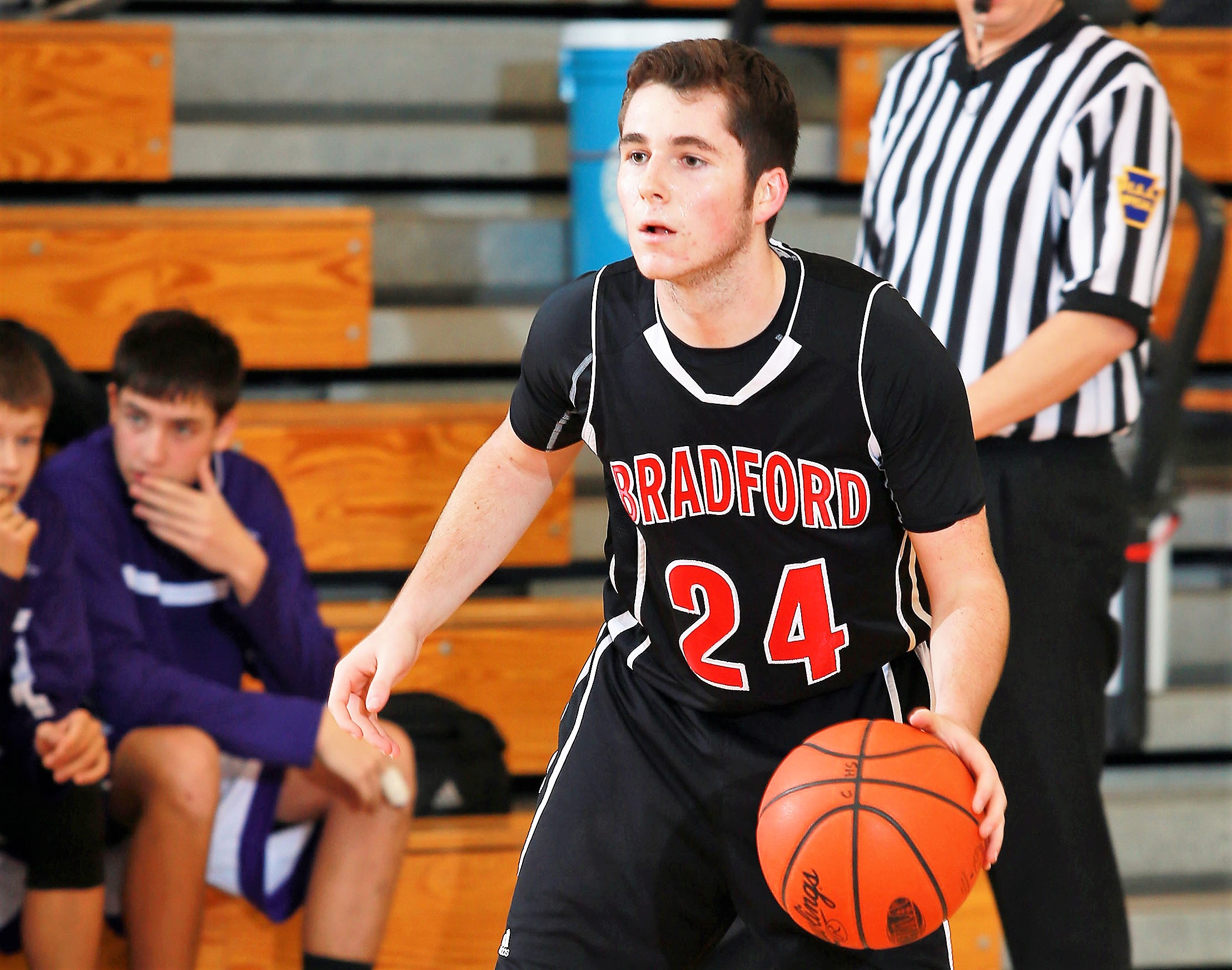 Feb. 17 boys' and girls' basketball roundup.
KSAC Title Games • AML Girls' Semifinals
(Cover photo of Bradford's Nate Higbie. Photo by Paul Burdick. Check out more of Burdick's work here)
BOYS
BRADFORD 58, PUNXSUTAWNEY 57, OVERTIME
PUNXSUTAWNEY, Pa. – Nate Higbie's tip-in with about one second left helped Bradford extend its season with a 58-57 overtime win at Punxsutawney in D9 League action.
The victory secured a District 9 Class 4A playoff spot for the Owls, who were most likely not going to be allowed to go the open tournament by school administrators if they hadn't won.
While Higbie was the overtime hero for Bradford, Tyler Gigliotti was the reason Higbie had a shot to win the game. Gigliotti netted nine of his 11 points in the extra session hitting a three, a two and 4 of 4 free throws to help the Owls avoid what would have been a heartbreaking, season-ending loss.
After a slow start that saw them trail 17-10 after a quarter, Bradford took a 35-30 lead in the fourth quarter only to watch the playoff-bound Chucks rally behind five points from Ethan Blose and four from Brandon Matthews to force overtime tied at 46.
Deonte Terwilliger paced Bradford with 13 points. Higbie joined Gigliotti in scoring 11 points while also dishing out six assists. Danny Manion and Donnie Pattison both contributed nine tallies with Mannion grabbing a team-best 11 rebounds. Terwilliger had eight boards.
Ethan Riley led Punxsy with 19 points, Matthews added 12 and Blose 10.
BROOKVILLE 56, DUBOIS 55
BROOKVILLE, Pa. – Colton Singleton's two free throws with 2.5 seconds on the clock wound up being the difference as Brookville rallied to beat DuBois, 56-55, in D9 League action.
After Singleton's free throws put the Raiders up 56-54, the Beavers' long inbounds pass from under Brookville's basket got to Nick Labrasca. He was able to get a shot off and was fouled with no time on the clock. Needing to make two free throws to force overtime, Labrasca made the first and then after a Raiders timeout, missed the second.
Labrasca led all scorers with 27 points and was the only Beaver in double-figure scoring. DuBois led 36-22 at halftime and by as many as 17 points in the third quarter before the Raiders rallied.
Singleton paced Brookville with 12 points. Nick Keth and Bryan Dworek each scored 11 points.
SMETHPORT 63, NORTHERN POTTER 49
SMETHPORT, Pa. – Justin Tanner led four Smethport players in double digits with 16 points, as the Hubbers closed out the season on a high note with a 63-49 North Tier League win over visiting Northern Potter.
Eric Szarowicz chipped in 13 points for Smethport with Brayden Southard adding 12 and Caleb Lutz 10.
Tucker Kosa had a game-high 24 points for Northern Potter
GIRLS
PUNXSUTAWNEY 47, BRADFORD 24
BRADFORD, Pa. – Alli Lunger, Kate Horner and Morgan Vanleer combined to score 37 points to lead visiting Punxsutawney to a 47-24 D9 League win at Bradford.
Lunger and Horner each scored 13 points for the Lady Chucks with Vanleer adding 11. Leah Miller had a team-high 14 rebounds to go with four points.
Brinya Moffet led Bradford with eight points, while Punxsy held the Owls leading scorer Bri Wells to just three tallies and had to leave the game in the fourth quarter after a multi-player collision.
DUBOIS 43, BROOKVILLE 41
DUBOIS, Pa. – Laura Fatula hit two free throws with 19 seconds left to help DuBois hold off visiting Brookville, 43-41, in D9 League action.
The game was tied at 41 when Fatula was fouled.
Brookville had a pair of chances to tie the game late, but a shot rolled off the rim, and after Ashley Hallowell grabbed the rebound for DuBois, Brookville forced a held ball with the possession arrow in the Lady Raiders favor. But a shot at the horn was also off the mark.
Chelsea DeSalve paced DuBois with 16 points. Hallowell had 11 points and 17 rebounds, and Fatula added eight tallies.
Kira Powell led Brookville with eight points. Madison and Morgan Johnson each scored six points.