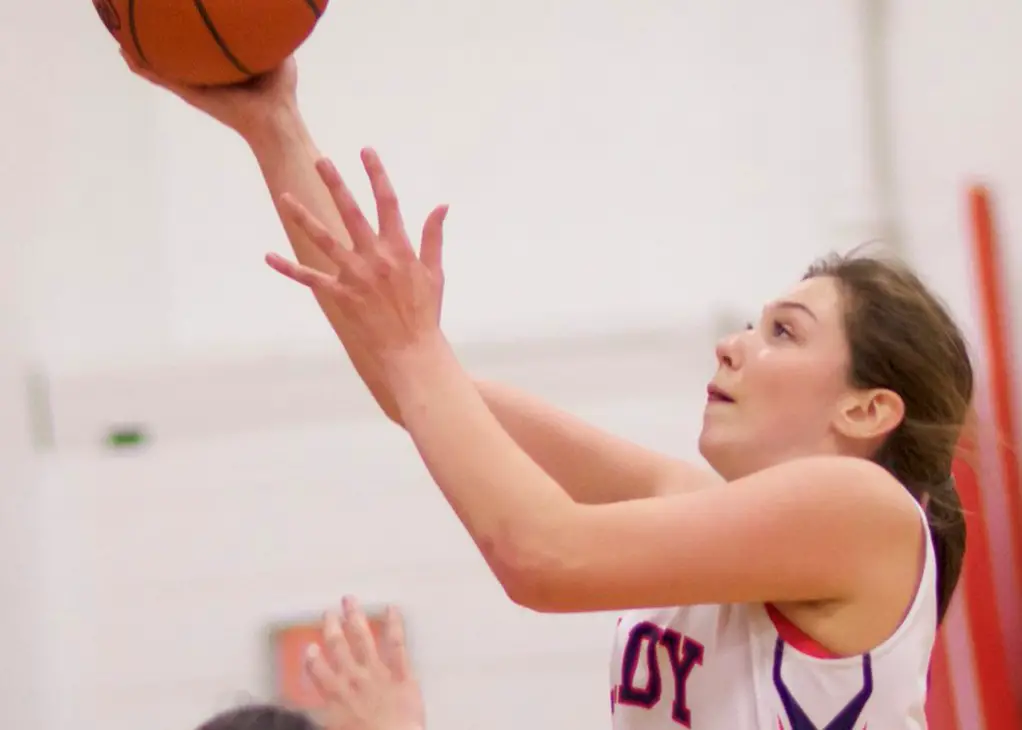 AML girls' semifinal recaps.
KSAC Title Games • Boys'/Girls' Recaps
Cover photo: Kane's Ella Marconi
KANE 54, DUBOIS CENTRAL CATHOLIC 34
DUBOIS, Pa. – Kane avenged a loss to DuBois Central Catholic in last year's AML title game with a 54-34 throttling of the AML South champion Cardinals on their home court.
A 21-7 third-quarter advantage proved to be the difference for the Lady Wolves, who led by four, 24-20, at halftime.
Trinity Clark and Ella Marconi both had big games for Kane.
Marconi netted a game-high 19 points to go with 13 rebounds and four blocked shots with Clark chipping in 16 points, 12 rebounds and five steals.
Rachael Morgan added eight points and 10 rebounds for the Lady Wolves with Hannah Buhl dishing out four assists to go with four points.
DCC got a team-high 10 points Jordy Frank. Macy Hanes and Riley Assalone both scored six.
Kane will take on Elk County Catholic in the title game at 6 p.m. Saturday at St. Marys High School. ECC won both regular-season matchups with Kane.
ELK COUNTY CATHOLIC 60, RIDGWAY 40
ST. MARYS, Pa. – Cassidy Cunningham exploded for 21 points to help Elk County Catholic claim a spot in the AML Championship game with a 60-40 win over visiting Ridgway.
Cunningham hit four 3-pointers, including a pair in a seven-point first quarter that helped ECC claim a 14-12 lead at the end of one.
The Lady Crusaders were able to expand that lead to 31-23 by halftime and then outscored the Lady Elkers 12-5 in the third quarter with Cunningham adding seven more points to put the game away.
Mackenzie Cashmere chipped in nine points for ECC.
Emily Fullem had another big game for Ridgway with 18 points, 12 rebounds, six blocked shots, four assists and three steals. Hannah Park chipped in 11 points.
ECC takes on Kane in the AML Title Game at 6 p.m. Saturday at St. Marys High School. The Lady Crusaders beat the Lady Wolves twice during the regular season.