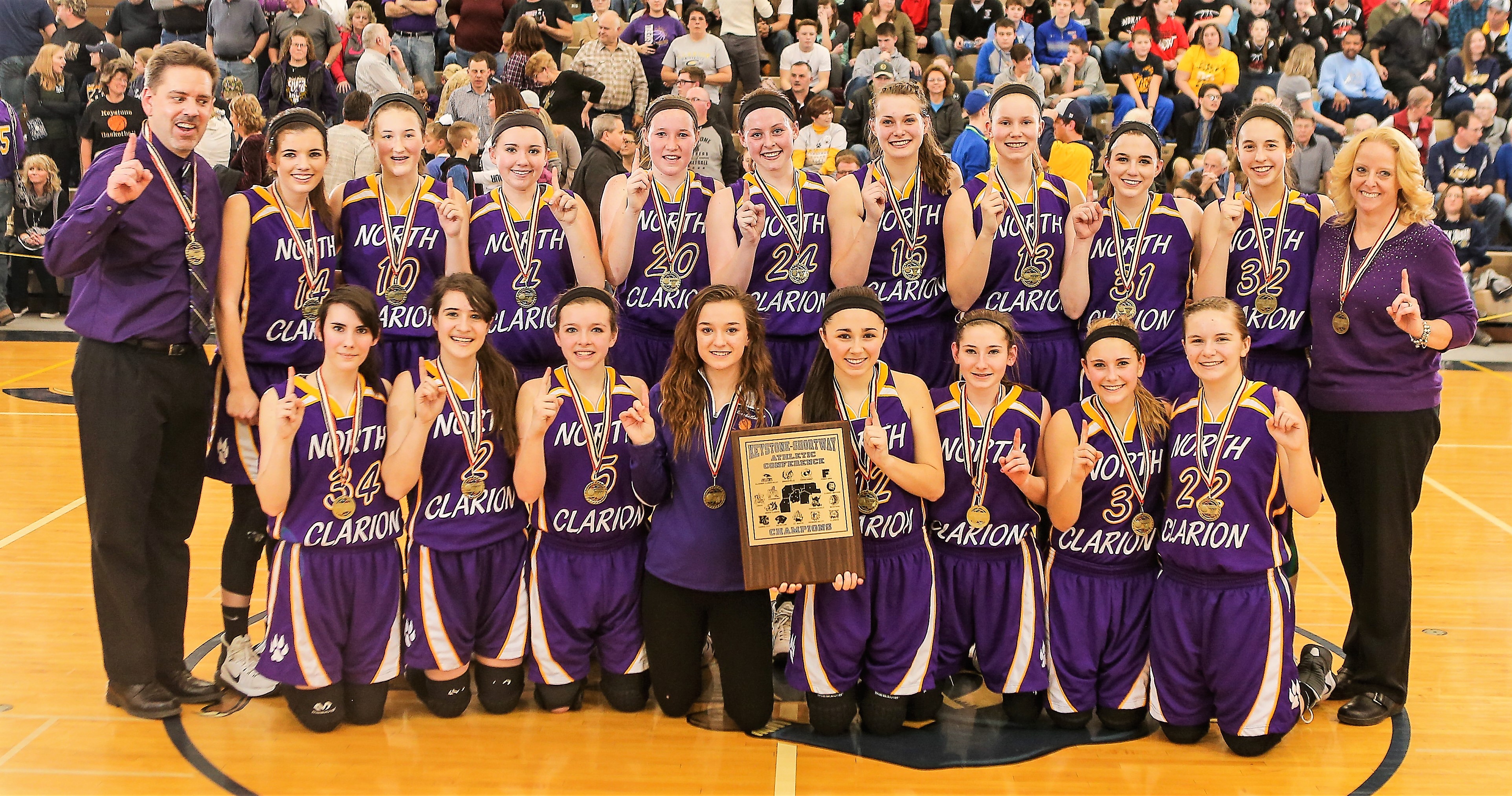 CLARION, Pa. – The North Clarion girls and Keystone boys captured KSAC titles Friday night at Clarion University's Tippin Gym.
AML Girls' Semifinals • Boys'/Girls' Recaps
NORTH CLARION 44, MONITEAU 43
Freshman Abby Gatesman hit a layup with 7.3 seconds left to give the She-Wolves their first-ever conference title.
Moniteau had taken its first lead of the gam, 43-42, on an Alazia Greaves 3-pointer from the top of the circle with 20.7 seconds to play.
But after a North Clarion timeout, the She-Wolves got the ball to Gatesman, who became the hero.
Gatesman and Tori Obenrader, who was named the inaugural KSAC Girls' Championship Game MVP sponsored by exploreClarion.com after scoring 23 points to go with 13 rebounds, talked about the win.
North Clarion, which started the game on an 11-2 run, led 21-20 at halftime before a 10-point third quarter from Obenrader opened the advantage to seven, 36-29, going to the fourth quarter.
When Ally Carll hit a free throw early in the quarter the lead grew to eight, but Moniteau went on an 8-0 run highlighted by four points from Cambrie Campbell, to tie the game at 37 with 3:39 to play.
An old-school 3-point play by Obenrader followed by Kristin Auvil's fourth 3-pointer of the game with 2:08 to play get the game tied at 40.
Ally Carll, who added seven points and 10 rebounds, then gave North Clarion a 42-40 lead with 1:18 left before Greaves, who saw her minutes limited by either illness or an injury, out the Lady Warriors in front for the only time in the game.
Auvil led Moniteau with 12 points while Emma Bair chipped in 10 points and a game-high 21 rebounds. Campbell had nine points. But the Lady Warriors two 1,000-point scorers, Greaves and Kristina DeMatteis, combined for just nine points with Greaves scoring four and DeMatteis five to go with 10 rebounds. All five of DeMatteis' tallies came in the second quarter.
KEYSTONE 55, CLARION-LIMESTONE 42
A 13-0 run to open the game set the tone early for Keystone, as the Panthers collected their first KSAC title in eight years (2009) with the win while denying C-L's bid to become the first team to win win four straight KSAC/Clarion County League titles in 58 years.
Nate Wingard played a big role in the first-quarter success netting nine of his 17 points in the opening quarter. Austin Ion, the inaugural KSAC Boys' Championship Game MVP sponsored by exploreClarion.com, also scored 17 points while grabbing 16 rebounds.
Wingard and Austin talked about the victory.
C-L, which still trailed by 12, 27-15, at halftime, made a push in the third quarter using a 10-2 run that saw Ian and Dan Callen each score four points during the spurt, to close within four, 33-29, with 2:52 to play in the third quarter.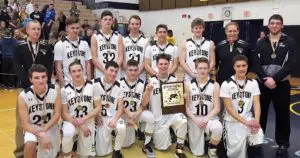 But Keystone answered with a Wingard fastbreak basket that started a quarter-ending 10-0 run that was capped by an Ion 3-pointer at the horn that pushed the Panthers' lead to 43-29 going to the fourth.
C-L got as close as seven, 47-40, in the final quarter but got no closer.
Corey Rapp added 13 points and 11 rebounds for Keystone.
Ian Callen led the Lions with 16 points with Dan Callen chipping in 14 points and 12 rebounds with eight of the points coming in the third quarter.