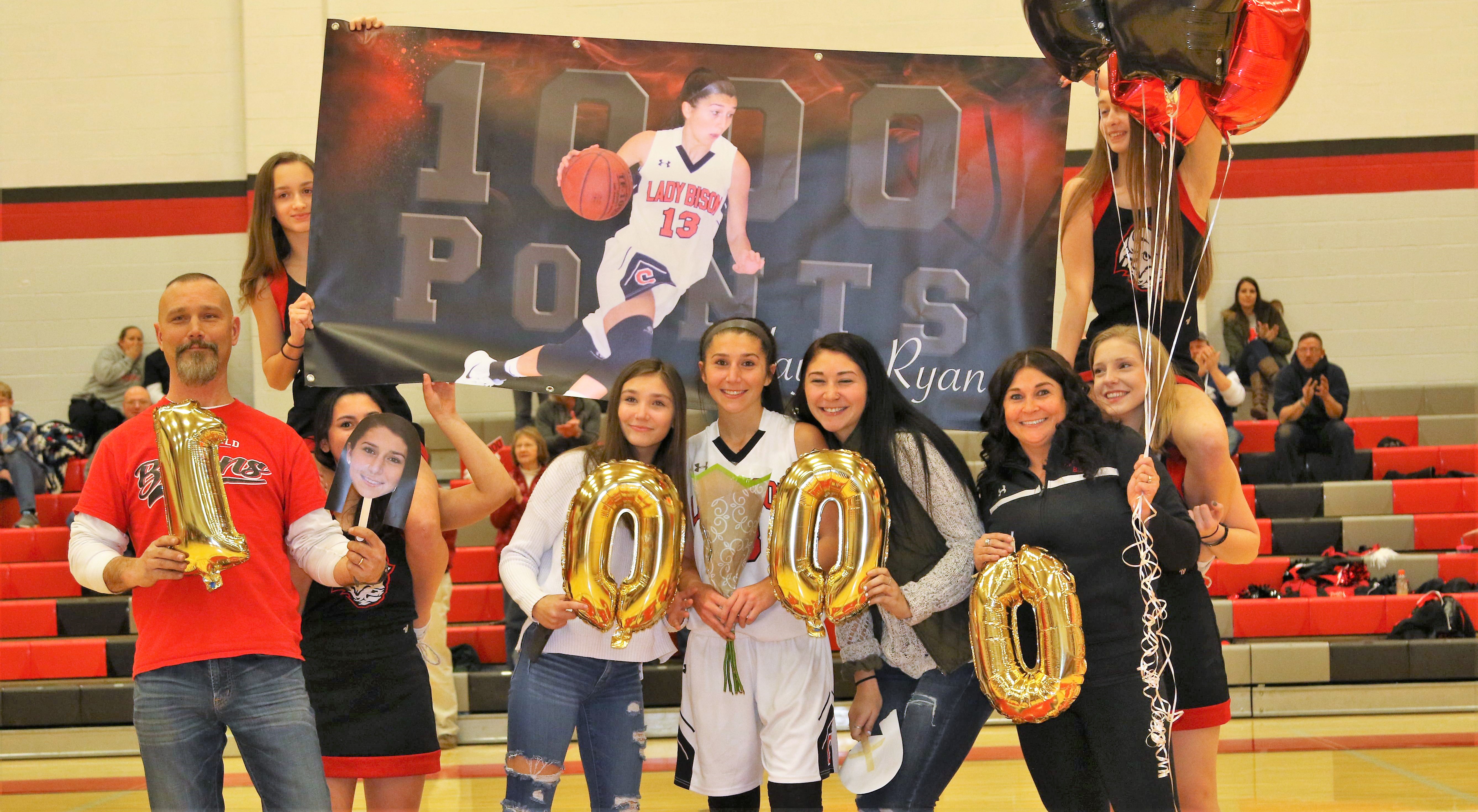 Jan. 22 girls'/boys' basketball recaps.
(Photo: Alayna Ryan scored her 1,000th career point Tuesday night becoming the first Clearfield girls' player in 19 years to reach the 1,000-point plateau. Photo by Stephen A. Dudurich)
GIRLS
HUNTINGDON 54, CLEARFIELD 52
HYDE, Pa. – Alayna Ryan became the first 1,000-point scorer at Clearfield in 19 years and just the fifth all-time when she reached the mark by scoring 28 points in a 54-52 Mountain League loss to visiting Huntingdon.
Ryan came into the night needing 19 points to reach the mark and did so on her second basket of the third quarter, a layup. She added nine rebounds, seven assists and four steals in the game and ended the contest with 1,009 career points.
Watch Ryan score her 1,000th career point and the ceremony that followed. Video courtesy of Paul Dietzel.
Megan Durandetta hit four 3-pointers and scored 12 points for the Lady Bison as well.
Kynnedy Miller led Huntingdon with 20 points with Kait McElroy adding 13 points.
Ryan is the first Clearfield player to score 1,000 points in a career since Jessica Porter reached the mark in 2000. Porter, who finished with 1,387 career points, was one of two Clearfield players with 1,000-career points on that 2000 team, which also featured the school's all-time leading scorer Amanda Swanson (1,664 points). Heather Jacobs (1994, 1,260 points) and Mika Lugue (1993, 1,139 points) also reached 1,000-career points for Clearfield. The 2000 campaign was the first for Clearfield head coach Joey Castagnolo.
PUNXSUTAWNEY 54, BROOKVILLE 33
PUNXSUTAWNEY, Pa. – Behind an all-around strong game from Sarah Weaver, Punxsutawney picked up a big D9 League home win, 54-33, over Brookville.
Weaver had 18 points, five steals, three rebounds and three assists.
Abby Gigliotti added 10 points, seven rebounds and three steals for the Lady Chucks with Riley Presloid scoring 11 points, Ryley Casaday grabbing a team-high 12 rebounds to go with three assists and two points and Kate Horner chipping in four points, four steals, two assists and a rebound.
Marcy Schindler led Brookville with nine points.
NORTHERN POTTER 38, OSWAYO VALLEY 30
SHINGLEHOUSE, Pa. – Abbi Anderson scored eight of her game-high 17 points in the first quarter, as Northern Potter built a 14-point lead after eight minutes on its way to a 38-30 road NTL win over Oswayo Valley.
The Lady Panthers led 16-2 after one quarter of play and 23-11 at halftime.
Mirissa Bliss chipped in 12 points for Northern Potter.
Karina West led Oswayo Valley with 13 points with Faithe Coole adding 11.
PORT ALLEGANY 53, ARCHBISHOP WALSH (N.Y.) 21
PORT ALLEGANY, Pa. – Cailey Barnett scored 17 points and came away with three steals, as Port Allegany rolled past visiting Archbishop Walsh (N.Y.) 53-21.
Bree Garzel chipped in eight points, five rebounds and three steals for the Lady Gators with Cierra Lanager hauling down 11 rebounds to go with one point.
Grace Greer paced Walsh with nine points.
COUDERSPORT 79, AUSTIN 13
COUDERSPORT, Pa. – Sarah Chambers scored a game-best 20 points to lead Coudersport to a 79-13 NTL win over visiting Austin.
Elizabeth Frame added 14 points for the Lady Falcons with Roselyn Page contributing 13.
Julia Latimore had a team-high nine tallies for Austin.
RIDGWAY 49, CURWENSVILLE 44
CURWENSVILLE, Pa. – A double-double from Alyssa Kazmerski lifted visiting Ridgway over Curwensville, 49-44, in AML action.
Kazmerski tallied 15 points and 17 boards for the Lady Elkers with Casey Woodford adding 11 points. Christina Fulton had nine points and recorded five blocks.
Madi Weber paced the Lady Tide with a game-high 20 points.
CAMERON COUNTY 45, GALETON 14
EMPORIUM, Pa. – Hailey Hilfiger netted 15 points and grabbed 13 rebounds to help Cameron County defeat visiting Galeton, 45-14, in NTL play.
Kaelee Bresslin had 11 points, six rebounds and three assists for the Lady Raiders and Alyvia McKimm netted eight points. Kamme Guisto had three steals.
Cara Parsell led Galeton with seven points and six rebounds.
A-C VALLEY 66, CLARION-LIMESTONE 38
STRATTANVILLE, Pa. – Kylee Eaton's 17 points led a foursome of A-C Valley players in double digits in a 66-38 road win for the Lady Falcons over Clarion-Limestone.
Olivia Boocks and Andrea Meals each added 14 points for A-C Valley with Cami McNany scoring 11.
Francis Milliron paced C-L with 12 points with Maddy Craig adding nine.
JOHNSONBURG 44, SHEFFIELD 16
SHEFFIELD, Pa. – Cassidy King netted 13 points to guide Johnsonburg to a 44-16 win over Sheffield in AML action.
Lindsey Kocjancic and Rylee Casilio were the second- and third-leading scorers for the Ramettes with Kocjancic posting 11 points and Casilio adding 10.
Marissa Grubs paced Sheffield with six points.
BROCKWAY 49, DUBOIS CENTRAL CATHOLIC 38
BROCKWAY, Pa. – Danielle Wood and Selena Buttery each had double-doubles, as Brockway stunned visiting DuBois Central Catholic, 49-38, in AML action.
Wood led the Lady Rovers with 16 points and 14 rebounds with Buttery adding 12 points and 17 boards. Morgan Lindemuth also chipped in 10 points for Brockway.
Ashley Wruble paced DCC with 10 points with Alyssa Bittner adding eight.
OTTO-ELDRED 57, SMETHPORT 8
SMETHPORT, Pa. – A balanced offensive attack helped Otto-Eldred pick up a 57-8 road victory over Smethport in NTL action.
Haylee Frederick had a game-high 14 points for the Lady Terrors while Reilly Raught had 13 tallies. Jade Spinney added 11 points and Autumn Smith 10.
Four players each scored two points for Smethport.
KANE 59, KEYSTONE 36
KANE, Pa. – Ella Marconi's triple-double led Kane to a 59-36 win over visiting Keystone.
Marconi had a game-high 26 points while adding 13 rebounds and 12 blocked shots.
Emily Bucheit added 16 points, nine rebounds and six steals for the Lady Wolves with Hannah Buhl scoring nine points while adding eight assists and four steals. Hannah Brown chipped in five assists and four points.
Cierah Altman, in her first varsity action this season, scored 10 points for Keystone with Trinity Thompson and McKenzie Hovis each adding eight tallies.
NORTH CLARION 50, REDBANK VALLEY 35
FRILLS CORNERS, Pa. – Behind a career-high 15 points from Haley Sherman, North Clarion turned back visiting Redbank Valley, 50-35.
The She-Wolves built a 28-16 halftime lead and cruised from there despite shooting just 9 of 25 from the free-throw line.
Abby Gatesman added nine points and 11 rebounds for North Clarion with Mackenzie Bauer adding eight.
Tara Hinderliter led Redbank Valley with a game-high 16 points. Lauren Smith added nine tallies. The Lady Bulldogs were 13 of 22 from the line.
CLARION 55, KARNS CITY 21
CLARION, Pa. – Ali Troese scored 14 points to help Clarion past visiting Karns City, 55-21.
KK Girvin added 11 points for the Lady Cats with Kate Constantino and Wendy Beveridge each scoring nine.
Alyssa Stitt and Emma Johns each scored six for Karns City.
BOYS
DUBOIS CENTRAL CATHOLIC 61, BROCKWAY 56
DUBOIS, Pa. – Justin Miknis went a perfect 14 of 14 from the free-throw line on his way to 19 points to lead DuBois Central Catholic past visiting Brockway, 61-56, in AML action.
Miknis completed a double-double with 10 rebounds and was a large reason why DCC was 19 of 21 from the free-throw line.
Peter Downer also had a double-double for the Cardinals with 11 points and 11 rebounds.
Alec Freemer paced Brockway with 16 points, Zane Puhala added 14 and Jon Wood 10.
JOHNSONBURG 57, SHEFFIELD 37
JOHNSONBURG, Pa. – Austin Green knocked down 23 points to lead Johnsonburg to a 57-37 home AML win over Sheffield.
Gabe Watts added eight points in the win for the Rams.
Tyler Hepinger and Jakob Vinopal each had 14 points for the Sheffield.
ELK COUNTY CATHOLIC 76, KANE 31
ST. MARYS, Pa. – Alec Wehler had 14 points to lead a balanced Elk County Catholic attack in a 76-31 home win over Kane in AML action.
Will Uberti added 11 points for the Crusaders with Alex Breindel adding 10. '
Austin Pierson led Kane with eight points.
RIDGWAY 55, CURWENSVILLE 23
RIDGWAY, Pa. – Matt Dush scored 20 points to lead Ridgway past visiting Curwensville, 55-23.
Jake Reynolds added 14 points in the win for the Elkers.
Christian Bakaysa led Curwensville with six points.