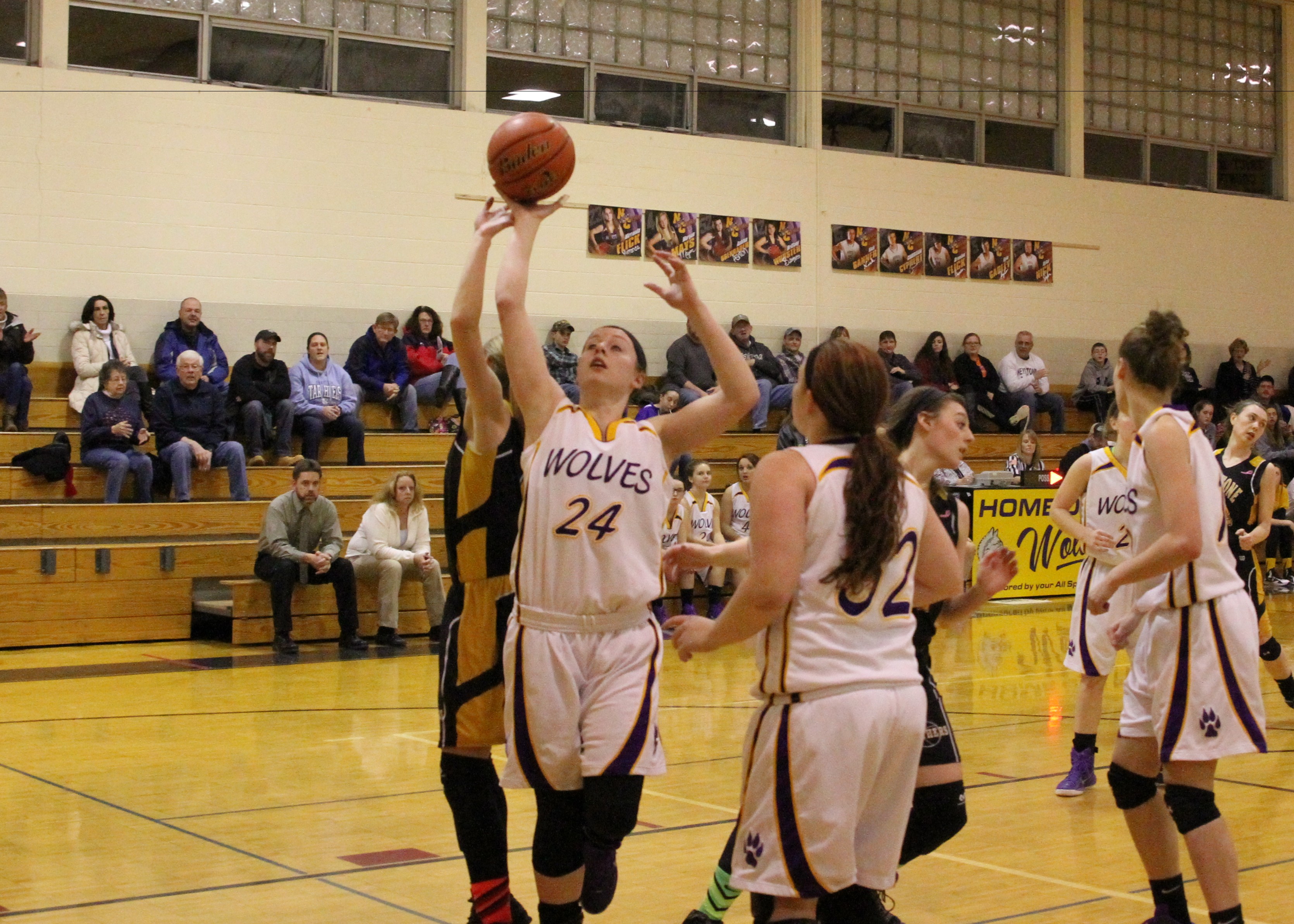 NORTH CLARION 61, KEYSTONE 59, 2 OVERTIMES
See complete story on ExploreClarion.com
FRILLS CORNERS, Pa. – Tori Obenrader scored 17 points and hauled down 29 rebounds while scoring seven of North Clarion's 12 points in two overtimes to help the She-Wolves knock off visiting Keystone, 61-59, in double overtime Friday night.
Michaela Higgins hit one of two free throws with 25.5 seconds left in the second overtime to break a 59-all tie, and Obenrader added an insurance point with 11.4 seconds left. The free throw was Obenrader's third point of the second-overtime period and capped off a night that saw her score 12 of her 17 points from the fourth quarter on.
Keystone forced overtime when Kaci Weaver hit a 3-pointer with 17.3 seconds to play on an offensive rebound off a missed 3-pointer by the Lady Panthers.
Weaver's triple ended a frantic comeback by Keystone, who trailed 38-28 early in the third quarter before ending regulation on a 21-11 run.
Weaver then hit another 3-pointer 36 seconds into the first overtime to give Keystone its first lead, 52-51, of the game, and the Panthers got the lead to two, 55-53, on an old-school 3-point play by Joselin Geer, who finished with a game-high 22 points to go with seven boards.
Cassie Wagner tied the game at 55 with 2:20 left in the first overtime before Tessa Weaver gave Keystone its final lead, 57-55, with 1:23 to play.
Obenrader then forced a second overtime with a basket with 1:10 left.
In the second overtime, Obenrader started the scoring on a strong offensive rebound and putback with 2:22 to go before Kaci Weaver tied it on her own offensive board and putback with 31.2 seconds to play.
Wagner added 13 points for North Clarion with Taylor Gatesman chipping in 12 and Abbie Schmader 11 points and 12 rebounds.
Amber Hess added 19 points for Keystone with Kaci Weaver chipping in 10.
North Clarion outrebounded the Lady Panthers 57-32.
BROOKVILLE 45, BRADFORD 39
BROOKVILLE, Pa. – Outscoring visiting Bradford 17-5 over the final five minutes, the Brookville Lady Raiders notched their first D9 League win with a 45-39 win Friday night.
The Lady Raiders trailed 34-28 after a Morgan Roggenbaum 3-pointer early in the fourth quarter, but finished strong as Kara Wonderling scored seven of her 10 points during the run. Elaina Powell scored 10 of her team-high 13 points in the first half and MacKenzie Ganoe scored 11 points.
Bri Wells led Bradford with 17 points, scoring all but two of her points in the first three quarters.
BROCKWAY 40, SHEFFIELD 20
SHEFFIELD, Pa. – Leah Lindemuth's triple-double helped visiting Brockway double up Sheffield, 40-20, in non-conference action Friday night.
Lindemuth scored a game-high 20 points to go with 10 steals and 10 rebounds. Kaitlyn Morelli added 11 points and eight rebounds, all offensive, for the Lady Rovers.
Lexi Lyon paced Sheffield with nine points.
PUNXSUTAWNEY 43, HOLLIDAYSBURG 38
PUNXSUTAWNEY, Pa. – Leah Miller had 11 points and 18 rebounds to lead Punxsutawney past visiting Hollidaysburg, 43-38, in non-conference action Friday night.
The Lady Chucks led by one, 16-15, at halftime before outscoring Hollidaysburg 27-23 in the second half behind 10 points from Miller, who had eight in the fourth quarter alone while going 6 of 8 from the line in the quarter, and seven from Alli Lunger, who scored all seven of her second-half points in the third quarter and also finished with 11 tallies.
Hope Bridge led all scorers with 14 points for Punxsy.  
DUBOIS CENTRAL CATHOLIC 47, JOHNSONBURG 35
JOHNSONBURG, Pa. – Trailing by six going to the fourth quarter, DuBois Central Catholic went on a game-ending 20-2 run to pull out a 47-35 road victory at Johnsonburg in non-conference action Friday night.
The Lady Cardinals were behind 33-27 after three quarters following an 11-5 third-quarter advantage by Johnsonburg that broke a 22-all halftime tie.
But in the fourth quarter, Riley Assalone scored six of her 14 points for DCC, while Jordy Frank added four of her 10.
Cassidy King led Johnsonburg with eight points, all in the first half. Ashton Watts added seven.  
KARNS CITY 80, CLARION-LIMESTONE 12  
STRATTANVILLE, Pa. – Emily Hegedus recorded her second straight 30-plus point night resetting a career high with 34 points to lead Karns City to an 80-12 win at Clarion-Limestone Friday night in KSAC Crossover play.
Hegedus coming off a 33-point performance Wednesday in a win over North Clarion, hit 13 shots on the night including four 3-pointers.
Alyssa Gibson added 13 points for the Lady Gremlins.
Josie Stitt paced C-L with eight points.
CLARION 53, A-C VALLEY 50
CLARION, Pa. – Behind 15 points from Kelly Beveridge, Clarion knocked off visiting A-C Valley, 53-50, in KSAC Crossover action.
The Lady Cats used a 15-4 second quarter to build a 24-13 halftime lead and still led by 11, 42-31, going to the fourth quarter before A-C Valley mounted a strong comeback attempt that fell just shy.
Ellie Thompson led the Lady Falcons with 21 points, 17 after halftime including eight in the fourth quarter. Morgan Cratty added 11.
Anna Reed added 10 points for Clarion.
REDBANK VALLEY 55, VENANGO CATHOLIC 33
OIL CITY, Pa. – Brooke Hinderliter had 20 points, nine rebounds and five steals to pace Redbank Valley to a 55-33 win at Venango Catholic in KSAC Crossover action Friday night.
Becca Dougherty added 10 points and 14 rebounds for the Lady Bulldogs, who also got nine points and six rebounds from Macy King.
Redbank jumped out to a 14-0 lead at the end of the first quarter and never looked backed.
Ava Homan led all scorers with 26 points for Venango Catholic and completed a double-double with 15 rebounds while adding three blocked shots.
MONITEAU 38, CRANBERRY 35
SENECA, Pa. – Kristina DeMatteis scored six of her game-high 17 points in a crucial third quarter to help Moniteau avoid an upset at Cranberry with a 38-35 win Friday night.
The Lady Warriors trailed 17-15 at halftime but outscored the Berries 15-8 in the third quarter thanks to DeMatteis, who had 11 second-half points and added seven rebounds, and Alazia Greaves, who scored four of her nine points in the third quarter and seven points in the second half.
Kendra Schreck paced Cranberry with 12 points with Erin Merryman adding 10.
UNION 63, FOREST AREA 13
TIONESTA, Pa. – Lexey Shick scored 18 points and 10 steals, as visiting Union rolled past Forest Area, 63-13, in KSAC Crossover play Friday night at West Forest.
Shaley Shick added 11 points while hitting three 3-pointers and six steals for the Golden Damsels who also got 11 points from Kali Flick, nine from Hannah Atzeni and eight from Ali Roraback.
Bianca Hetrick had four points and Morgan Silvis three for Forest Area.
KANE 38, RIDGWAY 36
KANE, Pa. – Trinity Clark recorded a double-double with 19 points and 10 rebounds to help Kane hold off Ridgway, 38-36, in non-conference action Friday night in Kane.
The Lady Wolves rode an eight-point advantage in the middle two quarters to the victory.
Ridgway led 13-12 at the end of the first quarter before Kane took an 18-17 halftime lead. The Lady Wolves expanded the advantage to 34-27 at the end of three quarter, but the Lady Elkers didn't go away and made it close down the stretch.
Ella Marconi added two points and 10 rebounds for Kane with Camryn Cummings chipping in seven assists and Rachel Morgan seven points and seven rebounds.  
Jessica Kifer and Hannah Park scored 12 points apiece for Ridgway.