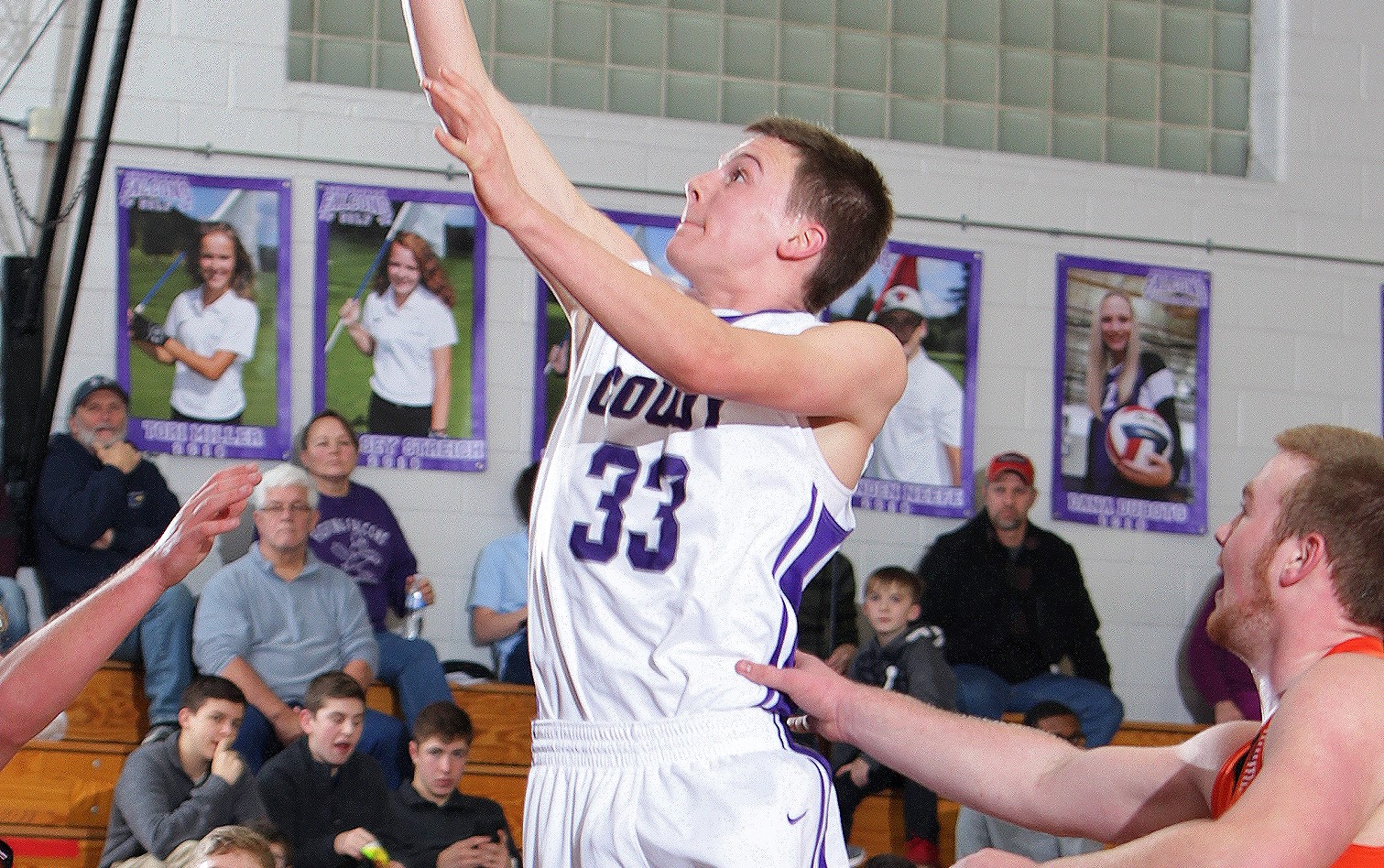 Jan. 9 boys' recaps.
(Dillon Keglovits helped lead a fourth-quarter charge for Coudersport in a win at Cameron County Wednesday. Photo by Paul Burdick. Check out more of Burdick's work here)
COUDERSPORT 47, CAMERON COUNTY 37
EMPORIUM, Pa. – Dillen Keglovits scored seven of his 15 points in the fourth quarter to help visiting Coudersport rally past Cameron County in a key midseason NTL contest.
The Falcons and Red Raiders entered the game both 6-0 in the NTL and 7-1 overall with both losses coming in close games to Ridgway.
Cameron County had the early advantage Wednesday taking a 16-8 lead at the end of one quarter before Coudersport fought back within two, 24-22, at halftime, and then tied the game at 31 at the end of three quarters.
The fourth quarter belonged to the Falcons, who outscored the Red Raiders 16-6 in the frame with Owen Chambers adding six of his game-high 16 points in the final eight minutes.
Dino Brown scored all 12 of his team-high 12 points in the first quarter for Cameron County hitting four 3-pointers in the frame.
Caden Beldin had a double-double for the Red Raiders with 11 points and 12 rebounds.
Hayden Keck chipped in eight points for Coudersport.
AUSTIN 83, NORTHERN POTTER 40
ULYSSES, Pa. – Jackson Glover scored a game-high 17 points to lead Austin to an 83-40 road victory over Northern Potter in NTL action.
Dempsey Glover added 15 tallies while Garrett Rees grabbed 11 rebounds to go with four points for the Panthers who also got 11 points from Parker Glover and 10 from Mason Valenti.
Carter Anderson paced Northern Potter with 15 points. Tristin Bryan added nine.
OTTO-ELDRED 66, PORT ALLEGANY 39
PORT ALLEGANY, Pa. – Andrew Sheeler led a foursome of Otto-Eldred players in double digits with 19 points, as the Terrors picked up a 66-39 road NTL victory over Port Allegany.
Cameron Grigsby added 13 points for O-E with Gavin Jimeson chipping in 12 and Cole Sebastian 10.
Jordan Card paced Port Allegany with 15 points with Howie Stuckey adding eight.
SMETHPORT 65, OSWAYO VALLEY 23
SHINGLEHOUSE, Pa. – Caleb Lutz and Noah Costa both scored 14 points, as visiting Smethport rolled past Oswayo Valley, 65-23, in NTL action.
Eric Szarowicz added 10 points in the victory for the Hubbers, Brandon Peterson eight and Ian Woodruff and Connor Alfieri seven.
Michael Welch paced Oswayo Valley with seven points.
ELK COUNTY CATHOLIC 73, PUNXSUTAWNEY 49
ST. MARYS, Pa. – Will Uberti, Regis Wortman and Alex Breindel combined for 41 points to help Elk County Catholic to a 73-49 D9 League victory over visiting Punxsutawney.
Uberti scored 16 points to lead the Crusaders with Wortman adding 13 and Breindel 12.
Daren Byers paced Punxsutawney with 16 points with Micah Kriebel adding 11 and Carter Newcome 10.
PENNS VALLEY 59, CLEARFIELD 47
SPRING MILLS, Pa. – Cam Shaffer and Logan Snyder combined for 35 points to guide Penns Valley to a 59-47 victory over visiting Clearfield in Mountain League action.
Shaffer posted a game-high 19 points and Snyder added 16.
For Clearfield, Cade Walker netted 16 points while Karson Rumsky added 13.
DUBOIS 43, ST. MARYS 26
DUBOIS, Pa. – Jonathan Cruz and Chase Husted each had 11 points to give DuBois a 43-26 home win over St. Marys in D9 League action.
Justin Manduley and Alex Beers also added eight points for the Beavers.
Cahil Parrish paced St. Marys with a game-high 12 points.