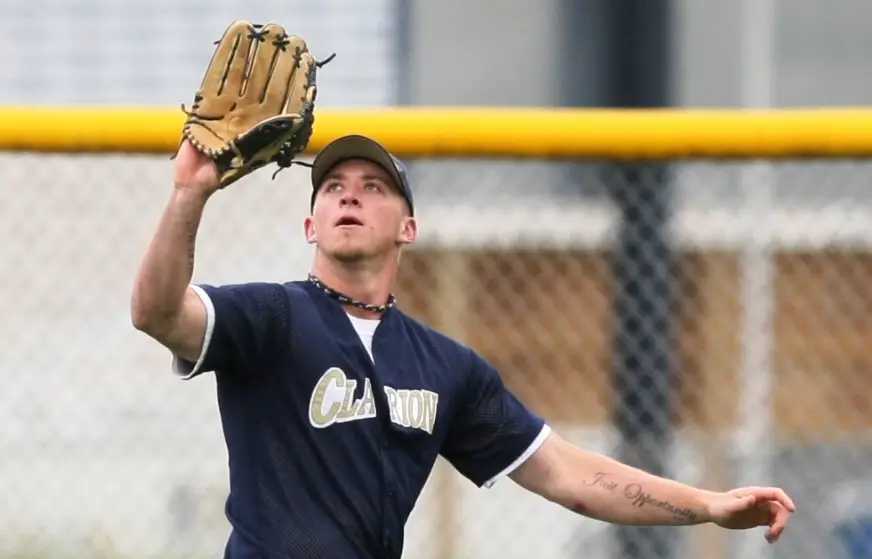 By Chris Rossetti
LANCASTER, Calif. – Shippenville native Jon Kemmer has a pretty simple philosophy to his short professional baseball career: play every day like it's your last.
Kemmer, a 2009 graduate of Clarion High School who also spent the 2012 season playing baseball at Clarion University, is in his second year in the Houston Astros organization and is currently playing for the Lancaster (Calif.) JetHawks in the High-Class A California League (a step below Class AA).
"There is a crazy amount of talent coming through this organization," Kemmer said. "And being around all this talent, you can't take days off. That one day you don't come 100 percent prepared could be make or break for you. You have to be ready to play with your 'A' game every single day. You have to play every day, every game, like it's your last one."
So far in 2014, Kemmer's philosophy is paying off.
Combined between Lancaster and Quad City (Davenport, Iowa), in the Low-Class A Midwest League, Kemmer, going into Friday, is hitting .285 with 12 home runs, 20 doubles, a triple and 39 RBIs with an on-base-plus-slugging percentage (OPS) of .840 (for comparison sake only, Josh Harrison of the Pittsburgh Pirates, an All-Star this year, has an OPS of .842 at the major league level).
Those numbers are a major improvement over Kemmer's statistics in his first professional season last year with the Tri-City ValleyCats (Troy, N.Y.) of the Short-season New York-Penn League when he hit .221 with four home runs, seven doubles and 16 RBIs with a .630 OPS after being drafted by the Astros in the 21st round last June out of Brewton-Parker (Ga.) College.
"I've been a little more aggressive in the zone this year," Kemmer said. "I'm not taking as many pitches, and I'm using all of the field instead of being a dead-pull hitter."
The adjustments have played big dividends for the 6-foot-2, 220-pound left-handed hitting and throwing outfielder/first baseman/designated hitter.
In 52 games with Quad City, Kemmer hit .289 with a .369 on-base percentage and an .819 OPS. He had four home runs and 15 doubles with the River Bandits before earning a promotion to Lancaster in mid-July.
Since joining Lancaster, Kemmer has continued his solid play hitting .278 with an .874 OPS. He has five doubles and eight home runs while driving in 22 runs in just 25 games.
The increase in OPS and home runs can partly be contributed to the home ball park Lancaster plays in, The Hanger, which is situated at over 2,000 feet above sea level about 70 miles north (by highway) of Los Angeles in the Antelope Valley of the Mojave Desert. The Hanger is considered by many as one of the most hitter-friendly ballparks in all of baseball.
"My first series (at The Hanger), I saw the 20-to-25 mph winds and was thinking, man all I have to do is hit a pop up and it will be a home run," Kemmer said. "Then I went like 0-for-something in my first series here and knew I had to get back to basics. You don't want to change your swing from level-to-level. If you happen to be in an environment that takes the ball farther, that's a bonus. But you want to have level swings and hit line drives."
One of the areas Kemmer has excelled in the most since joining Lancaster is hitting with runners in scoring position where he has a .318 batting average with one home runs, a double and 10 RBIs.
"Early in the year, it seemed like I was pressing too much when I came up with runners on base," Kemmer said. "I'm just trying to get back to basics now and just trying to get base hits because base hits score runners. I basically pretend like there is no one on base, because early on I was changing my swing and putting too much pressure on myself to drive in the runs."
An area of his game Kemmer is still refining is hitting against lefthanders. Southpaws have given Kemmer trouble since he joined Lancaster, as he is hitting .211 against them with one home run and one RBI.
"I think at this level, the (left-handed) pitchers are using three pitches as opposed to two at the lower levels," Kemmer said. "At the lower levels (against a lefty) you would see fastball and curveballs. Here you are seeing cutters, two seamers, just a variety of different pitches. Plus, I think the velocity of the lefthanders is different here. More guys are throwing in the 90s at this level. But it is definitely a part of my game I need to improve."
One of the things Kemmer attributes to his quick rise through the Astros system so far is his willingness to be a team player.
In May, Kemmer, who had been strictly an outfielder since his sophomore year in high school, was asked to take a week away from Quad City and go to the Astros training center in Florida to work on being a first baseman. He didn't hesitate to say yes.
"When you look at the organization, they have tons of really good outfielders," Kemmer said. "There are better options for me at first base, and if you can have a good grasp of both, it helps your case. It can help me out."
Kemmer said the transition to first, a position he has yet to play at Lancaster because of injuries to some JetHawks outfielders, has gone smoother than he anticipated.
"It's been a lot easier to play than I thought," Kemmer said. "I always liked playing first when I was in Senior Little League and a little my freshman year in high school. There's a lot more activity at first base. It keeps you in the game a lot more. I like that."
While Kemmer doesn't know what the future holds, he knows he will play each day like its his last and be prepared to do whatever the organization asks of him.
"They always tell you to be ready," Kemmer said. "When they need a player at the next level, they could call you up at any time. You just have to take advantage of it and be ready. I think I am doing that. The coaches keep telling me to continue to do what I'm doing and to stay consistent."
 This story originally appeared in the Aug. 10 edition of the Tri-County Sunday (DuBois)