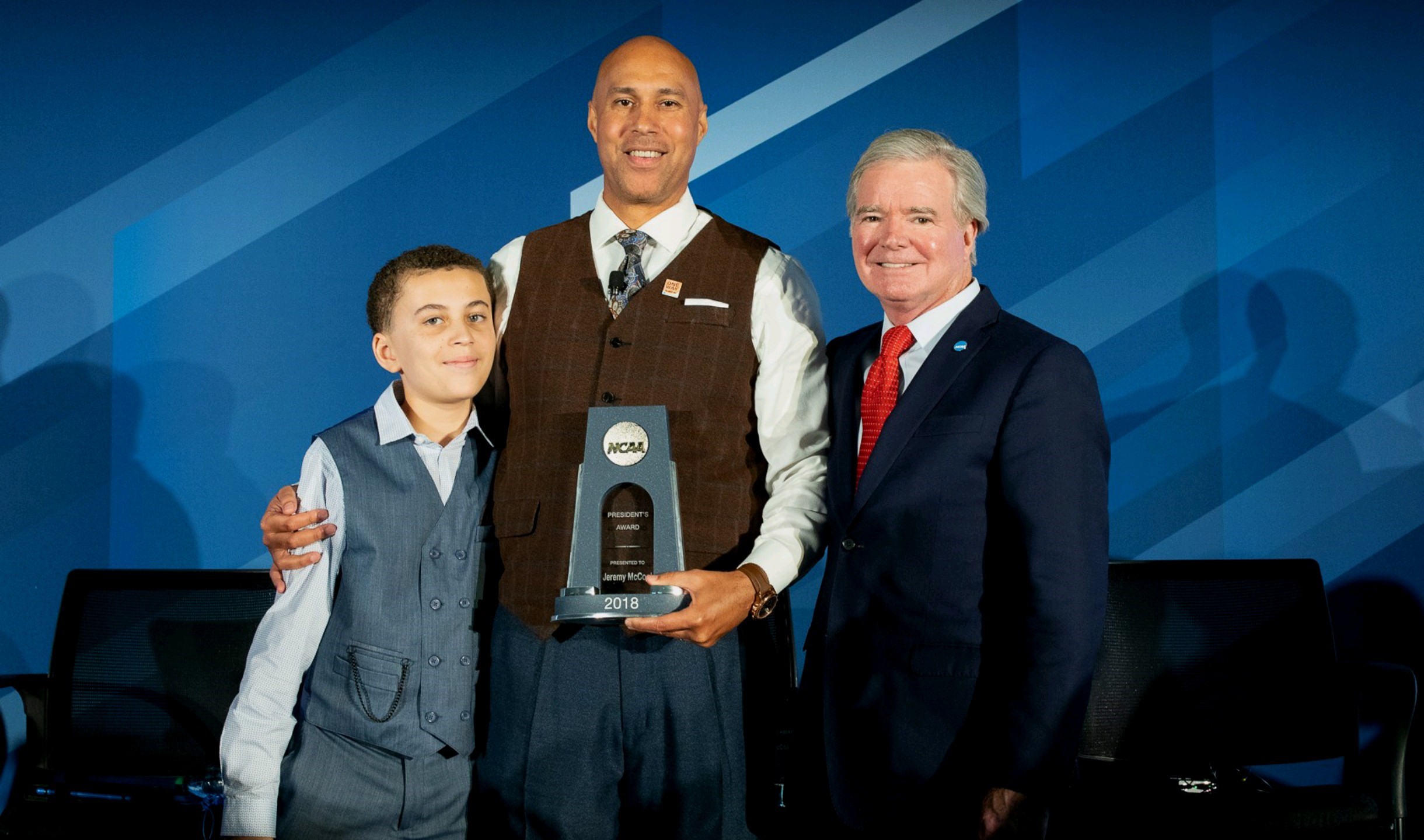 INDIANAPOLIS (9Sports) – Knox native and Keystone graduate Jeremy McCool was recently named the President's Award winner at the NCAA Offices in Indianapolis.
(Photo: Jeremy McCool, center, with his son and NCAA President Mark Emmert. Submitted photo)
The President's Award is basically the Employee of the Year at the main NCAA Headquarters which employees around 575 people at its main office.
"The President's Award was created in 2011 when President (Mark) Emmert came on board," McCool, who has worked at the NCAA since July 2007, said. "There is an extensive process in getting the award."
According to McCool, who is the Director of Enforcement for Men's and Women's Basketball Development, the process starts with a list of 20 to 25 nominees. From that point, it is broken into a Top 10 with each of the Top 10 nominees going through an interview process.
"From there, they break it down to a Top 5, and from the Top 5 President Emmert choices the award recipient," McCool said.
McCool believes, in the end, he was chosen for the award because of his work with the on-going college basketball corruption scandal that started with an FBI investigation and led to Emmert forming a "Commission on College Basketball" to help clean up the sport with former United States Secretary of State Condoleezza Rice as its head.
"The FBI probe and subsequent Commission is probably more than anything why I was awarded the President's Award," McCool said. "I've had to work with a lot of different working group and internal things going on along with the commission headed by Condoleezza Rice."
McCool's job goes well beyond just the Commission and things surrounding the FBI investigation.
"I'm in charge of a staff of six at the national office," McCool said. "Our responsibility is to identify threats, issues and concerns within the college hoops world. That includes managing relationships that help us do that and to ID who is breaking the rules. We also have to figure out issues in the always evolving recruiting environment. It means interacting with coaches across the sport and hearing the concerns they have and trying to be part of the solution and holding people accountable for the integrity of sports."
McCool received the award at an award banquet at the NCAA headquarters.
"It was a big production here with the entire staff," McCool said. "I was choked up, humbled and thankful when I learned I had been chosen. It was great to have my son, Justice, who is 11, there. The last year I was in Clarion, well actually Grove City, before coming out to Indianapolis, he was just two weeks old. To have him in the audience and to see how happy he was, it was great and it was cool, too."
McCool said the award isn't so much of a "this year" thing as it is of his body of work while at the NCAA.
"It's more a lifetime achievement thing," McCool said. "I've been here 11 years, and it's a testament to the whole time I have been here."
McCool came to the NCAA in 2007 as the Assistant Director of High School Review, which was a new unit at the time within the NCAA Eligibility Center that had just taken over for the NCAA Clearinghouse.
"We investigated possible problematic areas like prep schools and diploma mills that were popping up," McCool said. "I did that for seven years making sure kids weren't being put in an environment that put them in harm's way."
From that position, McCool eventually moved up to his current position, which while it could be stressful considering the high-pressure environment and all the eye on college basketball, especially men's college basketball, has been very rewarding.
"There is a lot of pressure on coaches mostly to recruit the kids they want to bring in and be successful and take their program in the right direction," McCool said. "But my job isn't evaluated in wins and losses. Of course, I put a lot of pressure on myself to do what I am asked to do at the highest level possible and be as effective as possible because I take pride in my job. But anyone, in any walk of life, does that."
The President's Award came with more than just accolades.
It came with a $5,000 prize (less of course once the IRS got its hands on the prize), two trophies (one for the award and one for being a Top 5 finalist) and a picture presentation in the NCAA Office building for the next year.
"There is a banquet with a big video presentation," McCool said. "It's kind of like the Oscars. They bring each of the five finalists up and have a dialogue with President Emmert. Then, the previous year's awardee has an envelope and reads the name of the winner. President Emmert hands the trophy to you and then you speak to the crowd."