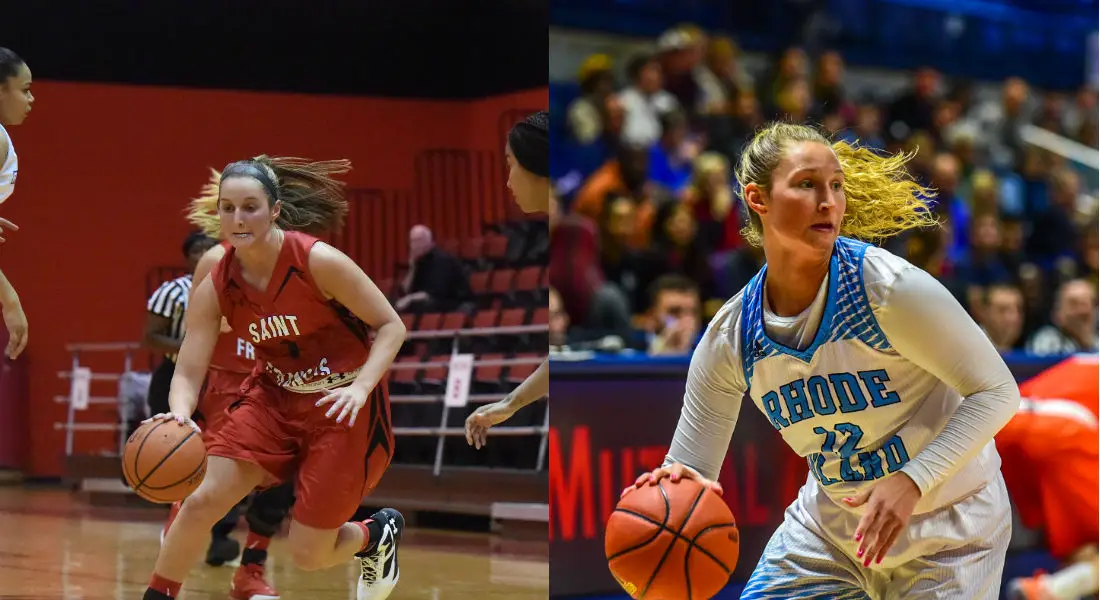 By Chris Rossetti
KINGSTON, R.I. – It's rare for a District 9 high school to have two former players playing in the NCAA Division I ranks at the same time.
It's even rarer when those two players happen to be sisters.
But that is exactly what has happened for Keystone graduates and sisters Morgan and Madison Johnson.
Morgan is a redshirt sophomore guard at Rhode Island, who is averaging 2.6 points per game while playing a little over seven minutes a game in a key role off the bench for the Rams, who are 11-13 heading into a Wednesday game with VCU.
Madison, meanwhile, is a true freshman guard at St. Francis (Pa.) who has seen action in 20 of the Red Flashes 25 games and is averaging 2.2 ppg and just over five minutes per contest for an 11-14 team heading into a game Saturday with St. Francis (N.Y.).
"It's rare but very cool that we are both playing Division I basketball," Madison said. "We are very lucky, and at the same time we put the work into it."
Basketball has always been a family affair for the Johnson sisters, and the duo helped Keystone win the District 9 Class A title in 2012, just the second D9 girls' title in school history.
And despite the 450 miles separating them, that hasn't changed.
"Maddy and I talk pretty much every day," Morgan said.
"We are both going through the same thing," Madison echoed. "We both push each other and are there for each other."
It hasn't always been easy not being on the same team anymore.
"It was hard at first," Morgan said. "Maddy pushed me at practice. We had each other's back. Coming here, I needed to find another person like that, someone to push me in games and practices
"I am lucky, pretty much the whole team is like that here. We are super close. We live together. We spend all of our time together. It's really nice."
Madison said it's been a little different not having her sister as a teammate, but she also had a couple of years at Keystone after Morgan graduated to get use to it.
"We worked so well together," Madison said. "I've had to adapt to different teammates and playing with different players on the team. I do wish we were playing together."
Another aspect that is different for the Johnsons is not having their dad, A.J., as one of their coaches. A.J. Johnson had been involved with his daughters' teams throughout their development.
"It's definitely been different because dad has always been on the sideline," Madison said. "I know how to respond to him and what he means. It's different when I have questions on the court. I definitely enjoy the coaches I have now. I am getting use to it. But it was definitely different at first. I miss him coaching us, but it's been fine."
Morgan said not having her dad as a coach has been different.
"It hasn't been good or bad," Morgan said. "Just different. I always had him as a head coach or an assistant coach. But he's still coaching through the phone."
As one would expect when moving from the KSAC to Division I college basketball, both players have had their challenges at the next level.
"Personally, I had to work on my quickness," Morgan said. "People at this level are quicker and more athletic. They all have quick first steps. Also, I have had to work on boxing out. In high school, I could out jump people, now I have to key on boxing out."
The quickness of the game has also been an adjustment for Madison.
"It's way quicker than in high school," Madison said. "I have had to work on my speed on the floor, quicker movement, quicker skills. It's not as easy to beat a person as it was in high school."
Rhode Island second-year head coach Daynia La-Force like what she sees in Morgan.
"Morgan is one of those kids you want on your team," La-Force said. "She is one of those players when you need someone to run through a wall for you that she is going to play extremely hard. Not all kids have those intangibles. She is just a hard worker, and she has a special, special talent to shoot the ball so well, which we need in the dribble-drive offense we play."
While the sisters are experiencing success at one of the highest levels, their journey hasn't been without its hiccups.
Both have suffered ACL injuries, in Morgan's case multiple ones, all to her left knee.
"My dream has always been to play D-I," Morgan said. "After the last one, I just said I needed it repaired. I was asked if I wanted to continue to play basketball. I remember getting upset, and I knew I wanted to play."
Madison said any adversity she has faced is made easier by having her sister to lean on and her love of the game.
"For me, I love the game so much," Madison said. "I don't want to quit. I'm putting in the extra work so I can be on the court and winning for the team. I go to the gym at night for extra shooting. I go to the gym and run and jump rope. It's just me getting over adversity."
The Johnson pipeline at Keystone isn't over yet, either, as Morgan's and Madison's younger brother, Troy, is on the Panthers eighth-grade team.
"I definitely miss Troy," Madison said. "He's my favorite. I made it home for a few of his games in the fall. Hopefully, I can make it home for a game. I definitely miss seeing him play. Next year, hopefully, I can watch him play at the JV level or something."
When Morgan looks at what her sister and brother have accomplished, she is proud.
"Honestly, it's a great feelling," Morgan said. "Our whole family puts everything into basketball. It's like whole family thing. It's been fun for the family. I feel like the whole family has accomplished a goal. I'm excited for Maddy, and I hope Troy will also do something with basketball."