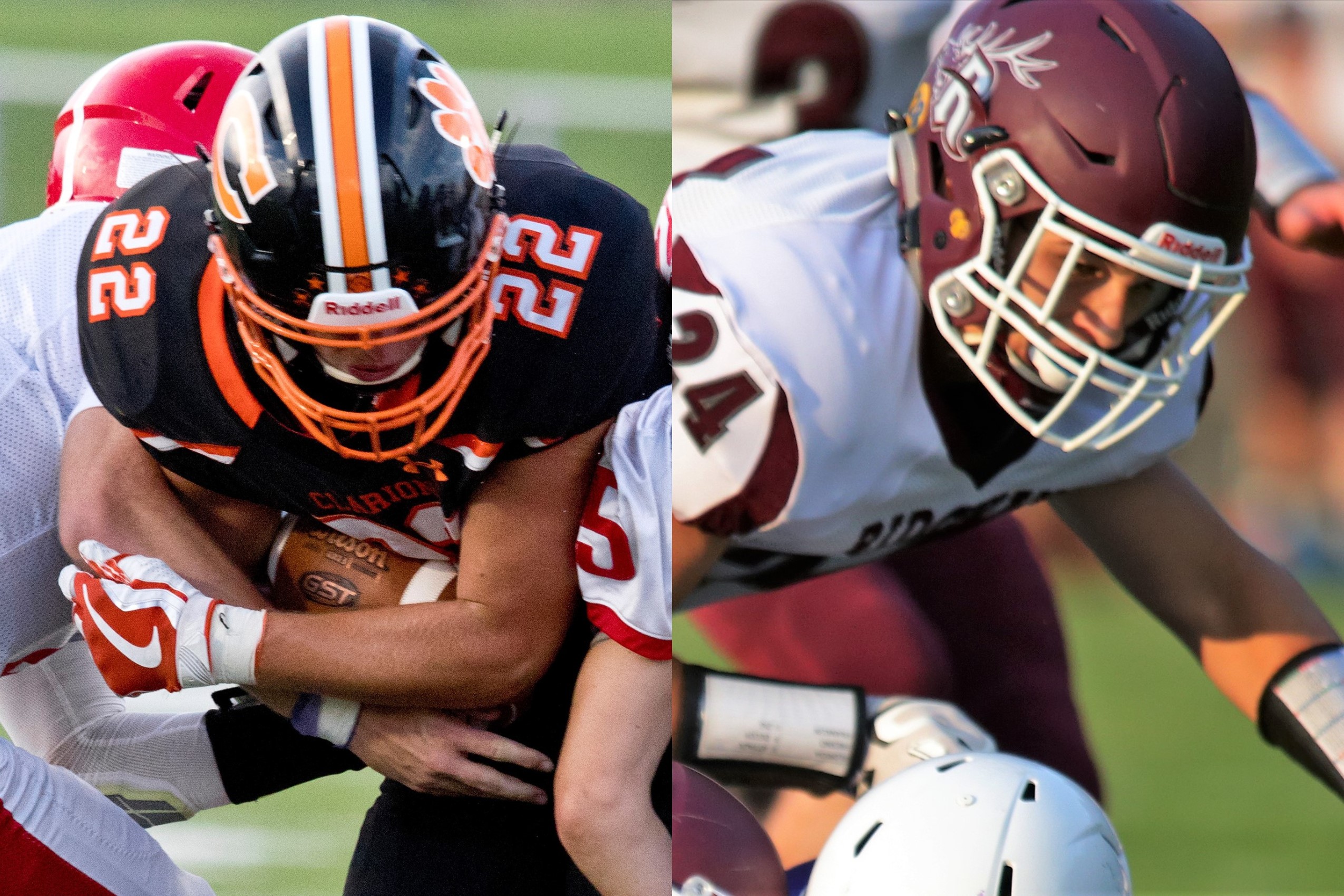 CLARION, Pa. (EYT) – First place in the new District 9 League Large School Division is on the line Friday night when Ridgway travels to Clarion University's Memorial Stadium to take on the Clarion Bobcats on the Explore Radio Kerle Tire Football Game of the Week
(Photos of Clarion's Sam Minich (left) and Ridgway's Evan Furlong (right). Minich photo by Kyle Yates; Furlong photo by Paul Burdick)
HOW TO LISTEN: RIDGWAY AT CLARION
Airtime for the Kerle Tire Pregame Show for this matchup of unbeatens is at 6:30 p.m. with Bob "The Governor" Dunkle and Mike Kalinowski on the call. Kickoff is set for 7 p.m. Join Chris Rossetti and Dustin Kifer for the brand new video pregame show at 6 p.m. live on exploreClarion's Facebook and Twitter feeds as well as the D9Sports.com Twitter feed. Dustin and Chris will then be updating social media throughout the game as well as highlights, interviews and much, much more.
Fans can listen to the game live on exploreClarion.com. Go straight to the website and the player will work on any mobile device (you may need to hit the play button in order to get the stream to play) or click here to listen.
ABOUT THE GAME
Ridgway and Clarion are the lone remaining unbeatens in the Large School Division at 6-0 each, and the winner will have the inside track for the inaugural division title.
The game is also a matchup of two reigning District 9 champions with Ridgway having won the 1A title in 2016 and 2017 and Clarion having won the 2A title in 2017. Both teams are 2A this year.
Ridgway is known for a punishing defense, and that hasn't changed with the Elkers allowing just 50 points through six weeks.
That defense will be tested by a Clarion offense that averages 39.2 points per game. The Bobcats defense is no slouch either having given up 56 points on the season, and it will be facing a Ridgway offense that averages 33.7 ppg.
Ridgway spreads the rock around with junior quarterback Paul Gresco taking most of the snaps. His running backs are by committee led by Gabe Watts (who also spends some time at QB), Cole Secco, Jake Wickert and Evan Furlong. Daunte Allegretto and Issac Schloder are the top receivers for the Elkers.
Clarion is paced by senior quarterback Archer Mills, who has quietly thrown for nine touchdowns on the year. Twins Logan and Sam Minich play key roles on offense as well with sophomore Ethan Burford continuing to hold his own at receiver.
The following local sponsors have signed on to make this year's Kerle Tire KSAC Game of the Week possible: