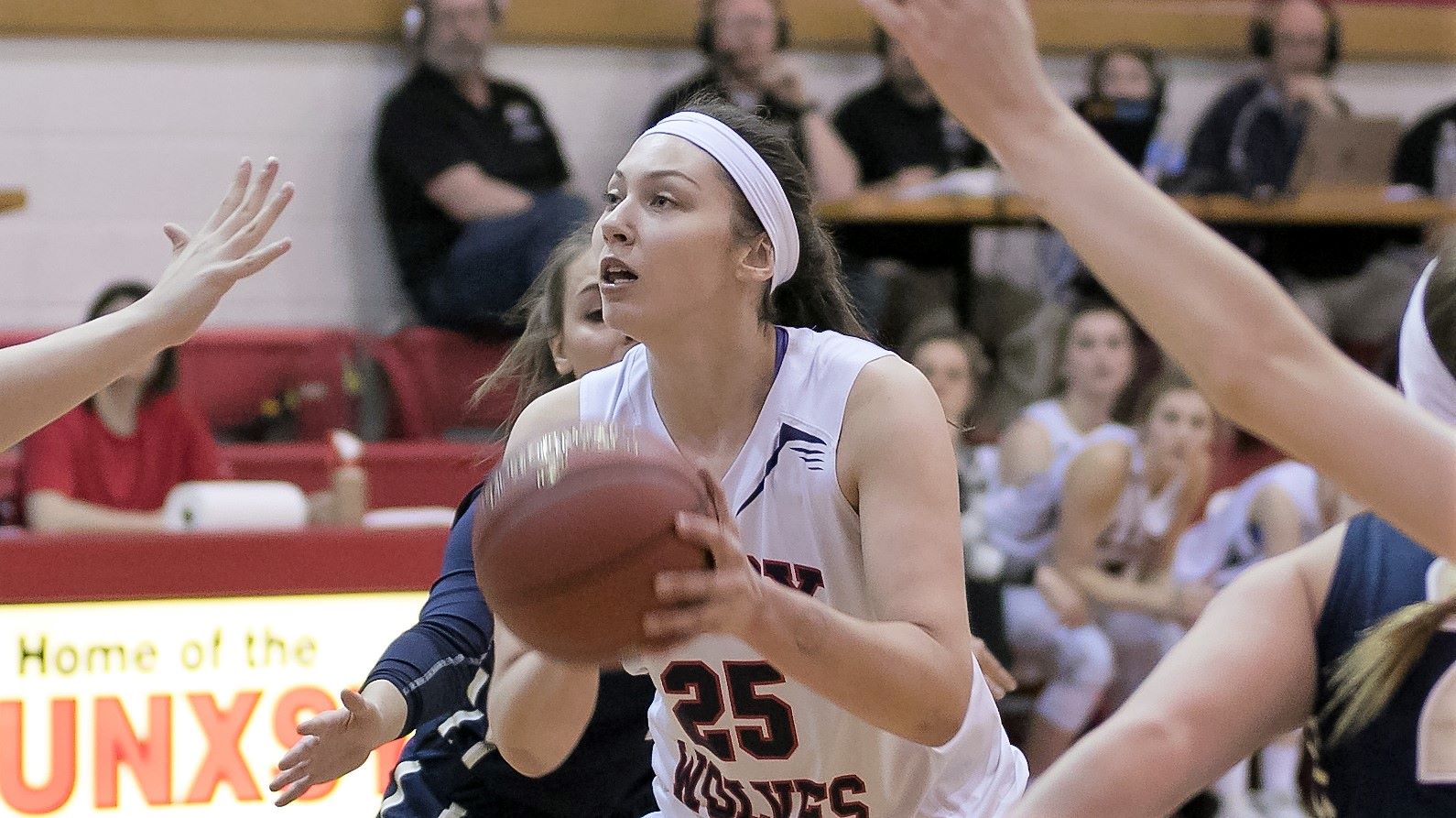 PUNXSUTAWNEY, Pa. – Ella Marconi wouldn't let Kane lose.
(Photo of Ella Marconi. Photo by Jared Bakaysa of JB Graphics. See more of Bakaysa's work here)
The Wolves senior scored eight straight points after Brentwood had used a 13-2 run to take a 45-42 lead with 2:42 to play.
Kane led 40-32 entering the fourth quarter and 42-32 early in the quarter before Brentwood went on the run, that including a 9-0 spurt in less than a minute, to take the lead.
However, Marconi wasn't going to let Kane lose. A pair of free throws and a layup from her put the Lady Wolves backup 46-45 with 1:42 left in the game.
The Lady Spartans were forced to foul and saw Marconi hit back-to-back pair of free throws to stretch the Lady Wolves lead to 50-45.
"They're pretty crucial," Marconi said about the late game free throws. "I've been off the past few games, but tonight I was just so focused and I just wanted to win."
Hannah Buhl also hit a pair of free throws with 25 seconds left to help seal the victory.
"It's a huge part of a game like this," Buhl said. "If you miss your free throws, it's likely that you could lose the game."
See more of Marconi and Buhl thoughts.
Up eight to start the fourth, Marconi had back to back free-throw chances and went 1-for-2 each time to push the Lady Wolves lead to 42-32 with 6:41 left.
But Brentwood started to take away Buhl from handling the ball and forced the Lady Wolves to find another ball handler.
Kane struggled to get the ball up court and Brentwood forced multiple turnovers and went on a 9-0 run in less than a minute to cut the deficit to 42-41 with 5:31 left in the game after a free throw from Rebecca Dirling and layups from Natalie Murrio, Abigail Wolf and Anna Betz, who also added a pair of free throws in the run.
Bucheit had a chance to get some breathing room for the Lady Wolves, but missed the first shot of a one-and-one and gave the ball back to Brentwood. Following the miss, the Lady Spartans worked the ball around and got a field goal from Betz to get their first lead of the night with 3:22 left.
Murrio added a pair of free throws 40 seconds later to put Brentwood up 45-42, but Marconi scored the next eight points to put the game away for Kane before Maura Daly got a basket with five seconds left for Brentwood with the damage already done.
"They put a lot of pressure on me," Buhl said. "When they did that, we had to find someone else to handle the ball. After we calmed down, we were able to pull it through."
Marconi finished the night with a game-high 29 points for the Lady Wolves, including 17 in the first half, with Buhl adding 13. Saf and Bucheit tallied three apiece.
Despite the loss, Betz and Natalie Murrio netted 13 apiece to pace the Lady Spartans.
"We watched a lot of video on them," Wolbert said of Brentwood. "Very athletic. I think they only lost one game in their last 19. They're just a great team.
Kane will play District 10 Champion West Middlesex, who defeated District 6 second-place finisher, Juniata Valley, 50-46, in the PIAA Class 2A Quarterfinals on Friday, March 15 at a time and place to be determined.
KANE 52, BRENTWOOD 47
Scores by Quarters
Brentwood 8 15 9 15 – 47
Kane 10 19 11 12 – 52
BRENTWOOD – 47
Abigail Wold 3 1-1 7, Anna Betz 1 4 2-2 13, Brooke McQuillan 1 0-0 2, Maddi Travis 0 0-0 0, Natalie Murrio 5 3-5 13, Rebecca Dirling 2 4-5 8, Maura Daly 2 0-0 4, Bella Grimm 0 0-0 0. Total 18 10-13 47
KANE – 52
Hannah Buhl 3 4-4 13, Ella Marconi 9 11-13 29, Emily Bucheit 1 1-2 3, Sierra Hillman 0 0-0 0, Ainsley Saf 1 0 0-0 3, Hannah Brown 1 0-0 2, Emma Ely 0 0-0 0, Madi Koza 0 0-0 0, Audri Marconi 1 0-0 2, Sarri Swanson 0 0-0 0. Total 16 16-21 52
Three-pointers:Kane 4 (Buhl 3, A. Marconi 1), Brentwood 1 (Betz)