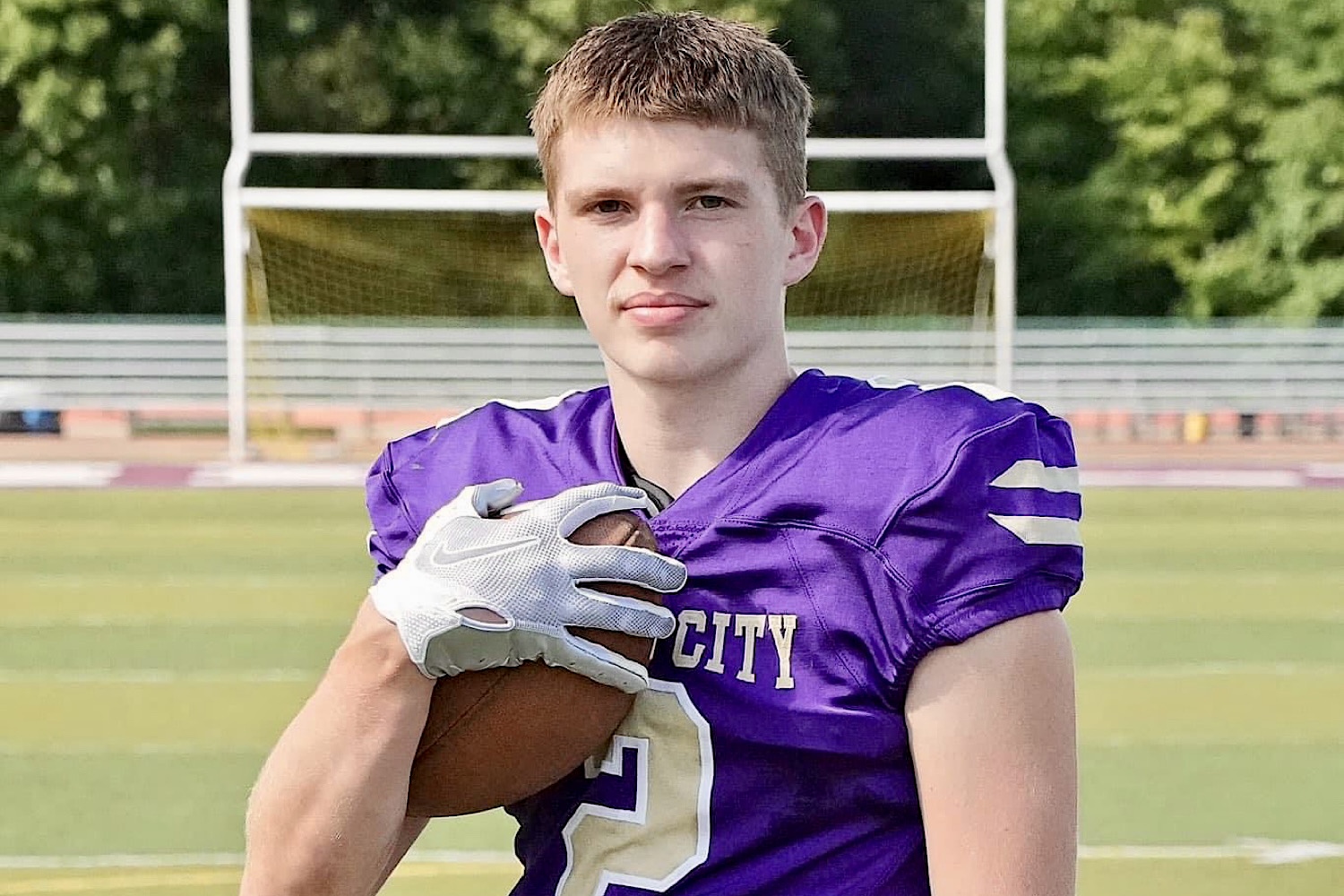 PITTSBURGH, Pa. (EYT/D9) — The Martin family spends their days and nights at Mason's bedside.
They read to him. They share with him the many articles, social media posts, letters and cards offering thoughts and prayers for the fallen Karns City senior, who is in a battle for his life after collapsing during a football game on Sept. 1.
They believe he can hear every encouraging and hopeful word.
(Pictured above, Mason Martin)
"It's difficult to express how much the support we have received means to us," said Mason's father, Denny. "Every time we see something new, it moves us to tears. We share all of it with Mason. We read him every social media post, every article, every card. If you supported Mason in any way, he knows it."
Mason was injured during a game at home against Redbank Valley last Friday.
He suffered a significant brain bleed and a collapsed lung.
There has been little change in Mason's condition since the weekend when he began showing purposeful movement in his arms and his eyes began slightly reacting to light, Denny Martin said on Thursday afternoon.
His lung is healed and the chest tube has been removed, but he is still in critical condition as doctors wait for the swelling in his brain to subside.
"We are hoping to learn a lot more this weekend," Denny said.
The shock of what occurred on Friday night hasn't waned.
Head official Mike Vasbinder noticed Mason swaying and unsteady as the quarterback, safety and return man for the Gremlins awaited a kickoff with 7:53 remaining in the third quarter.
Vasbinder asked him if he was OK. Mason answered, "No," just before he crumpled to the Diehl Stadium turf.
Karns City trainers and medical personnel scrambled to stabilize Mason, who was then transported by medical helicopter to UPMC Presbyterian in Pittsburgh where he underwent emergency surgery.
Since then, there was been a groundswell of support for Mason Martin and his family.
Thousands poured into Diehl Stadium on Sunday for a prayer vigil, which was also attended by players and coaches from several local high school football teams.
A gofundme page was started and has already raised more than $54,000 for the Martins in just a few days.
On Tuesday, schools all over western Pennsylvania encouraged their students, faculty and staff to wear purple and gold — Karns City colors. The response was overwhelming.
Congregations during church services all over the area offered prayers for Mason. Grass root fundraisers have been started.
The Armstrong County and Westmoreland County courthouses were bathed in purple and gold light.
On Wednesday, Redbank Valley coach Blane Gold and Vinyl Graphics Unlimited in Shippenville collaborated on a helmet decal design that honors both Mason and his mother, Stacy, who is battling breast cancer.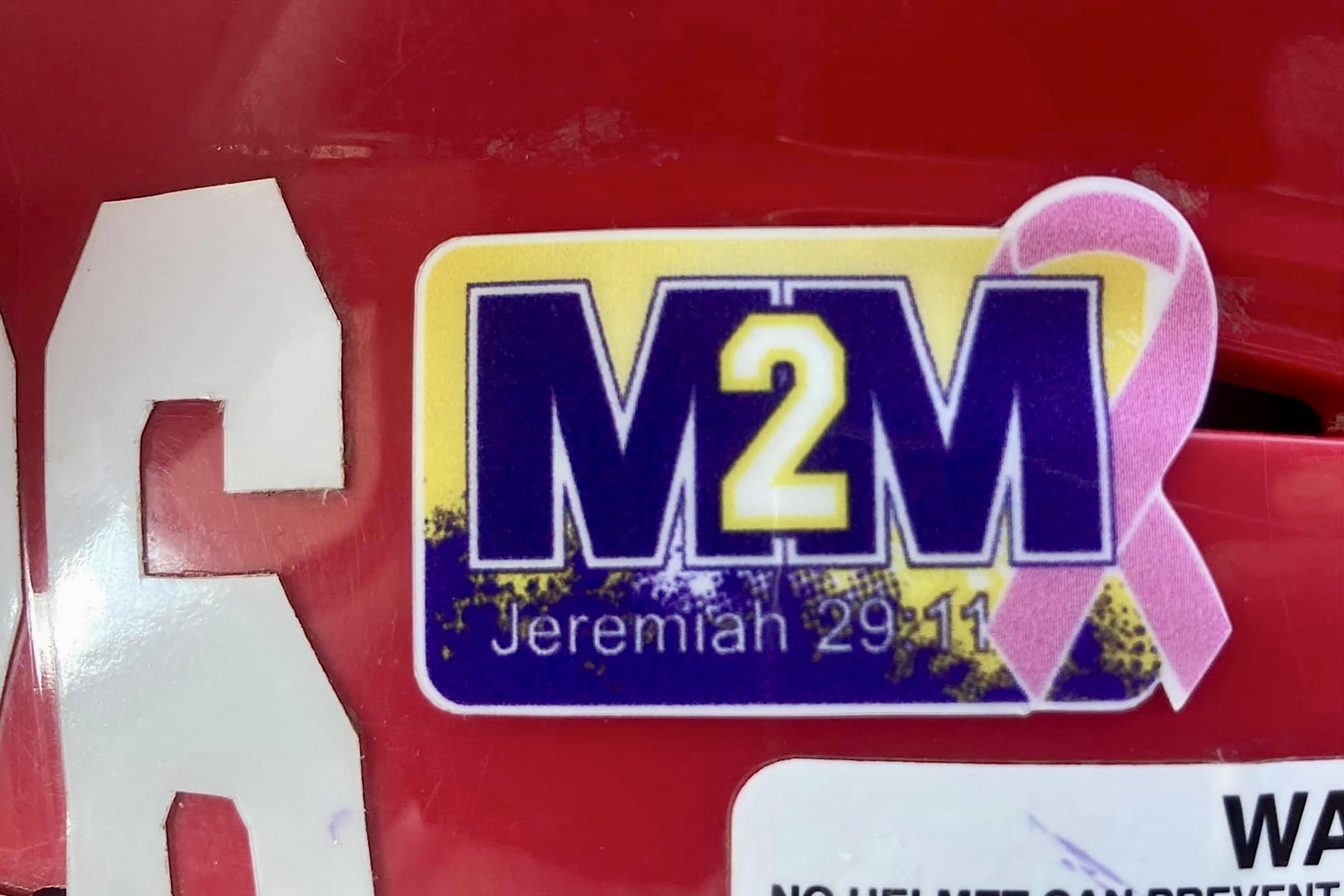 The logo reads "M2M" and also features a pink ribbon for breast cancer awareness.
Under is written "Jeremiah 29:11," which is Mason's favorite Bible passage.
"For I know the plans I have for you," declares the Lord, "plans to prosper you and not to harm you, plan to give you hope and a future."
That verse is also tattooed on Mason Martin's right thigh.
"We are going to make the assumption that #masonstrong has been heavily influence by a #strongmom," Gold wrote on the Redbank Valley Bulldogs Football Facebook page.
Gold sketched a design of the decal and contacted Vinyl Graphics Unlimited to see if they would be willing to bring that drawing to reality.
The original plan was for Redbank Valley to receive 100 of them — 50 for the Bulldogs and 50 more to be donated to Karns City.
But it grew into much, much more.
As of Thursday night, teams from all across District 9 and District 10 have placed orders for the decals. Schools from District 7 and even District 3 have also ordered the decals for their teams to wear.
The biggest request came from Franklin.
"They got 150," Gold said. "They wanted them for football, junior high and I guess their soccer teams are going to put it on their water bottles.
The only cost for these teams to acquire these decals? A $100 donation per team to the Martin family.
The overwhelming response has surprised Gold.
"We're honoring Mason's mother with it as well," Gold said. "I think that's part of Mason's story, too. Everyone has heard the stories of how strong Mason is and the high character kid that he is, and obviously that's heavily influence by his mom, who is also in a challenging battle.
"Credit goes to Vinyl Graphics for the willingness tp print them for anybody that wants them at no cost other than the donation."
Denny Martin was moved by the gesture.
"I have seen the logos," he said. "I immediately thought, 'I want one.'"
It seems in every corner of District 9, there is support for Mason Martin.
The Karns City football team will take the field again on Friday at Ridgway.
The team voted to play because that is what Mason would want.
Ridgway is encouraging fans to "add a splash of purple to your game day maroon and white" for the home game against the Gremlins.
All proceeds from the 50/50 drawing will be donated to the Martin family as well as all program sales and popcorn sales at the concession stand.
It's just one of the many things being done to support Mason Martin and his family.
And Denny is certain Mason is aware.
"There's no doubt in my mind," Denny said, "he can feel it."