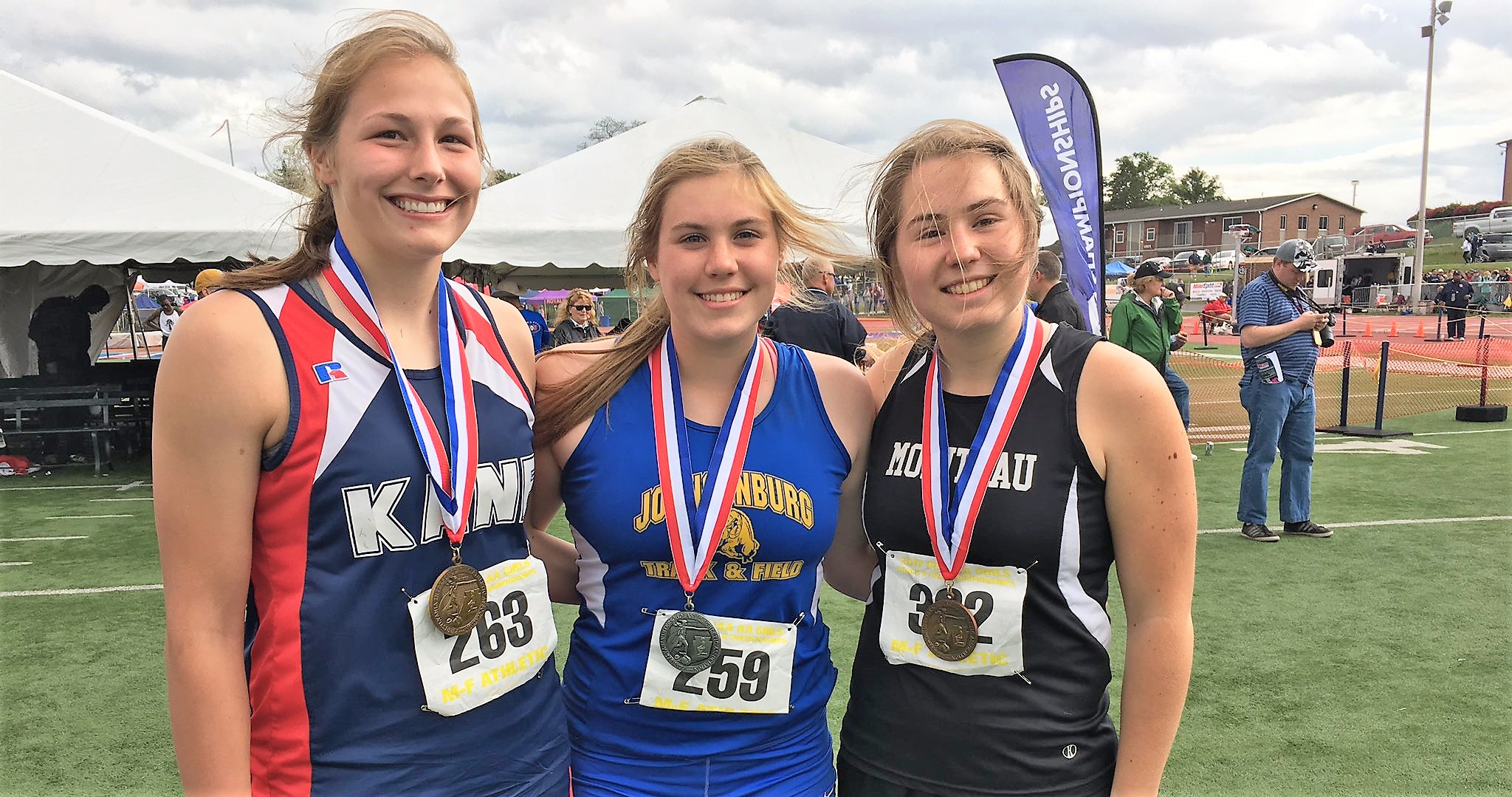 SHIPPENSBURG, Pa. – Led by a second-place finish by Johnsonburg's Skylar Sherry, District 9 had three place winners in the girls' Class 2A javelin at the PIAA track and field championships Friday in Shippensburg.
(Cover photo: The three District 9 place winner in the girls' 2A javelin. From left: Trinity Clark (Kane), Skylar Sherry (Johnsonburg) and Cambrie Campbell (Moniteau). The photo is also located at the bottom of this story.)
Sherry threw 144-feet even to finish second. She had the longest throw of the day until the final throw of the day by Mount Carmel's Maura Fiamoncini went 144-8 to win the event.
Moniteau's Cambrie Campbell was just behind Sherry in third place with a toss of 140-8, while Kane's Trinity Clark took seventh with a toss of 130-6. District 9 came within two inches of having four place winners in the event, as North Clarion's Tori Obenrader was 10th at 126-1, while 126-2 was the eighth-place throw.
Three boys' placed in field events Friday as well with St. Marys' Tom Bojalad taking second in the Class 2A discus with a toss of 180-1. The event was one by Hickory's Evan Blaire, who threw 186-5.
Kane's Austin Labesky was sixth in the boys' 2A javelin (175-6), while Bradford's John Eakin was sixth in the boys' 3A shot put (55-4 ½) and Johnsonburg's Ryan Kilhoffer was eighth in the discus with a throw of 144-5.
District 9 had some success on the track as well during Friday's preliminary races.
Ryan Thrush of Brookville won his heat in the boys' 2A 400-meter run with a time of 49.69, the fourth fastest time on the day.
Meanwhile, three D9 boys' moved on in the 110-meter hurdles.
Kane's Joseph Newton won his heat in a time of 14.96, the second-fastest time on the day, while Redbank Valley's Jared Kespelher was third in his heat in 15.53 and Moniteau's Jacob Patton was fifth in his heat in a time of 15.77.
A pair of District 9 girls is moving on in the 2A 100-meter dash with Moniteau's Gabby Stewart taking fifth in her heat with a time 12.86 and Otto-Eldred's Tiffany Bair finishing third in her heat in a time of 13.00. Brookville's Brooke Hummel just missed the city running 13.03.
Kespelher made it two-for-two on the day when he moved on in the 2A 300-meter hurdles as well running the second-fastest time in his heat (40.16).
In the girls' 2A 800-meter run, Elk County Catholic's Lauryn Wortman qualified for the next round by taking third in her heat in a time of 2:22.85.
Clarion's Brendan Zerfoss also moved on in the boys' 2A 200-meter dash running the third-best time in his heat at 23.28. Zerfoss just missed the cut in the 100-meter dash falling out of the qualifying by .02 of a second taking fourth in his heat in a time of 11.54.
A pair of 4×800-meter relays are moving on as well with ECC's girls' team taking fourth in its 2A heat in a time of 9:52.77, and the ECC boys' taking second in its 2A heat in a time of 8:13.10, over 10 seconds faster than its qualifying time of 8:24.33.