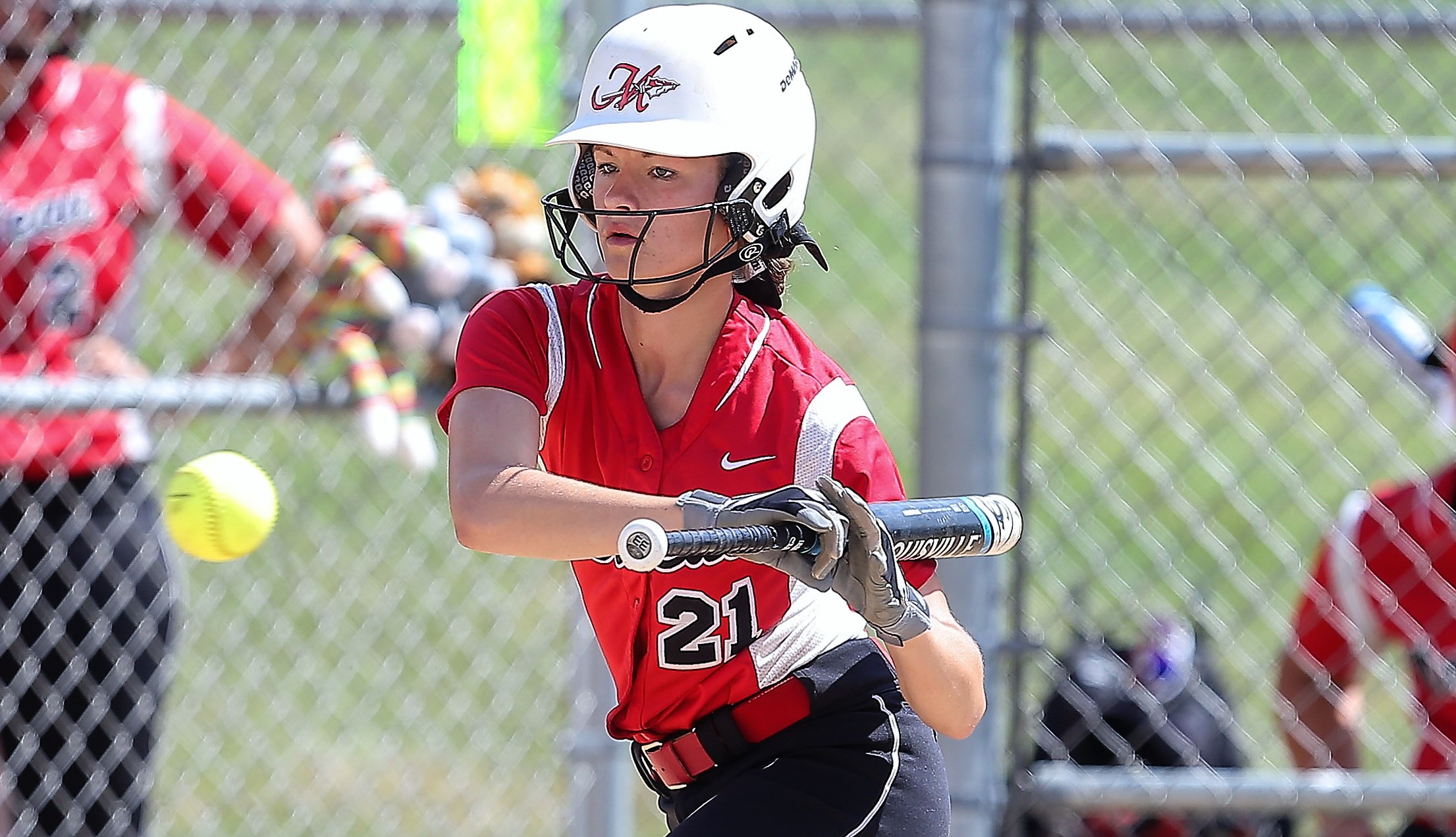 PIAA softball recaps for District 9 teams in the Class 2A, 3A and 4A softball tournaments.
(Cover photo of Gabby Stewart of Moniteau. Photo by Mike Schnelle. Check out more of Schnelle's work here)
CLASS 2A
CHARTIERS-HOUSTON 1, MONITEAU 0
STRATTANVILLE, Pa. – It was over before it started.
Moniteau's dream of returning to the PIAA Class 2A title game ended in a thud Tuesday when the Lady Warriors were shutout for the first time since May 24, 2013, a span of 90 games, 1-0 by WPIAL fourth-place finisher Chartiers-Houston. It was the first loss of the year for Moniteau.
"We just didn't hit the ball," first-year Moniteau head coach Lennie Claypoole said. "We were way out in front. Our main hitters didn't hit the ball. We had been hitting one through nine. That didn't happen today."
Moniteau, which entered the game averaging 11.8 runs per game managed only four hits and eight baserunners against soft-tossing Buccaneers righty Kaitlyn Dittrich.
"Our pitcher threw an amazing game," Chartiers-Houston head coach Tricia Alderson said. "We kind of figured a lot of their girls are going to be playing college (ball) and probably like the faster pitching a little bit better. Kate spins the ball really well. We knew she had to get ahead of hitters and let our defense play."
Moniteau's Kennedy DeMatteis was probably out pitching Dittrich for most of the game and finished with an impressive line of allowing just two hits while striking out 13. But she also walked four, and one of those walks was her undoing.
In the sixth, Kayla Alderson worked a leadoff walk, the second straight inning DeMatteis walked the leadoff hitter.
"Every time we ever play in moist conditions, power pitcher miss and they miss high," Claypoole said. "It is what it is. They have to pitch in the same conditions."
After a sacrifice bunt, a wild pitch and another walk, DeMatteis struck out Jessica Ford. But she fell behind Macie Kesneck 2-0, and Kesneck was able to bloop a single to left in front of left fielder Kristin Auvil to plate the game's only run.
"Macie is a senior and has been coming through for us all season," Alderson said. "We were just happy to get the bat on the ball."
While Moniteau didn't get many scoring opportunities, the Lady Warriors did have a couple.
The first came in the fifth when Gabby Stewart, who was 1-for-2 with a pair of walks, had a two-out single to center and ended up at third on when the ball went through the legs of center fielder Brittany Blumen.
But Cortney Claypoole hit a hard line drive right at right fielder Kayla Alderson for the third out.
"A little harder or a little softer and it drops," Lennie Claypoole said. "The ball just didn't go our way. That is just how it is sometimes."
Then, down to its last out in the seventh, Moniteau looked like it might pull the game out when Dolcey Shunk singled to center and Stewart drew a walk. But Cortney Claypoole grounded to shortstop Kaci Alderson, who flipped to third baseman Kesneck to force Shunk and end the Lady Warriors dream.
"As soon as Dolcey got on, I figured we would pull it off," Lennie Claypoole said. "I thought we would push one across, maybe two. I really did. And I think they kind of believed it too. It just didn't happen."
The loss ends an amazing four-year run for Moniteau senior starters Kennedy and Kristina DeMatteis, Stewart, Claypoole and Sara Hull. The Lady Warriors were 85-6 in their four seasons with four District 9 Class 2A titles and the PIAA runner-up finish last year. The first three seasons came under Dan Beebe, whose job was opened by the school board following the run to the PIAA title game a year ago. Beebe elected to take an assistant coaching position at Butler County Community College, and Lennie Claypoole stepped in having a flawless campaign until Tuesday.
"That's what I have to go back to the school and talk to them (about)," Lennie Claypoole said. "I have to explain to them while we didn't make another run like we wanted too, they still are going to have great careers. They are going to do special things (in college). What they have done so far, four district titles, a state runner-up, it speaks for itself. A number of them are going on to play college ball."
(See box score below).
CLASS 3A
DEER LAKES 16, KARNS CITY 6
BROCKWAY, Pa. – For three innings, Karns City's Cinderella story looked like it might just keep getting better.
The heavily underdog Lady Gremlins used a six-run third to take a surprising 6-4 lead on WPIAL runner-up Deer Lakes only to watch the dream of an upset go away when the Lancers broke a 6-all tie with an eight-run fifth inning that saw Karns City commit four of their 10 errors for the game.
But before the fifth, it was a positive experience for the young Lady Gremlins, who had only one senior and one junior on the roster this season.
After falling behind 4-0 after 2 ½ innings, they sent 12 batters to the plate in the bottom of the third scoring six times to take the lead.
Emily Wolfe and Alyssa Stitt had back-to-back singles leading off the inning before Wolfe was retired at third on a fielder's choice for the first out.
MacKenzie Dunn followed with an RBI single, and Kate Allen singled to load the bases for Sami Grazioli, who doubled home a pair of runs to make it 4-3. Allen then scored on a wild pitch, and Grazioli scored on a base hit by Chandley Stuchell, who was 3-for-4 with an RBI and a run scored on the day.
Deer Lakes tied the game up with a pair of runs in the fourth before taking control with the eight-run fifth.
Stitt and Dunn were also both 3-for-4 with a run scored and an RBI for Karns City, while Grazioli was 2-for-4 with a run scored and two RBIs. Dunn and Grazioli had doubles.
Katelyn Blair went 3-for-4 with a double, four runs scored and an RBI for Deer Lakes with Kristen Rudy going 2-for-5 with three RBIs. Makayla Blair added a 3-for-5 day with a triple, a double, a run scored and three RBIs.
Logan Byers took the loss going 6 ⅓ innings allowing 11 runs, five earned, on 13 hits and two walks while striking out one. Makenzie Shay pitched ⅔ of an inning giving up five runs, four earned, on three hits and a walk while striking out one.
CLASS 4A
BELLE VERNON 1, PUNXSUTAWNEY 0
ALLISON PARK, Pa. – Hannah Legazza singled home pinch runner Natalie French with two outs in the bottom of the seventh inning, and WPIAL champion Belle Vernon broke Punxsutawney's heart with a 1-0 win at Hampton High School.
French was running for Alex Sokol, who tripled to right with one out to set the stage for Legazza.
In game pitting a pair of junior pitchers committed to Penn State, Bailey Parshall and Kylee Lingenfelter didn't disappoint.
Belle Vernon's Parshall, a teammate on the Ohio Outlaws travel team of Lingenfelter, threw a two-hitter striking out seven.
Lingenfelter allowed four hits, only two before the seventh, in 6 ⅔ innings while walking two and striking out 10.
Neither team threatened until the Sokol triple in the seventh helped the Leopards, who played Mt. Pleasant in the quarterfinals Thursday, to the victory.
BOX SCORE
CHARTIERS-HOUSTON 1, MONITEAU 0
Score by Innings
Chartiers-Houston 000 001 0 – 1
Moniteau 000 000 0 – 0
Chartiers-Houston – 1
Kayla Alderson rf 2100, Kasey Scears c 2000, Kaci Alderson 1000, Jessica Ford dp 3000, Kaitlyn Dittrich p 0000, Macie Kesneck 3011, Lauren Lober 2000, Jaylese Lombardi 2000, Kayla Elliott ph 1000, Karlyn Bayer 1b 3000, Brittany Blumen cf 3010. Totals 22-1-2-1.
Moniteau – 0
Gabby Stewart cf 2010, Cortney Claypoole ss 3010, Kennedy DeMatteis p 3000, Kristina DeMatteis c 2000, Sara Hull 1b 3010, Megan Hepler 3b 3000, Kristin Auvil lf 2000, Makayla King ph 1000, Amanda Dailey rf 2000, Maddie Clark ph 1000, Dolcey Shunk 2b 3010. Totals 25-0-4-0.
LOB: Chartiers-Houston 4. Moniteau 8. Errors: Chartiers-Houston 1, Moniteau 0. SAC: Scears. HBP: Claypoole by Dittrich.
PITCHING
Chartiers-Houston
Kaitlyn Dittrich – 7 IP, 4 H, 0 R, 0 ER, 3 W, 0 K, 1 HP
Moniteau
Kennedy DeMatteis – 7 IP, 2 H, 1 R, 1 ER, 4 W, 13 K, 0 HP
Winning pitcher: Kaitlyn Dittrich
Losing pitcher – Kennedy DeMatteis