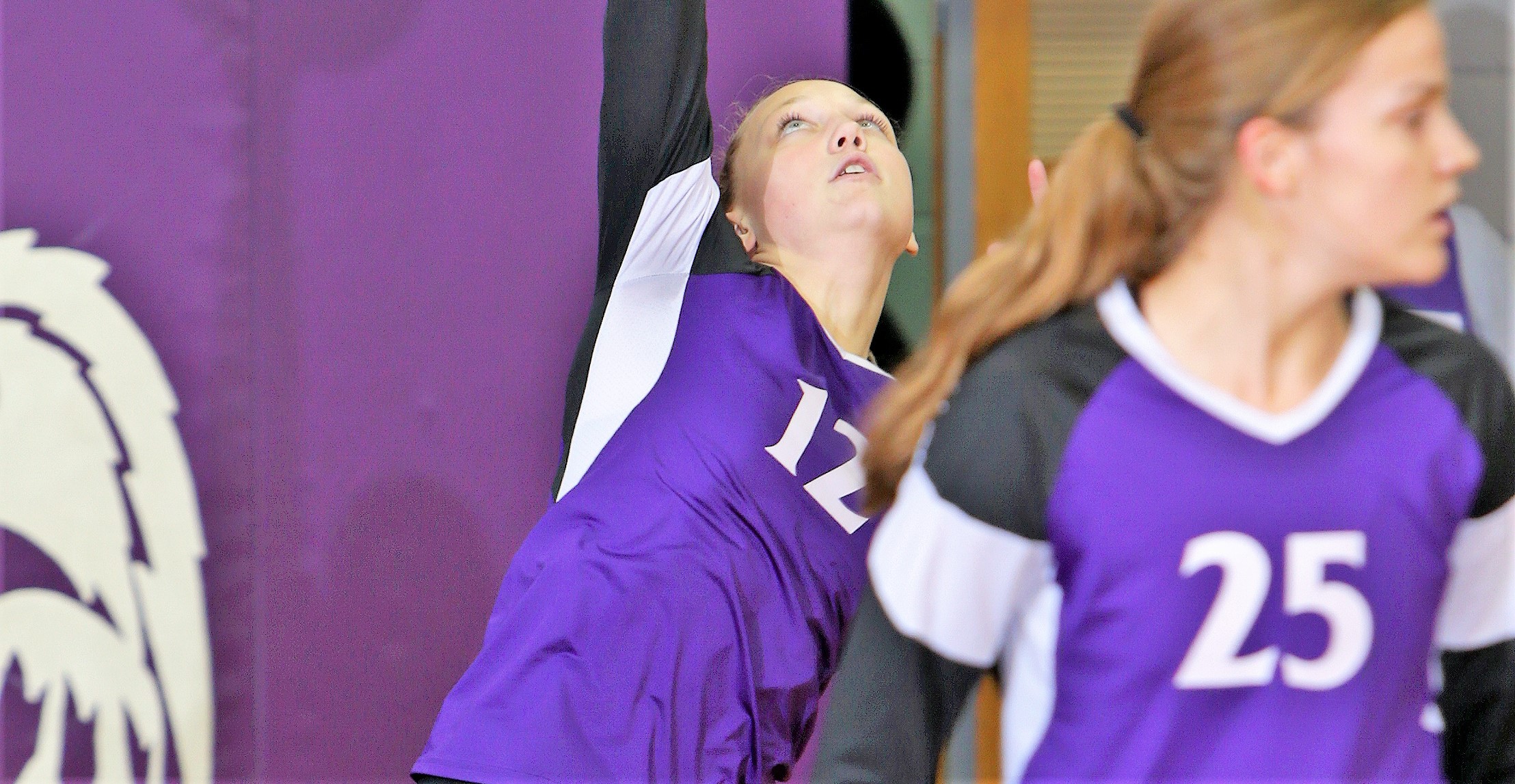 Oct. 10 volleyball and soccer recaps.
(Dana Dubots of Coudersport. Photo by Paul Burdick. Check out more of Burdick's work here)
VOLLEYBALL
COUDERSPORT 3, OTTO-ELDRED 0
COUDERSPORT, Pa. – Coudersport used a balanced team effort to defeat Otto-Eldred, 3-0.
Dana Dubots and Claudia Miller each had a game-high 15 digs for the Lady Falcons. Addie Myers had four aces, three blocks and four kills and Shaelyn Black chipped in for eight kills.
Jade Spinney paced the Lady Terrors with seven kills, seven digs and two blocks and Haley Cousins had five kills and six digs.
MONITEAU 3, FOREST AREA 0
WEST SUNBURY, Pa. – A strong offensive game helped Moniteau shutout visiting Forest Area, 3-0 (25-14, 25-15, 25-5).
Carolyn Kelly led Moniteau with eight aces, Abby Regal had seven and Madison Bresnehan added six. Logan Barnhart chipped in for nine assists.
Shawna Carbaugh paced the Fires with three kills and an ace, Taylor Andrews had two aces and a dig and Angelina Harp chipped in for an ace and a kill.
PORT ALLEGANY 3, NORTHERN POTTER 0
PORT ALLEGANY, Pa. – Jenna Sprankle led the way for Port Allegany in its 3-0 (25-14, 25-12, 25-16) victory over visiting Northern Potter.
Sprankle ran the Lady Gators offense with a game-high 26 assists and five aces. Kalyn Naylor added 10 kills while Kierra Keck tallied seven kills and seven digs and Erin Stauffer had five kills and seven digs.
Northern Potter was led by Mirissa Bliss, who tallied six kills, five assists and seven digs and Megan Hyde, who had three aces and nine digs.
CAMERON COUNTY 3, AUSTIN 0
EMPORIUM, Pa. – Led by Alyvia McKimm's 15 assists, Cameron County swept visiting Austin, 3-0 (25-17, 25-12, 26-24).
For the Lady Red Raiders, Mallory McKimm tallied two blocks and three kills while Morgan Lorenzo chipped in for seven aces and three kills.
CRANBERRY 3, FRANKLIN 0
SENECA, Pa. – Ally Young and Malliah Schreck combined for 37 digs to help Cranberry defeat Franklin, 3-0 (25-14, 25-17, 25-13).
Schreck racked up 15 digs along with 13 kills and two blocks for the Berries while Young had a game-high 22 digs. Emily Duncan ran the offense with 27 assists and three aces and Abby Hanna chipped in for 10 kills and five blocks.
DUBOIS CENTRAL CATHOLIC 3, UNION 2
DUBOIS, Pa. – DuBois Central Catholic rallied from two sets down to beat visiting Union, 3-2 (24-26, 22-25, 25-21, 25-20, 15-9).
Alyssa Bittner led DCC with 11 kills and three blocks with Ashley Wruble added 19 assists and two aces. Shay Gulvas had 40 digs, Jordy Kosko eight kills and two blocks and Maia Cogley seven aces.
For Union, Morgan Cumberland had 23 assists, Vanessa Reddick added three aces and Dominika Logue had 13 kills and two aces.
GIRLS SOCCER
BELLEFONTE 3, CLEARFIELD 2
BELLEFONTE, Pa. – Despite two goals in the first half, Clearfield fell to Bellefonte, 3-2.
Emma Hipps netted the first goal for the Lady Bison and Alayna Ryan assisted Amanda Hazel for the second goal.
Hayley Moore recorded eight saves for Clearfield.
BROCKWAY 9, PUNXSUTAWNEY 0
BROCKWAY, Pa. – Brockway remained unbeaten after a dominating 9-0 victory over Punxsutawney.
Chanell Britten tallied three goals and two assists for the Lady Rovers with Morgan Lindemuth adding two goals. Bailey Allison, Callie Barber, Morrigan Decker and Madelynn Heckman all netted a goal apiece.
Danielle Wood and Maggie Schmader combined for six saves in net for Brockway.
SLIPPERY ROCK 3, KARNS CITY 0
SLIPPERY ROCK, Pa. – Slippery Rock shut out visiting Karns City, 3-0.
Slippery Rock got goals from Emily Riane, Ellie Reiser and Isabelle Wilison.
ALTOONA 11, DUBOIS 1
ALTOONA, Pa. – DuBois was defeated by Altoona, 11-1.
Izzy Beers netted the lone goal for the Lady Beavers.
BOYS SOCCER
BROOKVILLE 2, KANE 1, OVERTIME
KANE, Pa. – Bryce Kunselmans overtime tally lifted Brookville over Kane, 2-1.
Kunselman also scored the first goal for the Raiders.
Josh Greville assisted the Aiden Zampogna goal for Kane.
BROCKWAY 6, PUNXSUTAWNEY 1
BROCKWAY, Pa. – Hunter Allenbaugh booted four goals to help Brockway defeat Punxsutawney, 6-1.
Zane Puhala and Elijah Fremer also netted goals for the Rovers. Jake Anderson, Marcus Bennett and Allenbaugh all tallied an assist each.
DUBOIS 4, WEST SHAMOKIN 2
DUBOIS, Pa. – Nolan Bussell scored twice to help DuBois to a 4-2 win over visiting West Shamokin.
Nikko McDonald and Nick Graeca also scored for the Beavers.