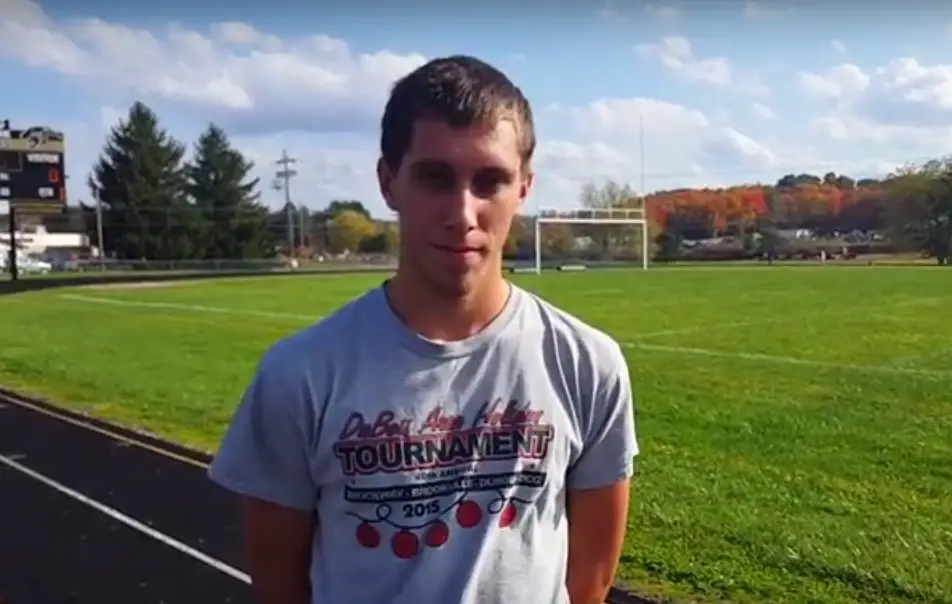 Oct. 17 soccer and volleyball recaps.
Cover photo of Jarrett Esposito of Brockway
BOYS' SOCCER
BROCKWAY 8, KEYSTONE 1
KNOX, Pa. – Eight different Brockway players scored goals, as the visiting Rovers toppled Keystone, 8-1.
Brockway led 7-0 at halftime before the teams exchanged second-half tallies.
Scoring for the Rovers were Anthony Esposito, Jarrett Esposito, Angelo Inzana, Zane Puhala, Linkin Nichols, Carter Adams, Hunter Allenbaugh and Austin Pringle.
KARNS CITY 9, CLARION-LIMESTONE 2
STRATTANVILLE, Pa. – In a game started Sept. 8 and finished Monday, Karns City knocked off Clarion-Limestone, 9-2, at C-L.
Spenser Myers scored four goals giving him 55 for the year breaking the single-season scoring record for the Gremlins he set a year ago.
Noah Pollock also had two tallies for Karns City, while Jace Ebbitt, Ian McElroy and Noah Claypoole also scored.
Karns City is now 17-0 on the year and goes for an unbeaten regular season Tuesday against Forest Area at East Forest.
ELK COUNTY CATHOLIC 4, BROOKVILLE 2
BROOKVILLE, Pa. – Frank Singer scored a goal and added an assist to lead visiting Elk County Catholic to a 4-2 win at Brookville.
Singer assisted on the game's first tally by Charlie Bobby and then scored the go-ahead goal that put the Crusaders ahead 2-1.
Regis Wortman and Steve Labant also scored for ECC.
John Matheny and Isaiah Isaac tallies goals for Brookville.
NORTH PENN-LIBERTY 5, NORTHERN POTTER 1
LIBERTY, Pa. – Behind a Taite Couch hat trick, North Penn-Liberty beat visiting Northern Potter, 5-1.
Alexander Cameron and Sergio Zuniga also scored for NPL.
Levi Kio scored off a Tucker Kosa assist for Northern Potter.
GALETON 9, SMETHPORT 0
GALETON, Pa. – Isaiah Shuemaker scored the hat trick and Evan Griffen and Chris Mashula each added two goals to lead Galeton to a 9-0 win over visiting Smethport.
Joel Brelo and Jessie Evans also scored for the Tigers, while David Steadman stopped all eight shots he faced to get the shutout win.
RIDGWAY 8, KANE 2
RIDGWAY, Pa. – Thanks in part to Colby Hefright's hat trick, Ridgway beat visiting Kane, 8-2.
Kyle Bush also scored twice for the Elkers, who led 3-1 at halftime.
GIRLS' SOCCER
BROCKWAY 8, KEYSTONE 0
KNOX, Pa. – Adrianna Azzato, Chanel Britton and Morrigan Decker each scored twice to lead visiting Brockway to an 8-0 win at Keystone.
Layken McMeekin and Lauren Duttry also scored for the Lady Rovers.
BROOKVILLE 3, ELK COUNTY CATHOLIC 2
BROOKVILLE, Pa. – Hailey Shields goal two seconds into the 78th minute lifted Brookville to a 3-2 win over visiting Elk County Catholic.
The Shields goal capped a comeback from a 2-1 deficit for the Lady Raiders, who tied the game on an April Hetrick goal in the second half.
Maddie Kear scored both goals for ECC, while Linzey Oakes, who also had an assist, also scored for Brookville.
DUBOIS CENTRAL CATHOLIC 4, REDBANK VALLEY 0
DUBOIS, Pa. – Riley Meyers and Jordy Frank each scored twice to lift DuBois Central Catholic to a 4-0 win over visiting Redbank Valley.
WARREN 4, BRADFORD 1
BRADFORD, Pa. – Mackenzie Bickling scored two goals and assisted on a third to lead visiting Warren to the District 10, Region 5 title with a 4-1 win at Bradford.
Jessica Susz and Chelsea Winters also scored for the Lady Dragons, who won the D10, R5 title for the second straight year.
Regan Johnson scored for Bradford to tie the game at one in the first half, but Warren led 2-1 at halftime before Bickling's two second-half goals put the game away.
VOLLEYBALL
BROOKVILLE 3, FOREST AREA 2
MARIENVILLE, Pa. – Behind seven kills from Lauren Hergert, visiting Brookville beat Forest Area, 3-2 (18-25, 27-25, 18-25, 25-19, 20-18), at East Forest.
Lexis Hatzinicklas added four kills for the Lady Raiders, who also got three aces each from Eden Craig and Morgan Johnson.
OTTO-ELDRED 3, AUSTIN 0
DUKE CENTER, Pa. – Camryn Thomas and Ali Cousins each had eight kills to lead Otto-Eldred to a 3-0 (25-11, 25-10, 25-8) win over visiting Austin.
Thomas added five digs and two blocks, and Cousins chipped in four aces for the Lady Terrors.
Also for Otto-Eldred got seven kills and two aces for Tiffany Bair, while Emily Smith added 27 set assists and six aces.
SHEFFIELD 3, BROCKWAY 0
SHEFFIELD, Pa. – Thanks to nine kills and 13 set assists from Rachel Lemay, Sheffield swept past visiting Brockway, 3-0 (25-17, 25-17, 25-14).
Eliza Davidson added seven kills and Mya Grubbs 13 set assists for Wolverines.
JOHNSONBURG 3, DUBOIS CENTRAL CATHOLIC 1
DUBOIS, Pa. – Lindsey Kocjancic, Nicole Myers and Jensen Fulong combined for 22 kills to lead Johnsonburg to a 3-1 (25-13, 21-25, 25-21, 25-22) at DuBois Central Catholic.
Kocjancic had eight kills with Nicole Myers and Jensen Fulong each added seven kills.
Emily Dillinger added five kills, three blocks and three assists for the Ramettes, while Brianna Quiggle chipped in four aces, six digs and two assists, Skylar Sherry had four kills, eight assists and three aces, Rylie Casilio added four assists and three aces and Emily Cardoni seven assists.
Macey Hanes led DCC with seven digs and five aces, while Ashley Wruble added 16 set assists and Shayleigh Gulvas had five aces.