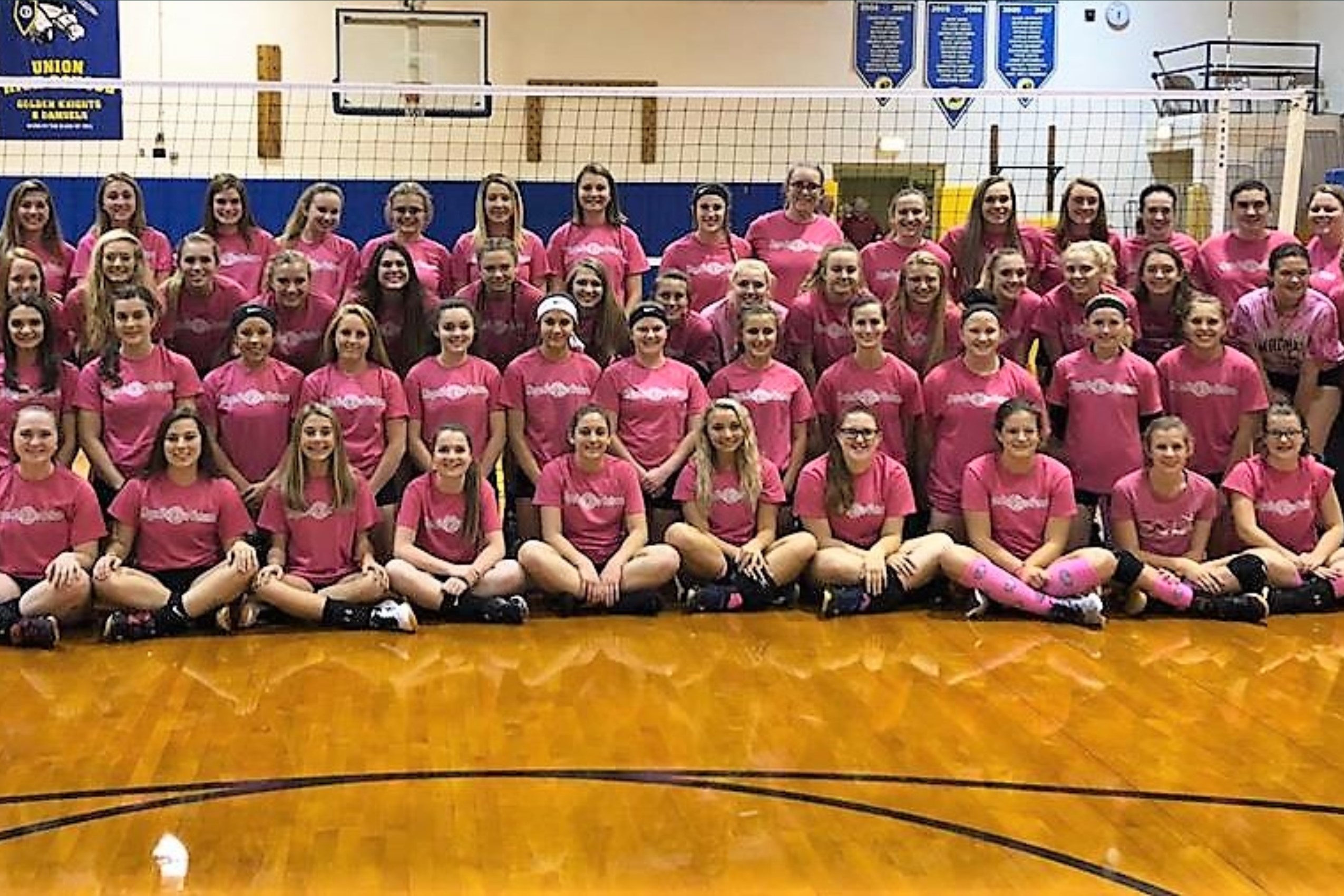 Oct. 2 volleyball and soccer recaps.
(Photo: It was a Pink Out at Union Tuesday night. Submitted photo)
VOLLEYBALL
OTTO-ELDRED 3, AUSTIN 1
AUSTIN, Pa. – Reilly Raught had 11 kills and 11 digs to lead visiting Otto-Eldred to a 3-1 (17-25, 25-22, 25-20, 25-12) win over Austin.
Morgan Dalton added six kills and 17 digs for the Lady Terrors with Emmalee Sheeler running the offense with 14 set assists.
Austin got nine kills from Kiley Welsh with Taylor Brewer adding six kills, six digs, four blocks and two aces and Angeline Watson seven digs, four aces and a kill.
Otto-Eldred is playing without head coach Jame Thomas, who is tending to his sick wife. The Lady Terrors have dedicated the season to her using a "Fight for it" motto.
A-C VALLEY 3, CLARION-LIMESTONE 0
FOXBURG, Pa. – A-C Valley rebounded from its tough loss to Redbank Valley Monday to knock off Clarion-Limestone, 3-0 (25-10, 25-13, 25-22).
Olivia Boocks had a double-double for the Lady Falcons with 10 kills and 10 digs.
Andrea Meals and Kylee Eaton each added seven kills with Meals also having seven digs and Eaton four digs and four aces.
Kaylie Merwin (12 assists, 8 digs) and Emily Wetzel (10 assists, 2 kills, 4 digs) also played key roles in the victory.
PORT ALLEGANY 3, CAMERON COUNTY 1
PORT ALLEGANY, Pa. – Kierra Keck had 13 kills to lead Port Allegany past Cameron County, 3-1 (19-25, 25-21, 25-15, 25-23).
Jenna Sprankle ran the offense with 24 assists while adding 19 digs, and Erin Stauffer had 10 digs.
Morgan Lorenzo led Cameron County with seven kills and 10 digs, Alyvia McKimm had 14 assists, five digs and two aces, Kaelee Bresslin chipped in 11 digs and Hailey Hilfiger five kills and two aces.
KANE 3, ST. MARYS 1
ST. MARYS, Pa. – After dropping the first set, visiting Kane rallied to take the next three in a 3-1 (19-25, 25-20, 25-20, 25-19) win over St. Marys.
Ella Marconi led the Lady Wolves with 18 kills, 16 digs and six blocks. Hannah Buhl ran the offense with 24 assists, Lexie Woods added six digs and five aces and Audri Marconi Kalen Johnson each had seven kills.
KEYSTONE 3, MONITEAU 1
WEST SUNBURY, Pa. – A strong night from Alyssa Dunlap helped visiting Keystone to 3-1 (25-20, 25-16, 13-25, 25-16) win over Moniteau.
Dunlap had eight kills, nine digs and six aces for the Lady Panthers, while Mandy Wingard led the defense with 15 digs. McKenna Kaye ran the show with 16 set assists, and Emma Weaver added three kills, seven set assists and six aces.
Carolyn Kelly had eight blocks, six aces and three kills for Moniteau with Abby Regal adding five kills and Samantha Broerman four kills and three blocks.
COUDERSPORT 3, NORTHERN POTTER 0
ULYSSES, Pa. – Behind Shaelyn Black's double-double visiting Coudersport swept Northern Potter, 3-0 (25-11, 25-19, 25-21).
Black had 13 kills and 17 digs while also adding three aces. Dana Dubot chipped in 17 digs, five aces and two kills for the Lady Falcons with Claudia Miller gathering 15 digs, Mikayla Kavounas 13 digs and two kills and Addie Myers 15 digs, three kills, three blocks and two aces.
Courtney Martin and Savannah Herring both had five kills for Northern Potter with Martin chipping in 10 digs, a block and three aces and Herring a block and two aces. Madison Hoopes had four kills and 12 digs.
RIDGWAY 3, BROCKWAY 0
RIDGWAY, Pa. – Despite seven kills and three blocks from Mikayla Duffalo visiting Brockway dropped a 3-0 (25-17, 25-16, 25-20) decision to Ridgway.
Ridgway stats weren't available.
JOHNSONBURG 3, CURWENSVILLE 2
JOHNSONBURG, Pa. – Lindsey Kocjancic and Jenna Morgan combined for 30 kills to lead Johnsonburg a 3-2 (25-18, 23-25, 22-25, 25-15, 17-15) come-from-behind win over visiting Curwensville.
Kocjancic had 17 kills and Morgan added 13 kills.
Liz Mathews led Curwensville with 15 kills, four blocks and an ace. Emma Caldwell ran the Lady Tide offense with 31 assists while adding two aces, Tarah Jacobson had four aces and Rayleigh Sunderlin chipped in three kills and two aces.
DUBOIS 3, ELK COUNTY CATHOLIC 0
DUBOIS, Pa. – Sydney Kaschalk had nine kills and two aces to help DuBois beat visiting Elk County Catholic, 3-0 (25-14, 25-22, 25-17).
Kelli Hoffer added eight kills and nine digs for the Lady Beavers with Cate Gregory running the offense with 31 set assists.
REDBANK VALLEY 3, UNION 0
RIMERSBURG, Pa. – Josie Rupp had 10 kills and two blocks to lift visiting Redbank Valley to a 3-0 win over Union.
Taylor King added five kills and a block for the Lady Bulldogs with Jordan Milliron chipping in three kills and Lauren Smith two kills and two aces. Carissa Rearick ran the show with 29 assists while adding four kills, five digs and four aces.
Bryn Davis paced Union with six kills and Morgan Cumberland added four kills and nine set assists
GALETON 3, SMETHPORT 0
GALETON, Pa. – Galeton used a balanced effort to beat visiting Smethport, 3-0 (25-8, 25-10, 25-4).
Makenna Shuemaker had four assists, two kills, two digs and three aces, Kate Kulish added four assists, three digs and an ace, Katie Pagano had three kills, two digs and three aces, Marika Lechler added 11 aces, two kills and a dig, Kelsey Bennett had three kills and Cara Parsell five digs and five aces.
GIRLS' SOCCER
CLEARFIELD 1, HUNTINGDON 0
HUNTINGDON, Pa. – Hayley Moore made 12 saves and Lydia Brown tallied a first-half goal to lead visiting Clearfield to a 1-0 win over Huntingdon.
Brown scored late in the 24th minute off an assist from Emma Hipps.
Huntingdon outshot the Lady Bison, 12-10, but Clearfield got the one ball past Lady Bearcats keeper Mallory Woodward, who made nine saves.