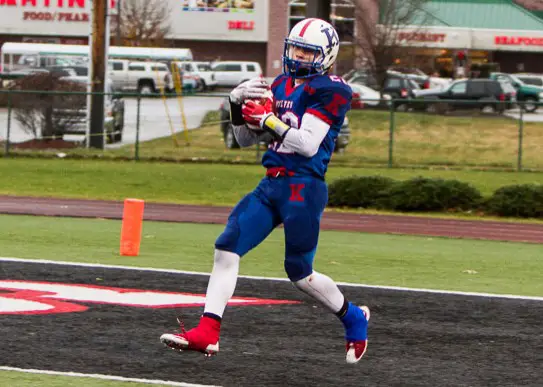 GAME INFORMATION 
When: 7 p.m. Friday, Dec. 4 • Where: Clarion University's Memorial Stadium
TEAM INFORMATION 
Farrell Roster  • Kane Roster • Farrell Stats • Kane Stats
Farrell Schedule  • Kane Schedule
GAME PREVIEW STORY
By Chris Rossetti
CLARION, Pa. – In what has been an annual tradition for a quarter of a century now in Class A, District 9's champion – Kane – will take on District 10's champion – Farrell – in the opening round of the PIAA playoffs.
This year's game is a quarterfinal matchup at 7 p.m. Friday at Clarion University's Memorial Stadium, and the winner will help its district take bragging rights in the annual playoff war, which is currently tied at 12 apiece thanks to District 9 winning two of the past three years.
That one loss, though, was last year when Kane dropped a 50-14 decision to Sharpsville at Slippery Rock University in a game that saw Sharpsville blow open the lead with 24 points in the final 4:49 of the first half.
"Last year, it was new for the kids and new for the staff," Kane head coach Todd Silfies said. "It was a new experience for all of us, especially with the shock and awe that a team like Sharpsville brought to it. When it spiraled it spiraled. This year, we have to make sure we weather any storm. We have to slow it down and take advantage of the talented football team we have."
Both teams are coming into the PIAA playoffs off exciting district-championship wins.
For Kane (12-0) it was a pair of Shane Rolick to Tyler Rolick passes in the final 1:15, the last going for 25 yards and the game-winning touchdown with 47 seconds left, that gave the Wolves a come-from-behind 21-17 win over Brockway.
Farrell's win may have actually topped that.
Trailing nemis Sharpsville, the only team to beat the Steelers (12-1) this season, Farrell watched Sharpsville get inside the 10-yard line in the final 3 ½ minutes only to miss a field goal. The Steelers then drove the length of the field and tied the game when Alex Myers scored on a 1-yard run then hit Malachi Newell with the 2-point conversion pass with 24 seconds left. Farrell then scored in overtime on a 10-yard Myers to Davaughn Greene touchdown to win 26-20.  
Myers is a key player for the Steelers.
He has thrown for 1,760 yards and run for 684 yards on the season while going 101 for 179 passing with 17 touchdowns and 10 interceptions and scoring 14 times on the ground. Last week, he was 15 of 27 passing for 228 yards, two touchdowns and three picks while rushing for 62 yards and two scores.
"You can't overcommit to one thing or another," Silfies said. "You have to stay balanced defensively and keep track of the number of guys you have in the box. It's a challenge for our defense, but we are putting together a game plan from the run heavy and pass heavy opponents we played this year and put them together."    
Myers isn't the only weapon for Farrell, though.
Junior running back Braxton Chapman is over 1,200 yards on the season with 1,229 on 166 carries while scoring 14 rushing touchdowns.
The receiving corps is talented as well led by senior Marcus McCoy (19 catches, 447 yards, 6 TDs) and Newell (27 catches, 396 yards, 4 TDs). Freshman Kyi Wright had a coming-out party last week catching five balls for 106 yards and a touchdown after entering the game with just four catches on the season.    
"We are going to have to take chances defensively but also play fundamentally sound," Silfies said. "They are going to be able to get some splash plays. We just have to make sure we don't let our emotions get the best for us during the game."  
While Farrell has the potential to be explosive on offense so too does Kane.
The Wolves are led by the Rolick twins – quarterback Shane and running back Tyler – and as evidence by the duo's performance in the D9 title game they can score at any time.
Shane, the younger of the two by a mere minute, has done practically everything but snap the ball on offense this season.
He is the team's leading rusher with 1,428 yards on 148 carries to go with 23 rushing touchdowns. He is also the leading passer with 450 yards on 36 of 75 with five touchdowns and five interceptions and to boot has caught three touchdown passes.
Tyler doesn't throw the ball, but he runs it and catches it well.
He has rushed for 1,341 yards and 15 touchdowns on 194 carries while catching 18 passes for 281 yards and three scores.
Sophomore Erik Delong gives the Wolves a true fullback to join the Rolick brothers, and Delong has rushed for 888 yards and seven touchdowns on 112 totes this season.
Ray Maze (12 catches, 155 yards, 3 TDs), Tyler Weidenhoff and Davis Garner give Shane Rolick plenty additional targets in addition to his brother.
"We want to establish the run," Silfies said. "Any game you want to establish the run. But I think everyone got a glimpse last week of what we can do throwing the ball. Our game plan is to adjust week-to-week to how things are going. I would be surprised if we didn't open it up this week, but establishing the run is our first priority."  
The winner gets the winner of the Clairton/Berlin Brothersvalley game in the PIAA semifinals next week at a site, date and time to be determined.
NOTES – Kane has been involved in two of the 24 straight PIAA playoff games between D9 and D10 going 1-1 having beaten Mercyhurst Prep in 12-7 in 2007 … Since rejoining District 10 Farrell is 3-0 vs. D9 in the PIAA playoffs beating Cameron County 31-0 in 2008, Clarion 19-14 in 2009 and Curwensville 35-14 in 2010. Those three wins came during a four-game win streak for D9, which also saw Sharpsville beat Port Allegany 35-33 in 2011. Port turned around and beat Sharpsville  28-21 in 2012 on a last-second touchdown then Clarion knocked off Lakeview 35-20 in 2013. District 9 won four straight games from 2002 to 2005 with C-L beating West Middlesex in 2002 and 2003, Curwensville getting a victory over Sharpsville in 2004 and Coudersport in 2005 over Kennedy Catholic in double overtime.