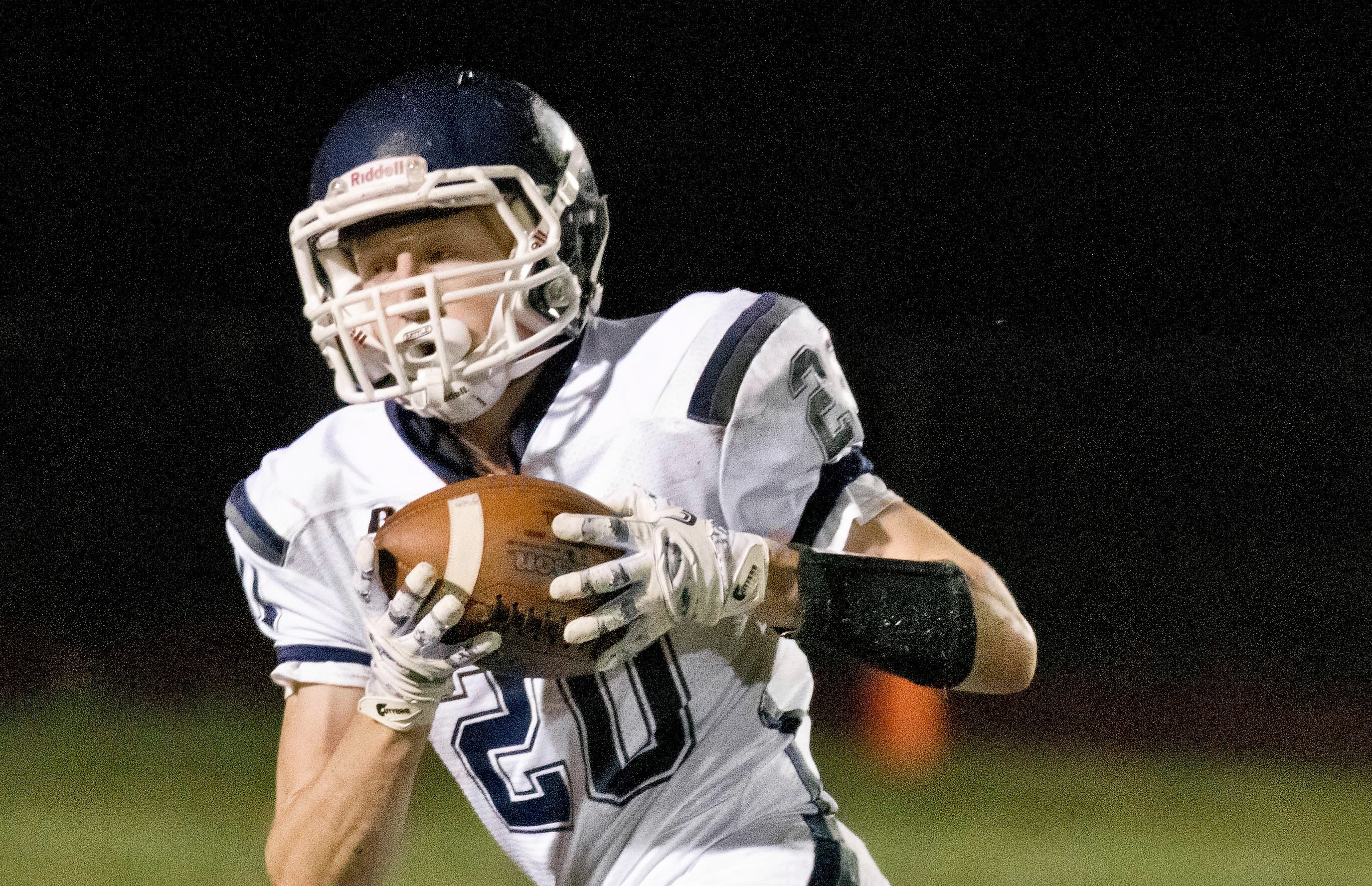 D9Sports.com/EYT Media is doing a series of player profiles on returning high-school athletes this summer. The year in school listed by the athlete is the year the athlete is entering this fall.
(Photo by Kyle Yates www.facebook.com/YatesPhoto)
BRYAN DWOREK – SENIOR – BROOKVILLE
Son of: Chris and Kristie Dworek
Sports Played: Football, Basketball, Baseball, Track & Field
Family Members Playing/Played Sports: Dad played football, baseball and basketball and ran track; Mom was a cheerleader; Sister, Brenna, played soccer, basketball and softball and ran track.
2017-18 Highlights: Dworek had a junior year to remember. In football, he was named the Eric Shick Agency D9Sports.com District 9 Offensive Player of the Year and a Pennsylvania Football Writers/Broadcasters Class 2A All-State performer after catching 85 passes for 1,406 yards and 21 touchdowns on the season with seven 1000-yard games including a career-high 244 yards and four TDs on seven catches in a win over Clarion-Limestone. In basketball, Dworek helped Brookville to the D9 Class 3A title game by averaging 9.6 ppg. He scored in double digits 11 times including a season-high 17 points vs. DuBois Central Catholic. Dworek then won a pair of gold medals at the District 9 Class 2A Track & Field Championship while helping Brookville to the team crown for the second straight year. He was the D9 champion in the long jump (21-feet, 5 ½- inches) and also ran a leg on the D9 champion 4×100-meter relay team while finishing third in the 200-meter dash. He then won a pair of PIAA medals taking seventh in the long jump (20-10) and running a leg on the fifth-place 4×100 relay team. The D9 title in the long jump marked his second straight long jump title.
Post-High School Plans: Bryan plans on attending college and either play football or run track.
Q&A With Bryan Dworek
D9Sports: What is your favorite sport to participate in and why?
BD: Either football or track because of the people around me. It's fun making new friends, and it's fun seeing yourself getting better.
D9Sports: What is your favorite memory, moment, game from playing high school sports?
BD: Probably the C-L football game last year. I had a good game and it was a shootout and who doesn't love high scoring games? The big thing is we won a tough, competitive game.
D9Sports: Why do you play high school sports?
BD: I think it's fun seeing yourself get better each and every day of working on the little things and working with different groups of people that play one sport and not another.
D9Sports: Who has had the most influence on your athletic career and why?
BD: My dad by far. He was a pretty athletic kid back in the day, and I like listening to stories he has about them.
D9Sports: Do you remember the first sport you played and did you like it right away or did it grow on you?
BD: The first sport I can remember was T-ball, and I instantly loved it. I played baseball all the way until I was around 16. Last year (his sophomore year) I tried doing both baseball and track and it was miserable for me. If I wasn't doing track, I would definitely be doing baseball.
D9Sports: Do you have a favorite number for a uniform? If so, what is the story behind that number?
BD: I've had number 20 in football ever since I was 8. I know my uncle had that number in high school too but I'm not really sure why I like the number.
D9Sports: What would someone who doesn't know you be surprised to find out about you?
BD: I think I'm a shy person and it takes time for me to get used to someone. I'm not the cocky type either, I don't think.
D9Sports: If you could eat dinner with anyone famous (living or dead) who would it be and why?
BD: Probably Jordy Nelson. He's one of my favorite receivers and I've looked up to him ever since he was in the league. He's not the fastest receiver but he catches every ball.
D9Sports: Iphone or Android or Neither and why?
BD: IPhone. Androids cameras are awful.
D9Sports: What is your go-to Social Media and why?
BD: Instagram. I like looking through sports pictures and memes.
D9Sports: What do you like most about high school and why?
BD: I like not only the friends I made from our school but from other schools too.
D9Sports: What do you like least about high school and why?
BD: Cafeteria food.
D9Sports: What question do you wish I would have asked you? And what is the answer to it?
BD: Who is your favorite sports team? Pittsburgh Penguins.