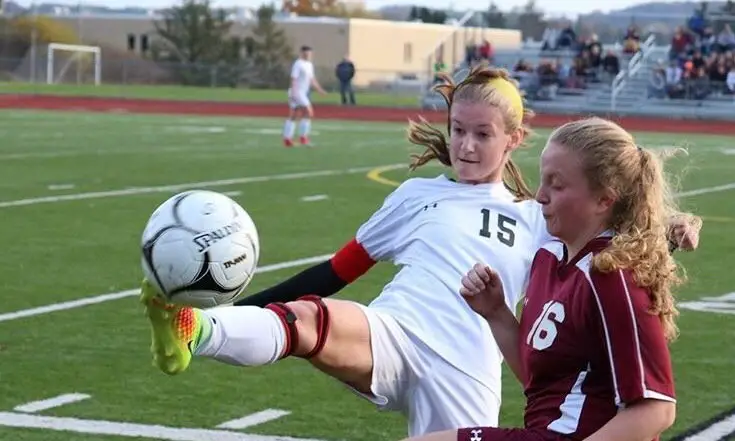 D9Sports.com/EYT Media is doing a series of player profiles on returning high-school athletes this summer. The year in school listed by the athlete is the year the athlete is entering this fall.
(Submitted photo. Photo by Greg Reedy)
CHANELL BRITTEN – JUNIOR – BROCKWAY
Daughter of: Dave and Marcy Britten
Sports Played: Soccer
Family Members Playing/Played Sports: 5- Her sister, Chanice, played volleyball and tennis. Her mom cheered. Her father played soccer. Her cousin, Anthony Benson, wrestled and played football.
2017-18 Highlights: She scored 48 goals in 2017, including 11 hat tricks with three four-goal games, while helping Brockway to the District 9 Class 1A championship game and topped the 70-goal mark (72) in just two seasons in the process after netting 24 as a freshman. She was named to the UAVSL All-Star squad for the second straight season and was the team MVP in 2017.
Post-High School Plans: She plans to attend college, major in history and play soccer.
Q&A With Chanell Britten
D9Sports: What is your favorite sport to participate in and why?
CB: Soccer has always been my favorite because of the bonds I make with my teammates.
D9Sports: What is your favorite memory, moment, game from playing high school sports?
CB: My favorite moment was winning my first and the schools first girls' District 9 title (in 2016).
D9Sports: Why do you play high school sports?
CB: I play high school sports because of the bonds I make with my teammates and it keeps me active.
D9Sports: Who has had the most influence on your athletic career and why?
CB: My dad has the most impact on me playing soccer and helping me grow until I was 13. My coach from Pittsburgh named Emily Karr has helped me become the player I need to be and helped boost my confidence when I needed it.
D9Sports: Do you remember the first sport you played and did you like it right away or did it grow on you?
CB: I started playing soccer when I was four and I loved it.
D9Sports: Do you have a favorite number for a uniform? If so, what is the story behind that number?
CB: I did growing up and it was number 5 because there is a perfume that I am named off of and they use the number 5. In high school, I wear No. 15, and I won my first district title in it and so I won't change it.
D9Sports: What would someone who doesn't know you be surprised to find out about you?
CB: I am such a nerd. Academics always come first to me and then athletics. I am rank No. 5 in my class. When I travel to Pittsburgh, I am already reading a book or doing homework.
D9Sports: If you could eat dinner with anyone famous (living or dead) who would it be and why?
CB: It would be Alex Morgan. Not because she is from soccer but she is so devoted to what she does.
D9Sports: Iphone or Android or Neither and why?
CB: Iphone because my friend has an Android and the camera is awful!
D9Sports: What is your go-to Social Media and why?
CB: My go-to social media is either Instagram or Twitter. Instagram I can find out what everyone is doing. Twitter I follow sports and that on there.
D9Sports: What do you like most about high school and why?
CB: What I like most about my high school are the teachers in it. They are always willing to help, and I have created special bonds with many of them. I can walk up to one of them and not only talk about school but about my personal life.
D9Sports: What do you like least about high school and why?
CB: What I least like about my school is how many students there are. I have always been a city girl and would like something bigger.
D9Sports: What question do you wish I would have asked you? And what is the answer to it?
CB: The question is what has shaped you into the athlete you are. The answer would be not only my coach and my teammates, the time and effort you put into the sport is everything.