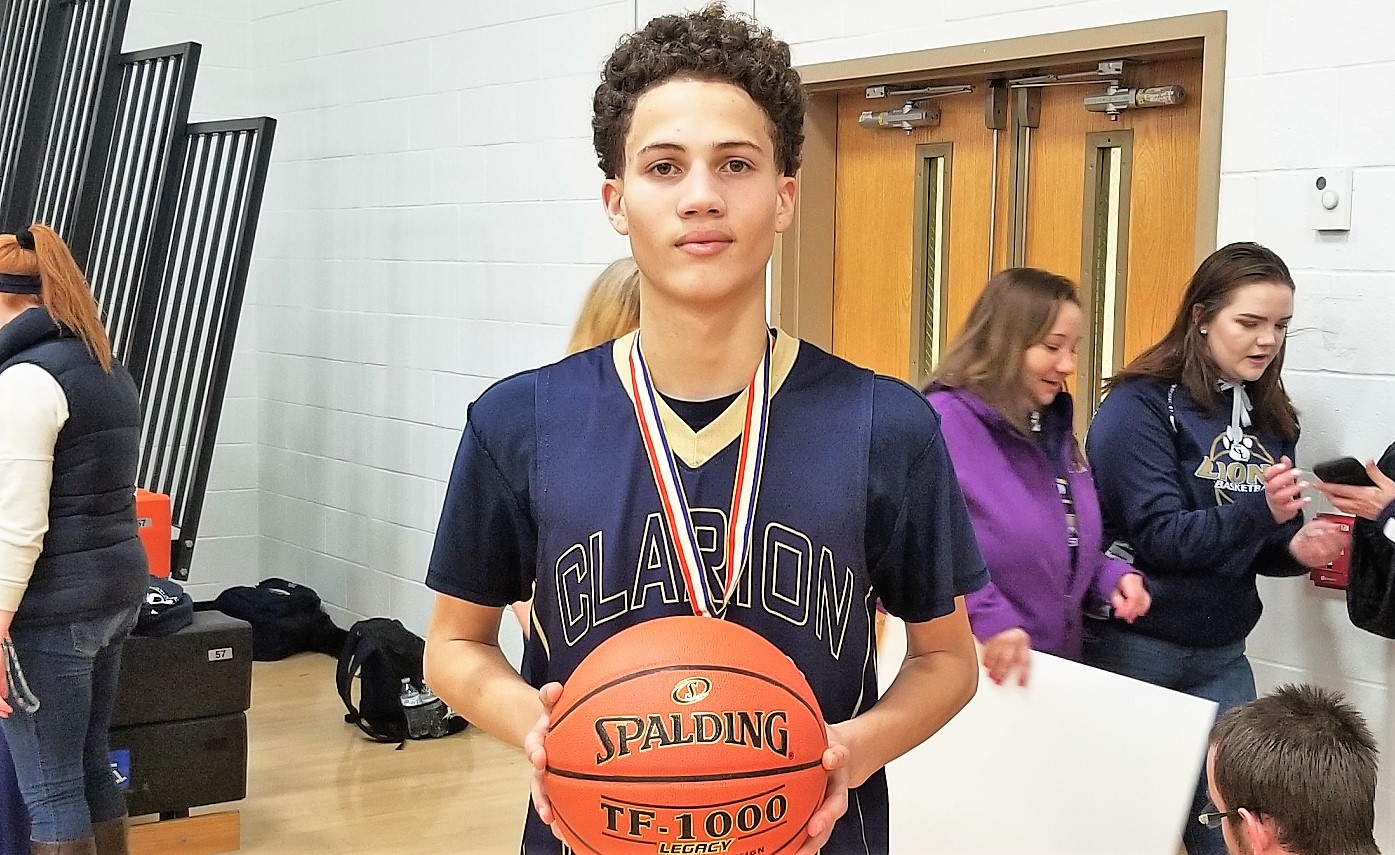 D9Sports.com/EYT Media is doing a series of player profiles on returning high-school athletes this summer. The year in school listed by the athlete is the year the athlete is entering this fall.
(Submitted photo)
DEION DEAS – SENIOR – CLARION-LIMESTONE
Son of: Joe and Tracy Deas
Sports Played: Basketball
Family Members Playing/Played Sports: Brother Joseph Deas played high school basketball at Oak Park HS in Kansas City and college basketball at D II Rockhurst University in Kansas City, brother Tony Deas high school basketball at Oak Park HS in Kansas City and at Clarion-Limestone, brother Timothy Ferringer football at Clarion-Limestone.
2018-19 Highlights: Named third-team All American Awards & Engraving D9Sports.com All-District 9 and first-team All-KSAC in basketball after averaging 19.4 points, 3.0 rebounds, 2.6 assists and 2.4 steals per game … Scored his 1,000th career point during the season and enters his senior year with 1,066 career points … Helped C-L to KSAC North and KSAC titles, a third-place finish in District 9 Class 1A and the second round of the PIAA playoffs.
Post-High School Plans: He plans on going to college and is not sure of his major yet and he plans on playing college basketball. He scholarship offers from Culver-Stockton College in Missouri and Point Park University in Pittsburgh and interest from six additional schools at this time.
Q&A With Deion Deas
D9Sports: What is your favorite sport to participate in and why?
DD: My favorite sport is basketball. I learned how to play this game and have success faster than any other sport. I love the competitiveness and speed of this sport compared to other sports.
D9Sports: What is your favorite memory, moment, game from playing high school sports?
DD: My favorite memory is scoring my 1,000th point and playing with Julian Laugand and Ian Callen. I have played with them since I was 7 or 8 years old.
D9Sports: Why do you play high school sports?
DD: I play because it teaches me life skills and it also helps me stay focused on my grades.
D9Sports: Who has had the most influence on your athletic career and why?
DD: My father because he pushes me the most and tells me to never give up and not to be a quitter. Coach Rogers Laugand also has been there every step of the way through the Rising Stars AAU team.
D9Sports: If you could change one thing about high school sports, what would it be and why?
DD: I would like the season to be longer because I just love the game so much.
D9Sports: If you could be president for a day, what would be the one major thing you would do?
DD: I would allow kids to participate in politics sooner. Kids have some really good ideas and the ideas should be considered sooner.
D9Sports: What is your ideal place to live? County, City, Suburb? Why?
DD: I would like to live in the city. I like the action of the city and all the things they have to do.
D9Sports: What would someone who doesn't know you be surprised to find out about you?
DD: What my personality is like.
D9Sports: What is your strongest subject in school?
DD: Math
D9Sports: If there was one period in history or one event in history you could go back to, what would it be?
DD: My freshman year the tip-off tournament at brookville. It was very exciting to start my varsity basketball career off with making the All-Tournament Team as a freshman.
D9Sports: What question do you wish I would have asked you? And what is the answer to it?
DD: I'm not sure.