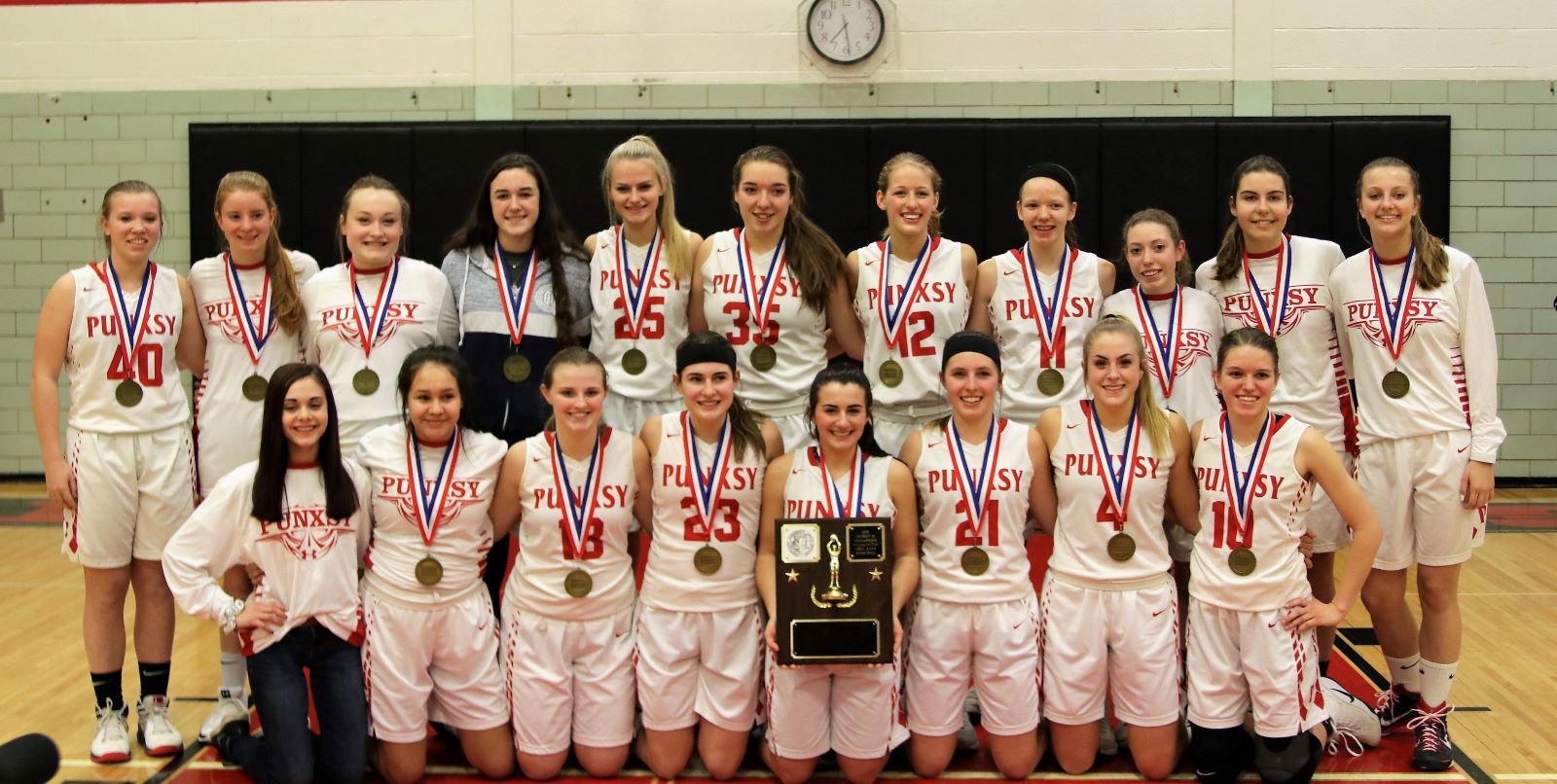 DUBOIS, Pa. – After a low-scoring first half, top-seeded Punxsutawney exploded for 21 points in the third quarter en route to their fifth consecutive District 9 Class 4A Championship with a 44-23 victory over second-seeded St. Marys at DuBois High School Wednesday night.
(Photo by Jared Bakaysa of JB Graphics. See more of Bakaysa's work here)
"It's special for our kids," Punxsutawney head coach Mike Carlson said. "Every year is tough, and it's great to see the kids put the work in and get the reward at the end."
Leading 13-6 at the half, the Lady Chucks went on a 21-6 run in the third quarter thanks to six points from Abby Gigliotti and five apiece from Riley Presolid and Kate Horner to extend their lead to 34-12 heading into the fourth.
Punxsutawney (22-1) also went nine for ten with free-throws in the third quarter which helped down the stretch.
"We did a nice job at hitting free-throws," Carlson said. "That was our big key in the third quarter."
The Lady Dutch (17-7) outscored Punxsy 11-10 in the fourth quarter, which was highlighted by going seven for eight at the line, however, the deficit heading into the fourth was too much to overcome.
But Sarah Weaver scored seven of her game-high 14 points in the fourth quarter to help the Lady Chucks maintain the lead. Weaver also finished the game going 9 of 10 at the line.
"There were so many good things that came out of the game," Weaver said. "After the defeat from Bradford, it really motivated us to just go and work hard."
Watch Weaver's complete thoughts on the win.
St. Marys wasn't able to get anything going offensively as the Lady Dutch only made just seven baskets from the field.
"We had a week and a half to really get back to playing fundamental defense," Carlson said. "It was nice to see them work on those basics we worked on and executed."
Horner finished the game with 10 points for the Lady Chucks with Sophie Wyant netting seven. Gigliotti posted six points and Presloid finished with five.
Megan Quesenberry and Kaylee Muccio paced the Lady Dutch with six points apiece. Samantha Hayes added five.
Punxsutawney claimed their fifth title in a row for the second time in the millennium. The Lady Chucks took five straight 3A titles from 2002 to 2006. This is their third consecutive 4A championship after two in 3A.
Punxsutawney will take on the WPIAL fourth-place finisher, either Blackhawk or Elizabeth-Forward, in the first round of the PIAA playoffs Saturday, March 9 at a site and time to be announced.
PUNXSUTAWNEY 44, ST. MARYS 23
Score by Quarter
St. Marys 1 5 6 11 – 23
Punxsutawney 5 8 21 10 – 44
ST. MARYS – 23
Kaylee Muccio 1 4-8 6, Lauren Eckert 0 0-0 0, Kyla Johnson 0 0-0 0, Britney Shaw 1 1-2 3, Megan Quesenberry 2 2-3 6, Allison Schlimm 1 1-2 3, Samantha Hayes 2 1-2 5. Totals 7 9-18 23.
PUNXSUTAWNEY – 44
Kate Horner 2 1 2-2 10, Abby Gigliotti 2 2-3 6, Sophie Wyant 3 1-2 7, Katelyn Griebel 0 0-2 0, Riley Presloid 1 0 2-2 5, Ryley Casaday 1 0-0 2, Sarah Weaver 1 1 9-10 14. Totals 12 16-21 44
Three-pointers: Punxsutawney 4 (Horner 2, Presloid, Weaver)