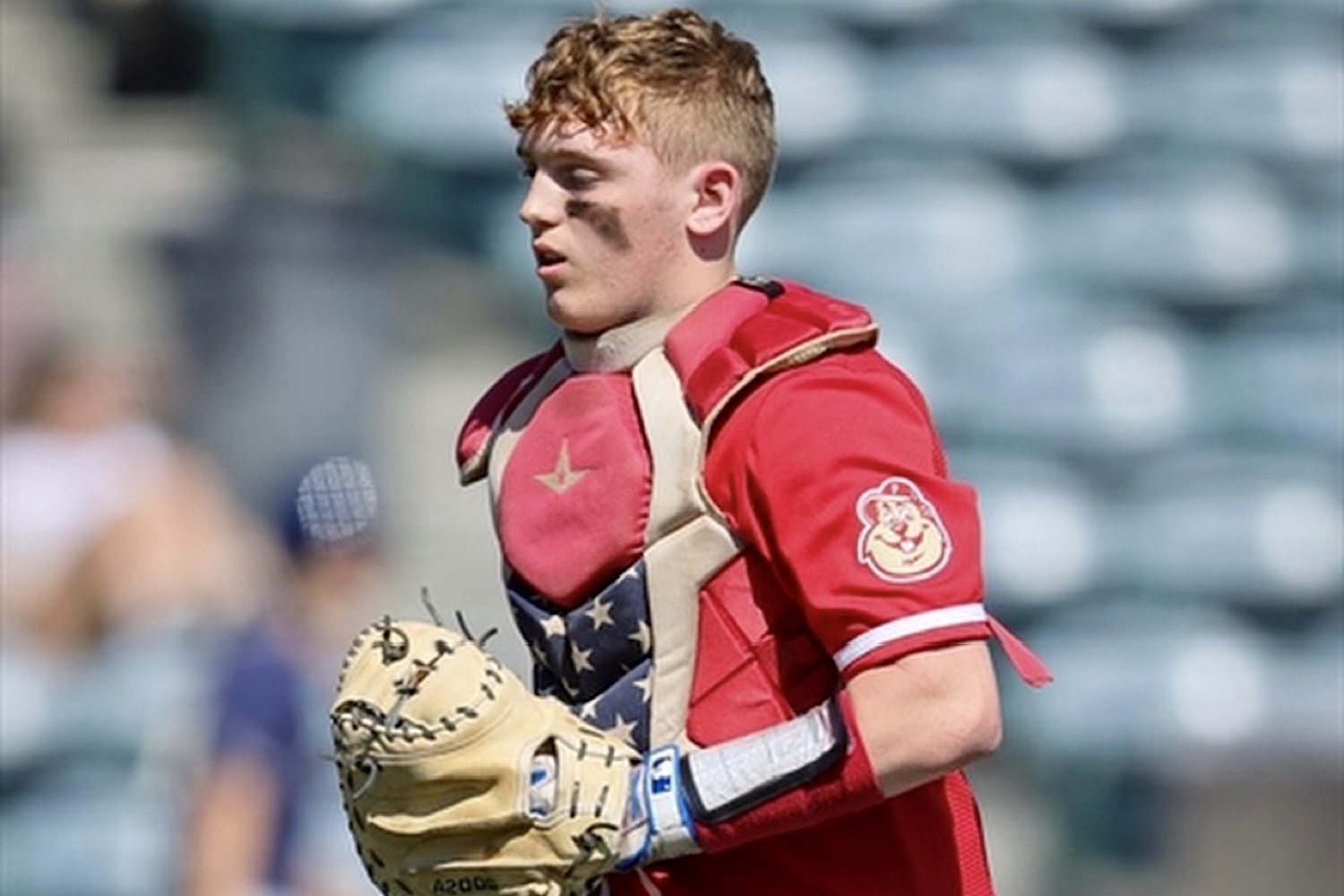 BEDFORD, Pa. (EYT/D9) — Carter Savage and Jake Sikora each homered during an 11-run fifth inning, and Sikora also fired a one-hit shutout on the mound as the Punxsutawney baseball team rolled to a 15-0, five-inning win over Chestnut Ridge in the District 5/9 Class 3A Subregional title game on Tuesday at Bedford High School.
(Pictured above, Punxsutawney catcher Cooper Hallman/submitted photo)
Sikora was 2 for 3 with a homer and three RBIs.
On the mound, he gave up just a a single to the first batter he faced in the game, Justin Whysong, and struck out 10.
Josh Tyger was 3 for 4 with a pair of doubles and two RBIs. Nevin Day was also 3 for 4 with a double, triple and knocked in a pair and Cooper Hallman had a pair of hits and two RBIs for the Chucks (18-2).
Punxsutawney scored two runs in the top of the first inning and added two more in the top of the third before the 11-run outburst in the fifth.
The Chucks had 16 hits.
Garrett Emerick got the loss for Chestnut Ridge (10-10).
He gave up six runs (four earned) on eight hits in four-plus innings.
Punxsutawney will play the loser of the District 7 championship game (Riverside) or Neshannock) in the opening round of the PIAA playoffs on Monday.
ST. MARYS 10, CARRICK 2
Carter Price went 3 for 3 with a pair of doubles and the Dutch used a six-run fifth inning to move on to the Class 4A 6/8/9 Subregional title game.
St. Marys will take on Bellefonte at 5:30 p.m. on Thursday at Showers Field in DuBois to for the right to move on to the PIAA playoffs.
Charlie Coudriet got the win in relief of starter Lucas Bauer.
Coudriet gave up two runs on five hits in five innings. He struck out five.
Bauer pitched two scoreless before yielding to Coudriet.
Vinnie Lenze and Ben Paul each had two hits for St. Marys.
SOFTBALL
Emily Mourer went 3 for 4 with a home run, double and drove in five as Elk County Catholic downed Forest, 14-4, in five innings to move on to the PIAA Class A playoffs.
Mourer also got the win in the circle in the true-second-place game against the Fires. She gave up four runs (two earned) on seven hits in five innings.
Lucy Klawuhn doubled, scored three runs and drove in two for Elk County Catholic, which lost the D9 Class A title to DuBois Central Catholic on Monday.
Izzy Flick and Anna Stitt each had two hits and Faith Dietrich had a double for Forest.