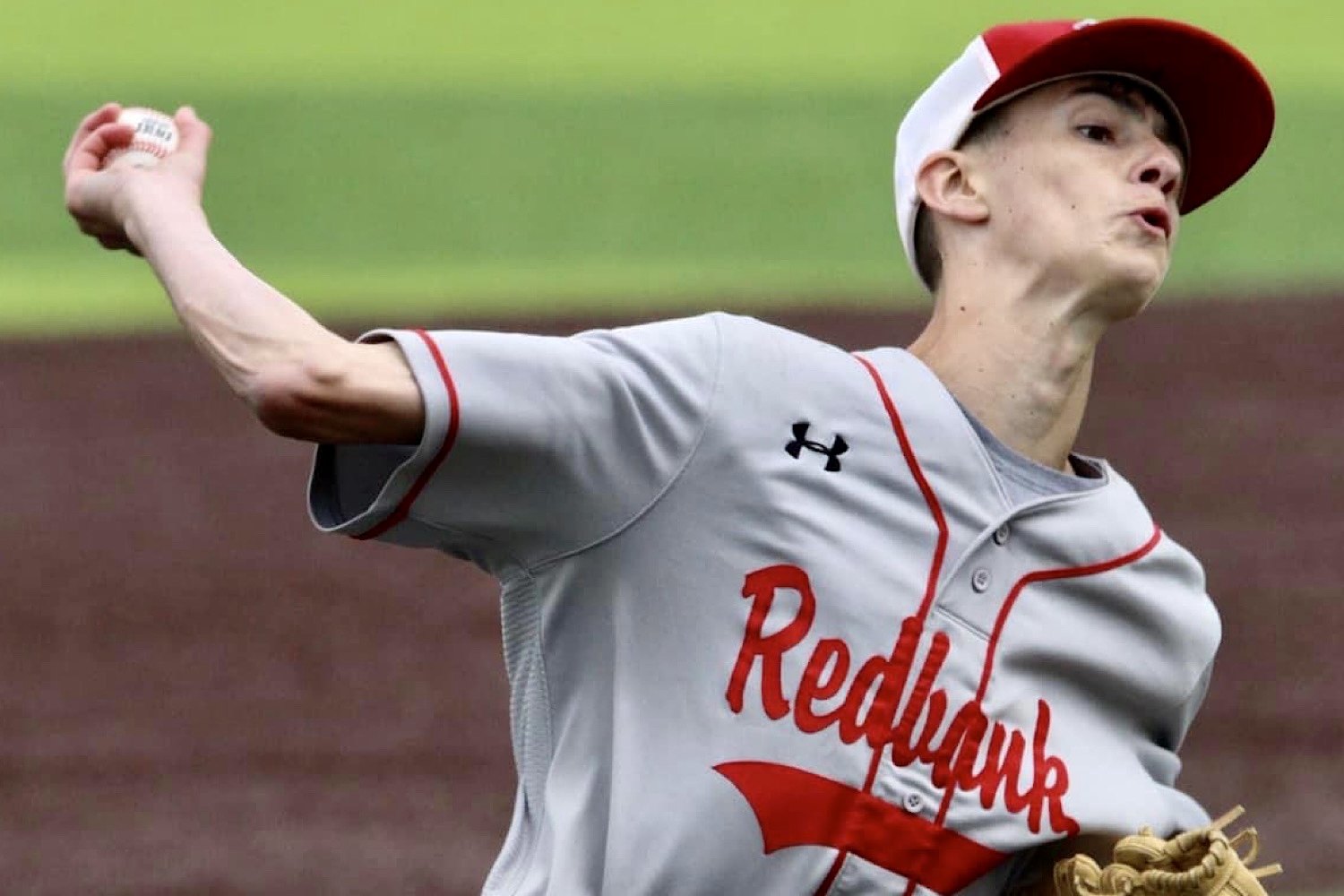 BUTLER, Pa. (EYT/D9) — Ty Carrier and two relievers combined for a five-hit shutout as the Redbank Valley baseball team blanked Karns City, 7-0, at Michelle Krill Field at Historic Pullman Park on Thursday night.
(Pictured above. Ty Carrier makes a pitch for Redbank Valley in a game last season/photo by Madison McFarland)
Carrier struck out seven, walked four and give up five hits in 4 2/3 scoreless innings.
Braylon Wagner worked 1 1/3 innings of no-hit relief, fanning three, and Jaxon Huffman struck out the side in the seventh.
The Bulldogs led 6-0 after two innings.
Breckin Minich went 2 for 3 with a RBI and Carrier drove in two runs for Redbank Valley.
Michael Neff was 2 for 3 for Karns City.
JOHNSONBURG 11, DuBOIS CENTRAL CATHOLIC 9
Trailing 9-3, the Cardinals rallied with three runs in the bottom of the sixth and seventh innings to force extra innings, but the Rams scored a pair of runs in the top of the eighth to escape with a win.
Kaden Dennis' RBI single in extras gave Johnsonburg a 10-9 lead. Hunter Beeler followed with a sacrifice fly to give the Rams the two-run lead.
Aiden Zimmerman went 3 for 5 with four runs scored for Johnsonburg. He also picked up the win in relief, throwing 1 2/3 scoreless innings.
Dennis also had a three-hit day.
Blake Pisarcik had a pair of doubles and two RBI for DCC.
Cartar Kosko also doubled and drove in two and Carter Hickman was 2 for 3 and Brayden Fox 2 for 4 for the Cardinals.
SOFTBALL
Emerson Stevens went 3 for 4 with four RBI as A-C Valley/Union downed Kane, 13-3, in five innings.
Bella Ielase also went 3 for 4 with two doubles for the Falcon Knights.
Mackenzie Parks got the win, striking out six in five innings. All three runs she surrendered were unearned.
KARNS CITY 15, REDBANK VALLEY 14
Jada Polczynski hit a walk-off, bases-loaded single in the bottom of the seventh to lift the Gremlins to a wild win over the Bulldogs.
The two teams combined for 44 hits with Karns City collecting 27.
Lyrik Reed and Addison Burrows each had five hits. Burrows drove in three. Jess Dunn went 3 for 4 with two doubles, a home run and five RBI in the offensive barrage for Karns City.
Redbank Valley freshman Quinn White, who hit for the cycle against Clarion on Tuesday, went 5 for 5 with two doubles and a home run against Karns City.
White's two-run blast in the top of the seventh tied the game at 14-14.
Keyauna Schimp also had a pair of hits and Josie Neiswonger drove in three for Redbank.