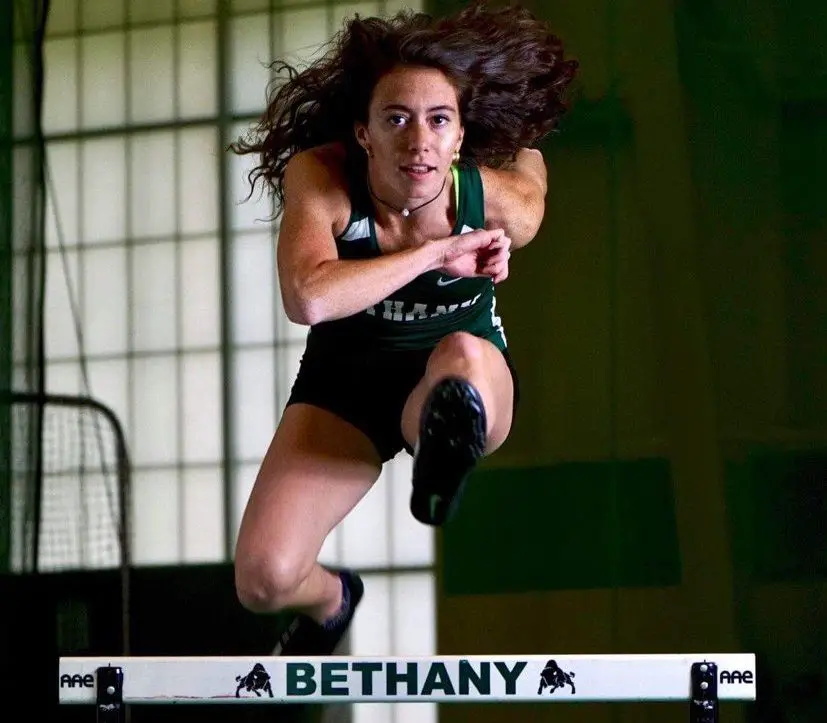 It does not take long into a conversation with DuBois native Riley Meyers to understand just how intelligent and empathetic she is towards others. Her work ethic and passion for both sports and justice is contagious, and Bethany College's women's soccer and track and field program will be losing a valuable leader and athlete come May of 2021.
The DuBois Central Catholic alum was a standout in soccer and track and field, and a full presidential scholarship to Bethany College was well deserved. Initially, she had committed to play just soccer at Clarion University, but the opportunity to participate in both sports and earn a full scholarship is something she could not pass up.
Going to Bethany College also meant playing for a coach, Jon Arlet, who she has known since her early beginnings in travel soccer.
"I visited Bethany on their homecoming weekend, and it was an incredible experience," said Meyers. "I found out I won the presidential scholarship while ice skating in New York City, and I knew I could not pass up the package they offered me."
It did not take Meyers much time at all to adjust to the speed of college soccer or elevate her hurdling ability to her college competition. In 19 games as a first-year forward, Meyers scored seven goals, including two game-winners. Additionally, she was a Presidents Athletic Conference (PAC) second-team selection for her standout play. In track, she became the school record holder for the indoor 60-meter hurdles and placed in the top six in the conference. Things were looking incredible for Meyers overall in her athletic career, but her sophomore year of college brought a significant and unanticipated challenge.
On August 28th, 2018, Meyers suffered a torn ACL that would force her to miss her entire sophomore soccer season in addition to her track and field season. The injury was non-contact, but it did not take her long to rebound and persevere through this challenging process.
"Physical therapy became my sport that year," said the former Lady Cardinal standout. "I made peace with the injury, and I came back stronger and faster than ever. This experience gave me a more positive outlook."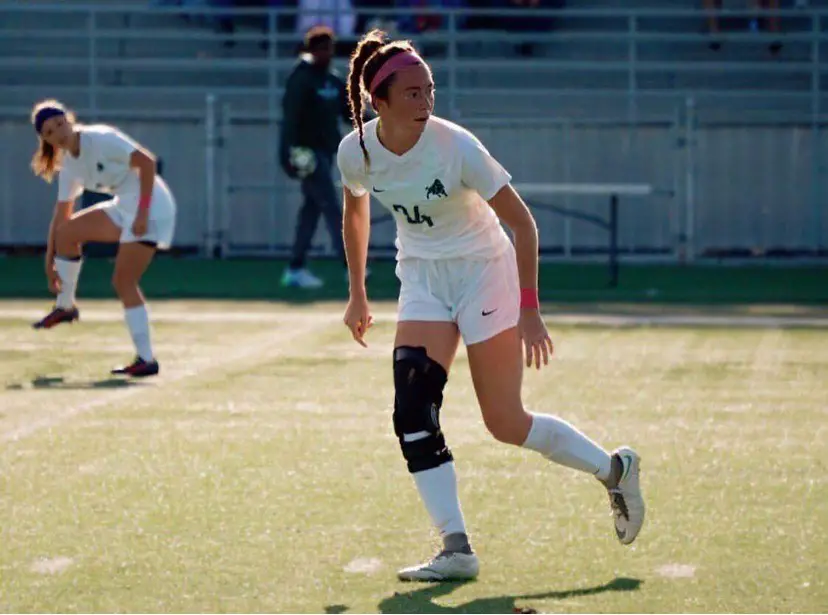 Coming back from injury, Meyers added four goals and three assists in her junior season. She was able to participate in the indoor track and field season for the Bison, but the outdoor season was canceled. Later on this year, the 2020 soccer season was moved to the spring of 2021. With all that in mind, Meyers hopes to be playing soccer and participating in track and field in a few months.
While she has been able to practice with her teams this school year, she also has had more time to focus on her school work and figuring out her next step. For many years, she had known she wanted to be an attorney. She is majoring in political science and pre-law and will be attending Cleveland State University to become a defense attorney.
In her career, she is hoping to help wrongfully convicted citizens to help grant them justice. It is a career path she was inspired to get into after reading the book The Innocent Man by John Grisham.
"I think there is a lot of injustice in our current system, and I want to be someone who can help," Myers said. "I think I have a very unbiased outlook on things, and I enjoy helping people. I also want to be someone who pushes to have restructuring of our justice system to help lower the rates of people being sent back to prison."
In fact, her senior research project is on this exact topic. The United States has a high re-conviction rate. In contrast, countries like Norway that provide additional therapies and have different prison methods in place have an incredibly lower rate of re-conviction. Introducing some of these philosophies could go a long way in helping people find peace in their lives and help them get back to the best version of themselves.
While Meyers may be the first attorney in her family, she is not the only successful Meyers family member in college athletics and making a positive difference post their college years. Her older sisters, Madison and Jordan, both played college soccer; and Jordan is a physician assistant, and Madison is a teacher. All three of the girls are making and will continue to positively impact their respective communities for many years to come.
While in high school, Meyers had the chance to play high school soccer for her father, Rusty, a former college baseball player at Lewis and Clark himself. The duo helped lead the Lady Cardinals to four straight appearances in the D9 title game, while Riley became a two-time league MVP, a four-time all-league, a four-year letterwinner, and a team captain.
She also was the D9 champion in the 100 meter and 300-meter hurdles during her high school career, feats she lists as some of her favorite memories from her athletic career overall. Additionally, she lists her sister Madison's game-winning goal against Ridgway as one of the sweetest moments in her athletic career.
"She had a knee injury, but we subbed her in at the end of the game, and she won us the game," said Rusty. "We ended up going to the D9 title game, and a picture of us hugging was in the paper the next day. It was a special moment for us."
Though her college athletic career has been a unique one, to say the least, she has overcome all challenges that stood in her way and has prepared for one final run. It is still uncertain if the Bison will return to action, but even if they do not, her career has been filled with numerous accolades and plenty of memories. As Riley prepares for one chapter ending and another beginning, it is likely the next one could be even more fulfilling and noteworthy.