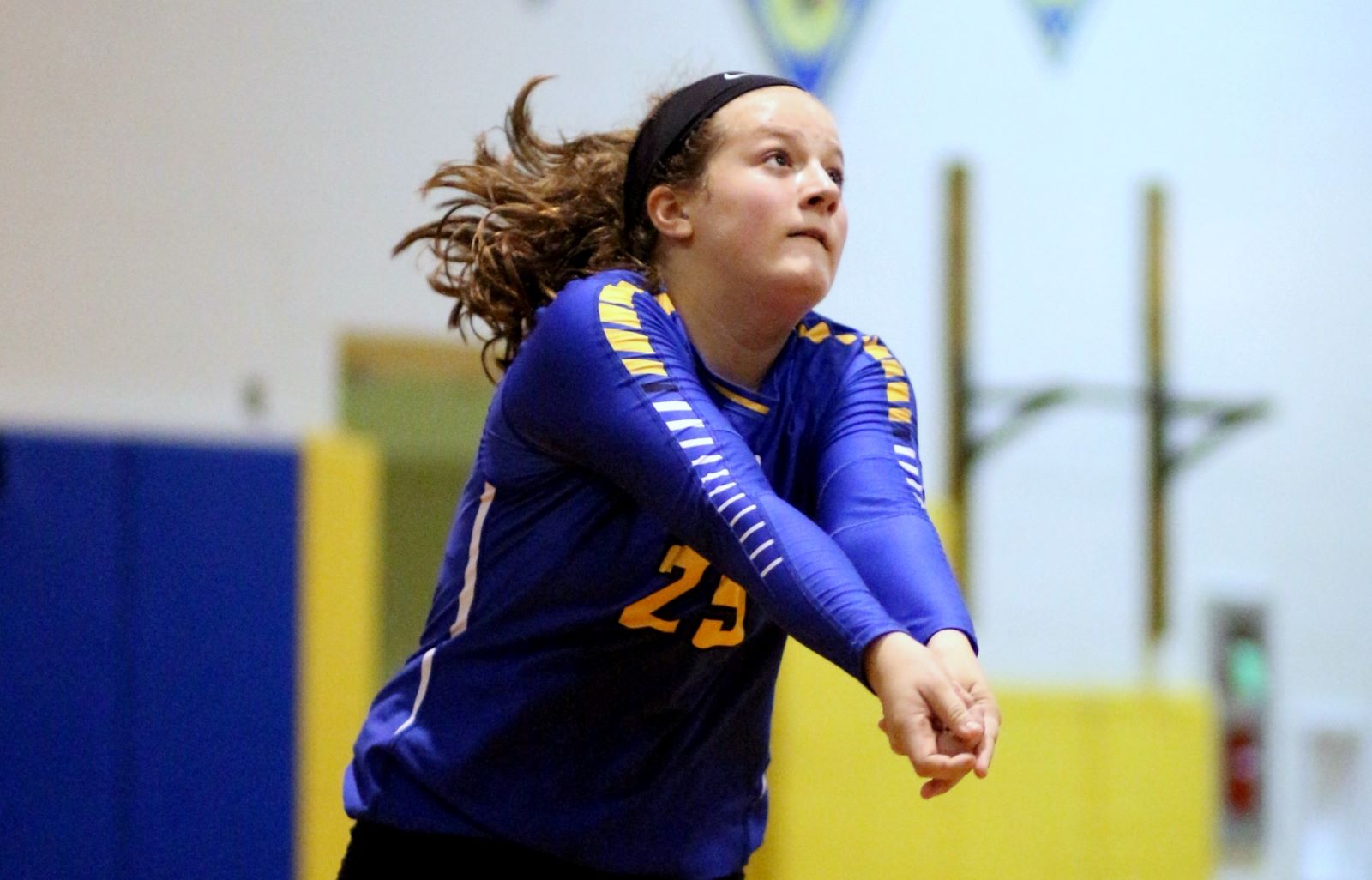 Sept. 16 volleyball and soccer recaps.
(Photo of Dominika Logue of Union, who helped the Golden Damsels beat Eisenhower Monday. Photo by Shelly Atzeni. Check out more of Atzeni's work here.)
VOLLEYBALL
UNION 3, EISENHOWER 0
RUSSELL, Pa. – Drew Davis and Dominika Logue each had six kills to lead Union to a 3-0 (25-18, 25-19, 25-19) win at Eisenhower.
FRANKLIN 3, VENANGO CATHOLIC 0
OIL CITY, Pa. – Visiting Franklin downed Venango Catholic, 3-0 (25-7, 25-21, 25-12).
For Venango Catholic, Emmy Ekis had a kill and six digs while Hope Winger had two blocks and a kill and Chenoa Rudder 12 digs.
Franklin stats weren't available.
ALLEGANY-LIMESTONE (N.Y.) 3, OTTO-ELDRED 1
ALLEGANY, N.Y. – Behind 13 kills and four blocks from Madison Smith, Allegany-Limestone (N.Y.) topped visiting Otto-Eldred, 3-1 (21-25, 24-14, 25-6, 25-16).
Cameron Riordan ran the offense for the Lady Gators with 22 set assists while adding four aces, two kills and a block with Jenna Lauser chipping in four blocks.
Jadelyn Spinney led Otto-Eldred with five kills and nine digs with Reilly Raught adding eight blocks.
A-C VALLEY 3, PUNXSUTAWNEY 1
PUNXSUTAWNEY, Pa. – Using a team-wide effort on offense, visiting A-C Valley beat Punxsutawney, 3-1 (25-21, 25-20, 14-25, 25-21).
Five Lady Falcons had between four and six kills paced by six kills from Emily Wetzel who also had 11 set assists, 19 digs and three aces.
Andrea Meals and Hannah Farrington each chipped in five kills for A-C Valley with Meals adding eight digs and two blocks and Farrington 13 digs.
Mia Sherman and Meah Ielase both added four kills with Sherman contributing four digs and an ace and Ielase 15 digs and two assists. Tarra Stefannaci chipped in 10 assists.
For Punxsutawney, Katelyn Griebel had 13 kills, Elliott Ferrent added 10 kills and two aces and Bella McDivitt had 32 digs. Grace Hall ran the Lady Chucks offense with 35 set assists.
REDBANK VALLEY 3, NORTH CLARION 0
FRILLS CORNERS, Pa. – Lauren Smith and Becca Kunselman each had five kills to help visiting Redbank Valley to a 3-0 (25-14, 25-12, 25-12) win over North Clarion in a non-conference match.
Smith added block while Kunselman chipping in six aces.
Also for Redbank Valley, Taylor King had four kills and a block, Montana Hetrick chipped in two kills and three aces and Brooke Smith had two kills.
YOUNGSVILLE 3, PORT ALLEGANY 1
PORT ALLEGANY, Pa. – Visiting Youngsville topped Port Allegany, 3-1 (25-23, 19-25, 25-21, 27-25).
For the Lady Gators, Kalyn Naylor had 13 kills and six aces, Maleah Daniels added five kills and 10 digs and Marsh Rush had 23 set assists and five aces.
DUBOIS CENTRAL CATHOLIC 3, MOSHANNON VALLEY 0
HOUTZDALE, Pa. – Behind 10 kills and a block from Jordy Kosko visiting DuBois Central Catholic cruised to a 3-0 (25-15, 25-16, 25-13) win over Moshannon Valley.
Bella Mangiantini added five kills and four blocks for the Lady Cardinals with Hannah Holdren chipping in four kills and four blocks and Jules Stine four kills.
Shay Gulvas paced the DCC defense with 16 digs, and Maia Cogley ran the offense with 24 set assists.
GIRLS' SOCCER
ST. MARYS 6, KANE 1
ST. MARYS, Pa. – A four-goal second half helped St. Marys pull away from visiting Kane, 6-1.
The Lady Dutch led 2-1 at halftime thanks to markers from Carlee Ginter and Kaylee Muccio – both assisted by Lauren Eckert – before exploding for the four second-half tallies.
Kyla Johnson and Muccio both scored off feeds from Eckert before Eckert scored a goal of her own off a feed by Muccio to make it 5-1. Then starting keeper Britney Shaw, who was replaced in net by Liv Eckels 11 minutes into the half, closed out the scoring with a goal of her own with Eckert picking up her fifth helper of the match.
Rachael Buhl scored the lone Kane tally.
Watch Britney Shaw score for the Lady Dutch.
@D9Sports @SmDutchNation Girls soccer: Rare opportunity for Saint Marys goalkeeper @britney_11_shaw on offense off a perfect pass from @lauren_8715 puts the Lady Dutch up 6-1 over Kane late in the game. pic.twitter.com/2e1S7DgFHD

— SM Lady Dutch Softball (@SMLadyDutchSB) September 16, 2019
KARNS CITY 4, FOREST AREA 0
MARIENVILLE, Pa. – Brooke Stahlman scored twice to lead visiting Karns City to a 4-0 win over Forest Area at East Forest.
McKenna Martin and Emma Dailey also scored for the Lady Gremlins with Alexis Moore chipping in a pair of assists and Cecelia Morrow and Paige Dodd also getting helpers.
EISENHOWER 4, PORT ALLEGANY 0
RUSSELL, Pa. – Leah Peterson and Cassie Smelko each scored twice to to help Eisenhower beat visiting Port Allegany, 4-0.
CLEARFIELD 10, PUNXSUTAWNEY 0
HYDE, Pa. – Ellie Smith scored four goals and assisted on two others to help Clearfield to a 10-0 win over visiting Punxsutawney.
Riley Ryen added a pair of goals for the Lady Bison. While Emma Hipps and Amada Hazel each had a goal and an assist.
Also scoring for Clearfield were Lydia Brown and Abby Ryan with McKenna Lanager and Megan Hamm adding helpers.
Clearfield outshot Punxsutawney, 28-0.
BOYS' SOCCER
BRADFORD 7, MEADVILLE 1
MEADVILLE, Pa. – Ian Grady scored four goals and added an assist to lead visiting Bradford to a 7-1 win over Meadville.
Alex Marrone added a pair of goals for the Owls with Isaiah Pingie also scoring. Ryan Miller had a pair of assists and Brennan Grady added a helper.
Evan Schmidt stopped four of five shots to get the win in net.