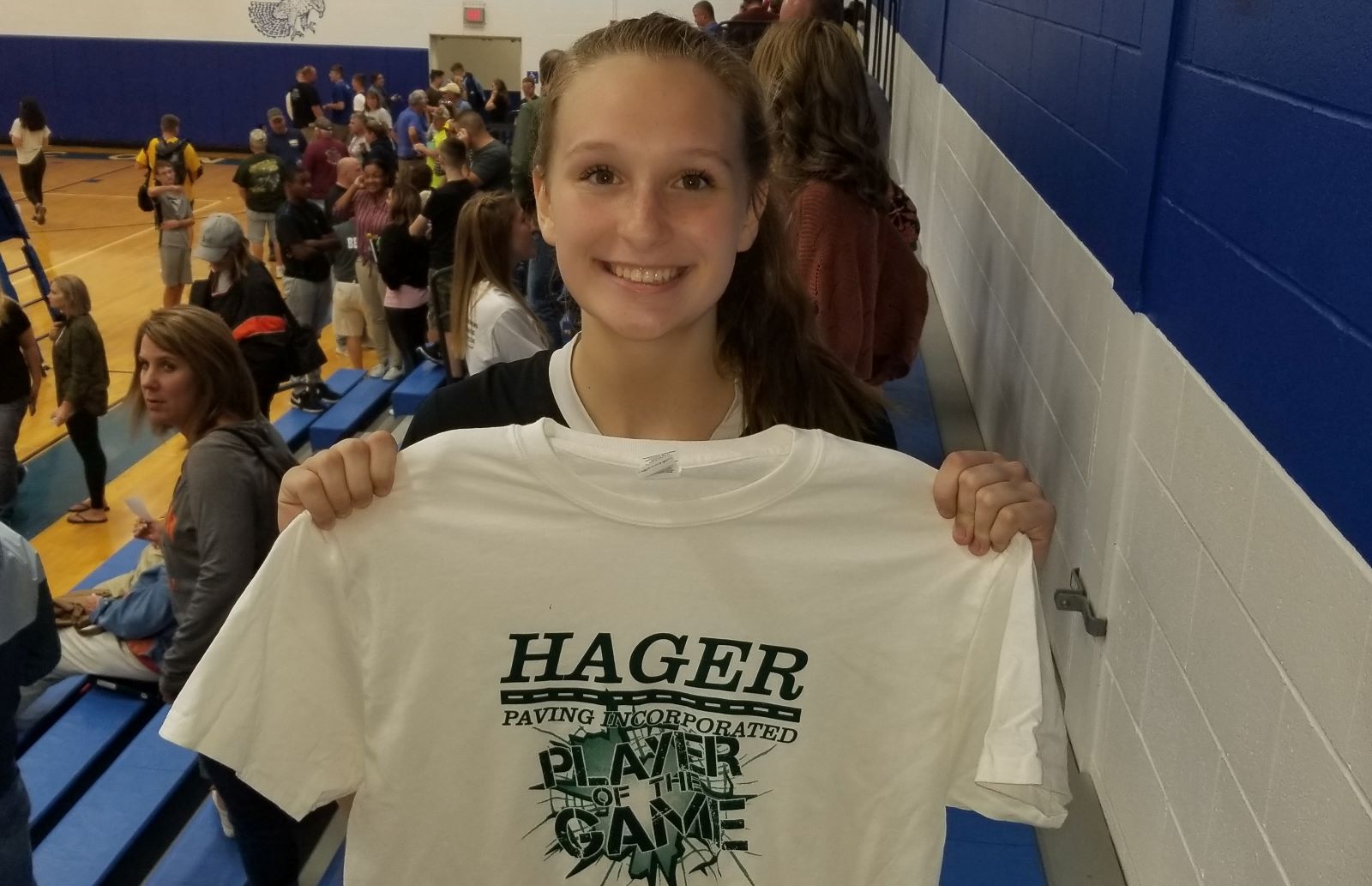 Sept. 24 volleyball/soccer recaps.
(Photo: Korrin Burns had 21 kills to help Clarion beat A-C Valley in a battle of unbeatens)
VOLLEYBALL
CLARION 3, A-C VALLEY 1
CLARION, Pa. – Korrin Burns had 21 kills and six digs to lead visiting Clarion to a 3-1 (25-18, 24-26, 25-7, 25-14) win over A-C Valley in a battle of unbeatens.
Relisten to the game:
Kait Constantino added 14 kills and 17 digs for the Lady Cats with Maddie Schill contributing seven kills and six digs.
Brenna Campbell ran the Clarion offense with 45 assists and added three kills and three digs, while KK Girvan had 14 digs.
Burns, who was named the Hager Paving Player of the Match, talked about the victory.
Meah Ielase paced A-C Valley with seven kills and 10 digs. Andrea Meals added 13 digs, two aces and a kill, while Emily Wetzel chipped in 13 digs and 14 assists and Rachel Cullen had 14 digs. Mia Sherman chipped in three kills with Terra Stefanacci had three kills, eight digs and two aces and Hannah Farrington two kills and 11 digs.
PORT ALLEGANY 3, NORTHERN POTTER 2
PORT ALLEGANY, Pa. – Port Allegany rallied past visiting Northern Potter, 3-2 (20-25, 25-19, 10-25, 25-20, 15-8).
Maleah Daniels had 14 kills, 17 digs and six aces to lead the Lady Gators with Marah Rush running the offense with 19 assists. Kalyn Naylor chipped in eight kills and 17 digs with Jade Evens adding five kills and 16 kills.
Savannah Herring paced Northern Potter with nine kills and five blocks. Courtney Martin added seven kills and 22 digs, Faith Zdrojewski had five aces, six assists and 11 digs and Megan Hyde chipped in 12 digs and five kills.
OTTO-ELDRED 3, COUDERSPORT 2
COUDERSPORT, Pa. – Haley Cousins and Reilly Raught each had eight kills to lead visiting Otto-Eldred to a 3-2 (18-25, 25-18, 21-25, 25-22, 15-10) come-from-behind win on the road against Coudersport.
Emmalee Sheeler ran the offense for the Lady Terrors with 30 set assists, while Cousins added four digs and Mackenzie Wilcox a pair of aces.
Addie Myers paced Coudersport with 12 kills, five blocks and two aces, Bella Butler added nine kills and five digs and Emma Saulter had 55 digs. Lauren Stimaker ran the Lady Falcons offense with 37 assists while adding eight aces and two blocks.
MONITEAU 3, VENANGO CATHOLIC 0
OIL CITY, Pa. – Ashlyn Pry recorded nine kills and two blocks to help visiting Moniteau sweep Venango Catholic, 3-0 (25-13, 25-16, 25-13).
Logan Barnhart ran the Lady Warriors offense with 16 assists and one kill while Ivie Scott chipped in for four kills and a block. Sam Broerman added three kills.
Hope Winger paced Venango Catholic with three kills and three blocks. Natalie Johnson added two kills and eight digs while Chenoa Rudder tallied 17 digs.
CURWENSVILLE 3, BROCKWAY 0
BROCKWAY, Pa. – Erica Buck and Raylee Sunderlin combined for 14 kills in Curwensville's 3-0 (25-18, 25-12, 25-18) win over Brockway.
Buck had eight kills while Sunderlin tallied six along with a pair of blocks. Emma Caldwell had a team-high 18 assists and Tarah Jacobson chipped in for four kills.
KEYSTONE 3, UNION 1
KNOX, Pa. – Behind 11 Alyssa Dunlap kills, Keystone defeated visiting Union, 3-1 (25-14, 25-13, 16-25, 25-23).
McKenna Kaye had nine assists and five kills for the Lady Panthers with Emma Burrows adding eight digs. Alex Johnston ran the offense with 14 assists.
DUBOIS 3, ST. MARYS 0
DUBOIS, Pa. – Thanks to 22 combined kills from Kaylee Sadowski and Sydney Kaschalk, DuBois topped visiting St. Marys, 3-0 (25-17, 25-10, 26-24).
Sadowski accounted for 12 kills and 12 digs while Kaschalk had 10 kills and three blocks. Cate Gregory ran the Lady Beavers offense with 27 assists.
For St. Marys, Saige Heigel had 11 blocks and four kills while Allison Schlimm added 25 digs.
ELK COUNTY CATHOLIC 3, JOHNSONBURG 1
JOHNSONBURG, Pa. – Taylor Newton had a game-high 22 kills to help visiting Elk County Catholic defeat Johnsonburg, 3-1 (25-10, 25-19, 20-25, 25-23).
Madyson Dellaquilla added seven kills and three blocks for the Lady Crusaders with Julia Aiken chipping in for six kills. Brooke Bauer had three kills and four blocks while Ellie Fledderman ran the offense with 31 assists.
KANE 3, BRADFORD 0
BRADFORD, Pa. – Behind 11 kills and 13 digs from Audri Marconi Kane picked up a 3-0 (25-19, 25-19, 25-16) road win over Bradford.
Moira Stanisch added 13 digs for the Wolves, while Ronnie Costanzo had 11 digs and Emma Ely 10 digs. Stanisch ran the offense with 21 assists, and Kalen Johnson had four aces while not committing a service error.
For Bradford, Erica Marshall had seven kills, Alex Asp added five kills and Laney Kahle had 18 assists.
OSWAYO VALLEY 3, AUSTIN 0
AUSTIN, Pa. – Johanna Dickerson and Macy West each had six kills to lead visiting Oswayo Valley to a 3-0 (25-9, 25-12, 25-17) victory over Austin.
Dickerson also added four digs, five assists and a pair of blocks for the Green Wave. West had an assist and two blocks while Jadyn Brabham tallied nine kills and two digs. Mikayla Bell chipped in for 18 digs.
Kylie Welsh paced the Lady Panthers with six kills and three blocks. Kendra Valenti had four kills with Taylor Brewer adding five kills and two blocks. Amber Brandt ran the offense with 10 assists.
CAMERON COUNTY 3, GALETON 2
EMPORIUM, Pa. – Eight kills and 18 digs from Morgan Lorenzo lifted Cameron County over visiting Galeton, 3-2 (25-16, 20-25, 25-18, 15-8).
Mallory McKimm had 10 kills for the Lady Raiders with Hailey Hilfiger and Kaelee Bresslin each adding five. Hilfiger also had seven blocks. Reggie Goodrow had 21 assists to lead the offense.
Cara Parsell had 14 digs, two aces and a kill for Galeton. Kate Kulish added 10 assists, an ace, a kill and seven digs, Alexis Johnson had nine aces, eight digs, three blocks and two digs, Mikayla Schott added four digs and two kills, Makenna Shuemaker had five digs, two aces, a kill and seven assists and Maddie Sauley had three digs, three kills and an ace.
RIDGWAY 3, SHEFFIELD 2
SHEFFIELD, Pa. – After dropping the first two sets visiting Ridgway rallied past Sheffield for a 3-2 (20-25, 19-25, 25-19, 25-21, 15-9) win.
Emily Leichtenberger had 119 kills for Sheffield with Annabel Sheldon adding six kills, six aces and 11 digs, Marissa Grubbs 27 digs and Megan Johnson 26 set assists.
Ridgway stats weren't available.
PUNXSUTAWNEY 3, DUBOIS CENTRAL CATHOLIC 1
PUNXSUTAWNEY, Pa. – Katelyn Griebel had 13 kills to pace Punxsutawney to a 3-1 (25-11, 23-25, 25-20, 25-13) win over visiting DuBois Central Catholic.
Elliott Ferrent added eight kills, 17 digs and three aces for the Lady Chucks, while Grace Hall ran the offense with 29 assists.
For DuBois Central Catholic, Jordy Kosko had seven kills, Hannah Holdren and Bella Mangiantini each had added five kills and a block, Juliana Stine added four kills and Shay Gulvas had 28 digs. Maia Cogley ran the Lady Cardinals offense with 22 assists and added 16 digs and two aces.
CRANBERRY 3, KARNS CITY 1
KARNS CITY, Pa. – Ava Ferringer recorded 16 kills and 25 digs to lead visiting Cranberry to a 3-1 (25-14, 26-24, 24-26, 25-14) win over Karns City.
Mikayla Wenmoth and Abby Hanna each added seven kills for the Berries, while Emily Duncan had five kills, 25 assists and 12 digs.
Maddie Cornelius led the Berries defense with 30 digs with Kaylie Bruce adding 20 digs.
Cassidy Nolan paced Karns City with 11 kills and two blocks, Emma Clark added seven kills and four digs, Mackenzie Dunn had three kills, three aces and 12 digs, Ashley Fox chipped in 18 digs, Peyton Turner had 22 assists and Rosie Carden had nine assists and seven digs.
BOYS' SOCCER
COUDERSPORT 6, GALETON 5, OVERTIME
GALETON, Pa. – Aristotle Smith tallied four goals, including the game-winner, to help lift Coudersport over Galeton, 6-5 in overtime.
Jacob Hooftallon also had a pair of goals for the Falcons.
For Galeton, Jake Cochran, Joseph Brumbacj and Ty Stover each found the back of the net.
Roz Page had 14 saves in net for Coudersport.
KANE 9, NORTHERN POTTER 2
ULYSSES, Pa. – Kane used a team effort to defeat Northern Potter, 9-2.
Jon Mishic, Aiden Zampogna and Johnny Feikls each had a pair of goals for the Wolves while Aaron Hottel, Andy Geer and Ben Westerburg each tallied one.
Alec Huckabone and Eddy Fleeson combined for nine saves for Kane.
Ryan Langworthy scored twice for Northern Potter.
CLEARFIELD 5, SPRING GROVE 0
SPRING GROVE, Pa. – Andrew Lopez and Luke Winters helped visiting Clearfield shutout Spring Grove, 5-0.
Lopez scored three goals while assisting one for the Bison while Winters found the back of the net twice. Nick Ryan had an assist.
Todd Hallman made a pair of saves to earn the shutout.
SLIPPERY ROCK 3, BRADFORD 1
SLIPPERY ROCK, Pa. – Despite a goal from Alex Marrone, visiting Bradford fell to Slippery Rock, 3-1.
Ayron Hart had an assist for the Owls, while Evan Schmidt made seven saves.
GIRLS' SOCCER
BROCKWAY 7, CURWENSVILLE
CURWENSVILLE, Pa. – Chanell Britten found the back of the net three times and assisted on two goals to help visiting Brockway to a 7-1 victory over Curwensville.
Britten is two goals shy of breaking Brockways' all-time scoring list. Morgan Wood also scored a pair of goals for the Lady Rovers while assisting on one. Mogan Lindemuth and Morrigan Decker each had a goal with Emily Botwright and Taylor Little each recording an assist.
Haylee Mullins scored for Curwensville on a Breanne Spencer assist.
KANE 1, RIDGWAY 0
RIDGWAY, Pa. – Kane topped Ridgway, 1-0, on the road.
Rachel Buhl scored the game-winning goal for the Lady Wolves.
ST. MARYS 4, DUBOIS 0
DUBOIS, Pa. – Lauren Eckert and Carlee Ginter both scored twice to lead St. Marys to a 4-0 win at DuBois.
Brittney SHaw made 10 saves in net for the shutout for the Lady Dutch.
Kara Tilson and Morgan Bojalad combined for 12 saves for DuBois.