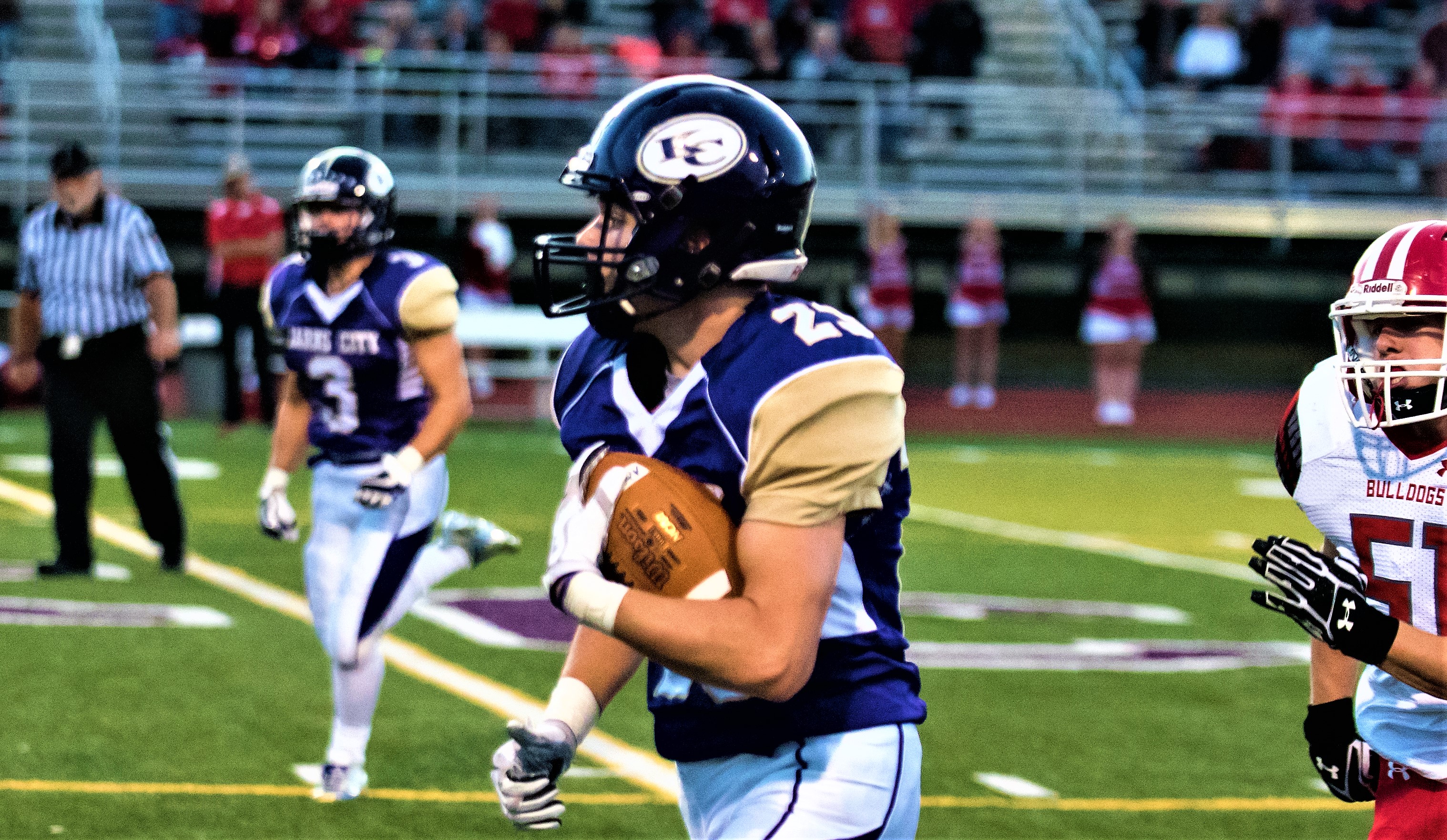 By Shane Lux
CLARION, Pa. — Dominating from start to finish, District 10 champion Sharon rolled up big numbers in a 67-17 rout of D9 champion Karns City in a PIAA Class 3A first-round matchup at Clarion University's Memorial Stadium Friday night.
Dalton Beham ran for 189 yards and a touchdown in the Gremlins' loss to Sharon Friday night. (Photo by Howie Dittman. Check out more of Dittman's work here)
Leading 47-7 by halftime, the Tigers breezed to a 50-point win and a berth in next week's PIAA quarterfinals against Forest Hills, which beat Huntingdon 32-25 for the District 5/6 title also on Friday night.
Karns City's season ended at 7-5.
"They just executed and played very well, they hit us with some big plays, and we could never recover," Karns City head coach Ed Conto said. "We just couldn't get out of our own way, not just this game, but all year long."
Watch Game Highlights
The Gremlins managed to put up 370 yards against the Tigers, who amassed 441 yards of their own. Dalton Beham ran for 189 yards on 15 carries and scored the Gremlins' first touchdown on a 76-yard run in the second quarter.
For the now 9-3 Tigers, Ziyon Strickland, Jordan Wilson, and Lane Voytik did most of the damage.
Strickland, the Sharon's standout receiver, caught five passes for 135 yards and scored three touchdowns, two on catches of 23 and 75 yards on passes from Voytik. He also ran for 28 yards on four carries and scored on a 2-yard run.
Wilson also scored three touchdowns on runs of 47, 6 and 39 and needed just 12 carries to rush for 168 yards.
Voytik completed 7 of 14 passes for 195 yards and four touchdowns.
Sharon head coach Jim Wildman wasn't expecting the result his team produced.
"I thought it would be a high scoring game, but our defense rose to the occasion. Our offense was just clicking," he said. "Our offensive line played very strong, and they were getting to the second level."
Early on things looked for the Gremlins as they forced the Tigers to punt on their opening possession.
After that, it was all Sharon.
Strickland scored two of his three touchdowns in the first quarter. He hauled in his 23-yarder from Voytik to open the scoring midway through the opening quarter. Sharon extended its lead to 14-0 by the end of the quarter as Strickland scored on his 4-yard run that capped off a 9-play, 63-yard drive.
Sharon scored 33 points in the second quarter to pull away, including three of four TDs scored in a 98-second span.
Wilson scored his first touchdown on his 37-yarder at the 7:07 mark. Tristan Ballard then intercepted Gremlins quarterback Anthony Kamenski's pass and one play later, Voytik and C.j Parchman hooked up for a 23-yard touchdown pass.
Karns City was able to briefly stop the bleeding as Beham ran 76 yards for his touchdown on Gremlins' first play after the ensuing kickoff.
But Sharon kept on scoring. Voytik and Strickland hooked up for their 75-yard touchdown on their next play from scrimmage that pushed the lead to 33-7.
Following Ballard's second interception of the game, Voytik and Parchman connected on a 37-yard touchdown pass.
Strickland then intercepted Kamenski and returned the ball deep into Gremlins' territory to the 6 where Wilson scored on the next snap that put Sharon up 47-7. That meant the second half started with the PIAA's Mercy Rule running clock.
"I don't know what team that was in the first-half, we are so much better than that," said Conto.
Beham's 50-yard run in the opening possession of the second half led to Garing's 29-yard field goal.
"He ran hard on every carry out there," Conto said of Beham. "We didn't block at the point attack very well tonight, but the kids ran hard."
Three plays later Wilson scored from 39 yards out.
Brady Ortiz and Keyshawn Barnett also scored second-half touchdowns for Sharon. Ortiz on a 65-yard fumble return and Barnett on a 4-yard run.
Kamenski scored the Gremlins' final touchdown of the season from nine yards out in the fourth quarter.
"I thought we could have played better," said Conto. "Our kids played hard to the end, but it's still a very difficult way to end the season."
SHARON 67 KARNS CITY 17
Score by Quarters 
Sharon        – 14  33   14   7 – 67
Karns City –  0     7     3   7 – 17
First Quarter 
S – Ziyon Strickland 23 pass from Lane Voytik (Aaron Nichols kick), 5:41.
S – Strickland 2 run (Nichols kick), 0:21.
Second Quarter
S – Jordan Wilson 47 run (Nichols kick), 7:07.
S – C.J Parchman 23 pass from Voytik (kick failed), 6:50.
KC – Dalton Beham 76 run (Clay Garing kick), 6:26.
S – Strickland 75 pass from Voytik (kick failed), 6:09.
S – Parchman 37 pass from Voytik (Wilson rush), 2:54.
S – Wilson 6 run (kick failed), 1:00.
Third Quarter
KC – Garing 29 field goal, 7:39.
S – Wilson 39 run (Nichols kick), 6:05.
S – Brady Ortiz 65 fumble return (Nichols kick), 3:16.
Fourth Quarter 
KC – Anthony Kamenski 9 run (Garing kick), 10:42.
S – Keyshawn Barnett 4 run (conversion failed), 5:43.
TEAM STATISTICS
                             S                KC
First Downs       16              15
Rushes-Yards    24-246    43-330
Passing Yards    195           40
Comp-Att-Int.   7-15-0      6-17-3
Total Yards         441          370
Fumbles-Lost     0-0         3-1
Penalties-Yards 3-25        3-20
Punts-Avg.         2-28         3-29.3
INDIVIDUAL STATISTICS
Rushing – Sharon: Ziyon Strickland 4-28, Jordan Wilson 12-168, Voytik 1-(-20), James McKinney 1-1, Warren Nixon 1-19, Keyshawn Barnett 2-13, Brady Ortiz 2-13, Kam Fisher 1-24. Karns City: Dalton Beham 15-189, Sebastian Troutman 7-48, Clay Garing 7-47, Kamenski 3-19, Hunter Jones 3-9, Josh Wimer 3-8, Dalton Pyle 2-13, Henry Leroy 1-(-1), Mitchell Kelsea 1-0, Corry Dunmyre 1-(-2).
Passing – Sharon: Lane Voytik 7-for-14, 195 yards 4 TDs; Barnett 0-for-1. Karns City: Anthony Kamenski 5-for-16, 33 yards, 3 Int.; Beham 1-for-1, 7 yards.
Receiving – Sharon: Strickland 5-135, C.J. Parchman 2-60. Karns City: Garing 2-20, Kamenski 1-7, Beham 2-12, Troutman 1-1
Interceptions – Sharon: Tristan Ballard 2, Strickland.