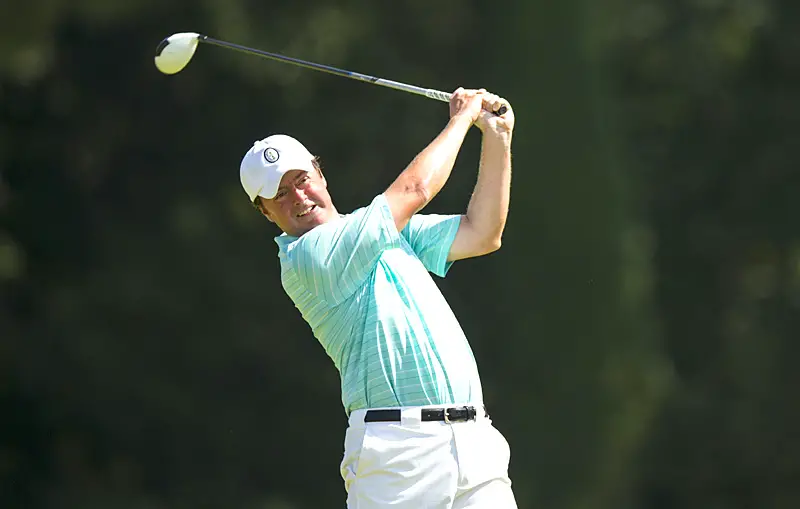 BLOOMFIELD HILLS, Mich. – When Nathan Smith tees off at the 116th U.S. Amateur Monday at Oakland Hills Country Club, he will be one of only eight competitors with Walker Cup experience in the field of 312.
(Cover Photo – Nathan Smith watches his tee shot on the second hole during the quarterfinal round of match play at the 2014 U.S. Amateur at Atlanta Athletic Club in Johns Creek, Ga. on Friday, Aug. 15, 2014. (Copyright USGA/John Mummert))
Smith, a Brookville High School graduate and 1994 PIAA champion, has been a member of three Walker Cup teams – 2009, 2011 and 2013 – helping the United States to victory in the tournament, which pits the United States vs. Great Britain and Ireland (GB&I) in a format similar to the Ryder Cup, in 2009 and 2013.
He is one of just five U.S. Walker Cup alums in the field joined by 2013 teammate Todd White and 2015 team members Scott Harvey, Michael McCoy and Maverick McNealy. There are also three members of the GB&I 2015 team playing: Ewen Ferguson, Grant Forrest and Jack Hume.
Smith, who will turn 38 on the second day of the tournament Tuesday, is on the older side of the competitors at the tournament, where the average age of the field is 22.29 years old. The oldest competitors are Patrick Tallent (63) and Chip Lutz (61), while the youngest are Karl Vilips (14), Edwin Kuang (15), Adam Xiao (15) and James Song (15).
A four-time U.S. Mid-Amateur champion who holds the record for the most match-play victories in that championship, Smith is one of nine competitors at the Amateur from Pennsylvania, which is tied for the seventh-most from a state with Michigan, Ohio and New York. California leads with 40 competitors.
Smith teamed with White to win the 2015 U.S. Amateur Four-Ball title. He also has played in 36 USGA Championships including 15 U.S. Amateurs.
A financial investment advisor, Smith now lives in the Pittsburgh area.
Smith will tee off at 8:40 a.m. Monday and then again at 2:05 p.m. Tuesday.
The first two days of the tournament consist of 36 holes of stroke play after which the field will be reduced to the lowest 64 scores. There will then be six rounds of match play starting Wednesday, Aug. 17. The quarterfinals and semifinals are slated for Aug. 19 and 20 with the championship to conclude with a 36-hole final Saturday, Aug. 21.