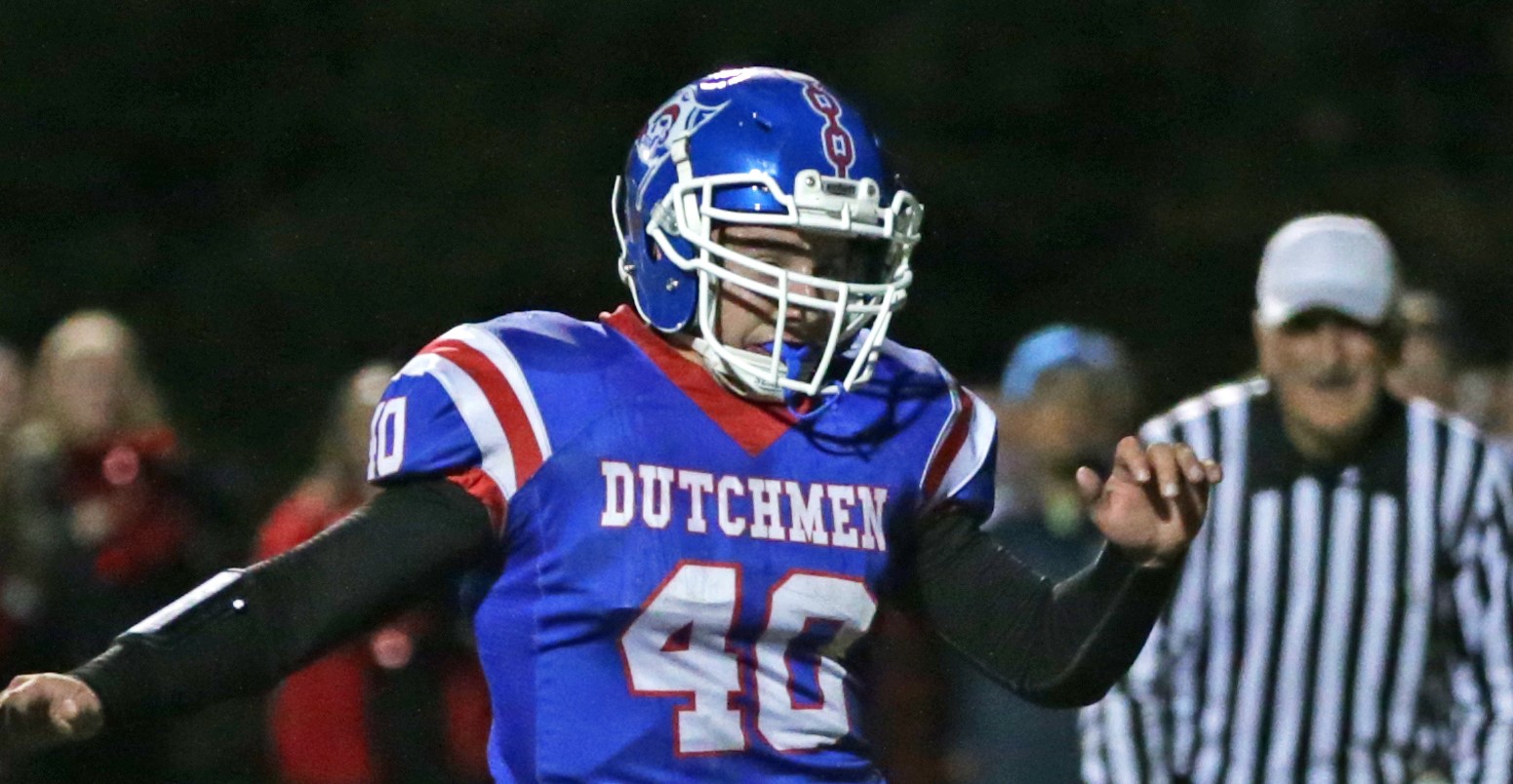 SHIPPENVILLE, Pa. – Cain Pfoutz ran wild in St. Marys' 62-28 win over Franklin Friday night and in the process earned the Week Nine 2019 D9Sports.com District 9 Football Player of the Week award.
(Photo by Paul Burdick. Check out more of Burdick's work here)
Pfoutz ran 24 times for 265 yards and four touchdowns while adding two catches for 36 yards in the victory.
Joining Pfoutz in being honored this week are 15 players on the Week Nine District 9 Honor Roll.
This is the final week of the Player of the Week and the Honor Roll for the 2019 season.
D9SPORTS.COM CO-PLAYERS OF THE WEEK
Cain Pfoutz – St. Marys: 24 carries, 265 yards, 4 touchdowns; 2 catches, 36 yards – St. Marys 62, Franklin 28
D9SPORTS.COM HONOR ROLL
Jon Wood – Brockway: 13-for-19 passing, 172 yards, 2 touchdowns, 1 interception; 23 carries, 159 yards, 2 touchdowns – Brockway 35, Curwensville 14
Jack Krug – Brookville: 21 of 38 passing, 202 yards, 1 touchdown; 11 carries, 104 yards, 1 touchdown – Brookville 35, DuBois 25
Hunter Craddock – Clarion: 4 sacks; 3 catches, 47 yards, 1 touchdown – Clarion 62, James Buchanan 0
Austin Newcomb – Clarion: 4 carries, 106 yards, 3 touchdowns – Clarion 62, James Buchanan 0
Brett Zattoni – Clearfield: 11 carries, 132 yards, 3 touchdowns – Clearfield 51, Bishop Carroll 14
Cam-Ron Hayes – DuBois: 15-for-30 passing, 220 yards, 3 touchdowns, 1 interception; 12 carries, 27 yards – Brookville 35, DuBois 25
Sam Kaul – Elk County Catholic: 25 carries, 169 yards, 2 touchdowns – Elk County Catholic 18, Smethport 0
Hunter Rowe – Karns City: 8 carries, 139 yards, 3 touchdowns – Karns City 35, Titusville 13
Nick Cosper – Keystone: Kicked a school record 37-yard field and went 6-for-6 in extra points – Keystone 45, Moniteau 10
Nick Weaver – Keystone: 12 carries, 187 yards, 3 touchdowns – Keystone 45, Moniteau 10
Ray Shreckengost – Redbank Valley: 12 carries, 107 yards, 3 touchdowns – Redbank Valley 54, Punxsutawney 14
Cam Wagner – Redbank Valley: 14-for-26, 191 yards, 3 touchdowns – Redbank Valley 54, Punxsutawney 14
Paul Gresco – Ridgway: 8-for-9 passing, 158 yards, 2 touchdowns; Kicked a 27-yard field goal – Ridgway 50, Union/A-C Valley 12
Cole Sebastian – Otto-Eldred: 19-for-34 passing, 295 yards, 2 touchdowns; 12 carries, 133 yards, 3 touchdowns – Cowanesque Valley 56, Otto-Eldred 54
Christian Coudriet – St. Marys: 15-for-24 passing, 218 yards, 3 touchdowns; 9 carries, 70 yards, 1 touchdown – St. Marys 62, Franklin 28