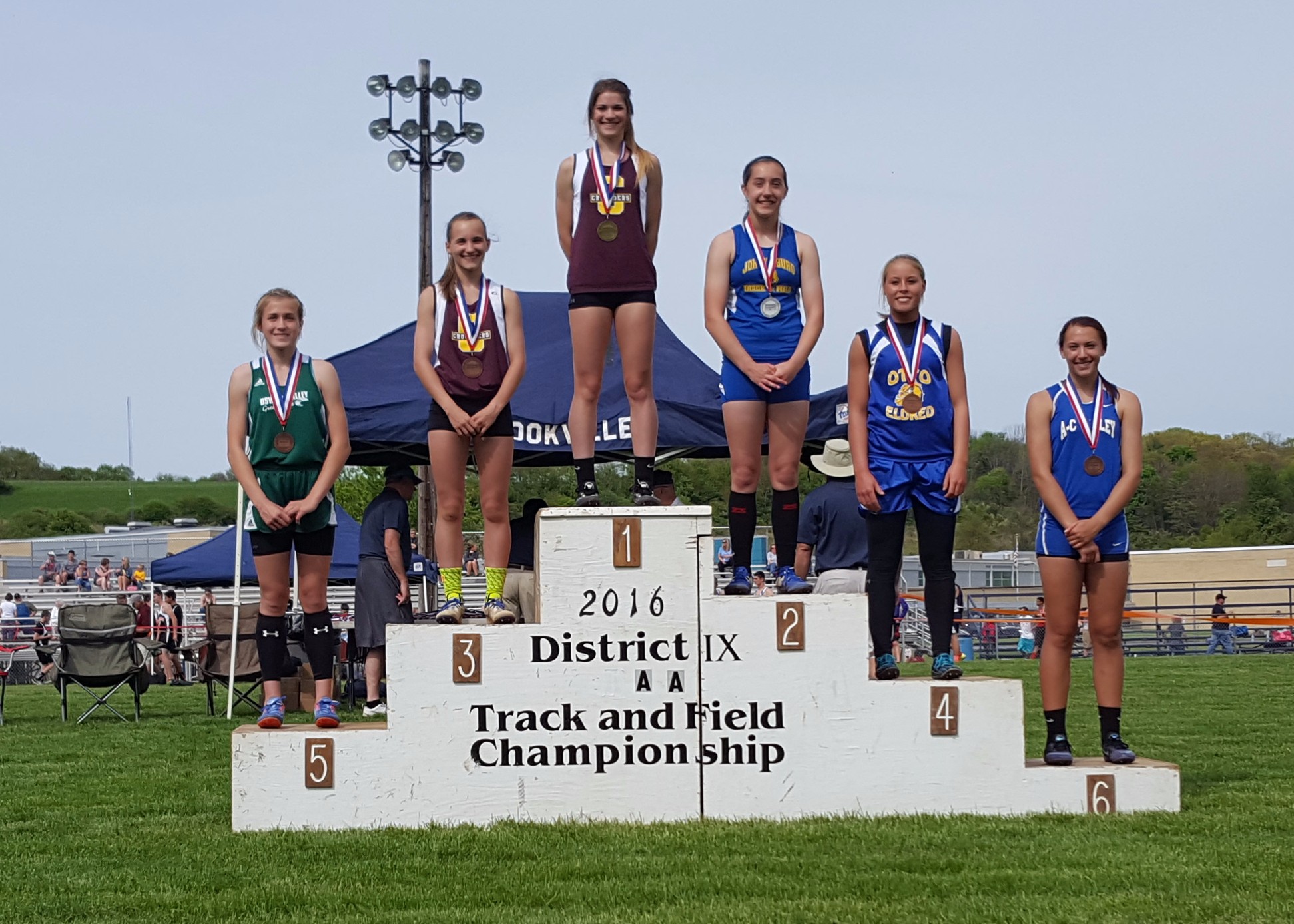 BROOKVILLE, Pa. – Thanks to the effort of James Manners Award winner Gabriella Stewart as the meet's highest scoring competitor, Moniteau took home the 2016 District 9 Class AA girls' track and field title.
The Lady Warriors, who are believed to have won the first title in school history, scored 99 points easily outdistancing second-place Elk County Catholic, which had won the last two titles and 12 of the last 15. The Lady Crusaders finished with 72 points.
Stewart won a pair of events and finished second in two others.
She won the 200-meter dash in a time of 26.60 and the triple jump (36-feet, ¾ of an inch) and took second in the 100-meter dash (12.91) and the 400-meter dash (1:01.01). She is a state qualifier in all four as the top two spots in each event automatically qualify for the state meet.
Maura Kimmell also played a large role in Moniteau's victory as a double winner.
Kimmell set the meet record in the discus with a throw of 144 feet, 7 inches easily surpassing the previous mark of 134-10 set by ECC's Megan Dornish in 2011. Kimmell also won the shot put with a toss of 44-6 ¼.
The discus and the shot put saw one-two finishes for the Lady Warriors with Brittany Lindsay taking second in both events with a toss of 38-5 ¼ in the shot and 115-04 in the discus.
The shot put was a highly competitive event with the third- and fourth-place finishers also qualifying for the state meet.
Coudersport's Lanie Cobb was third with a throw of 37-2 ½ and ECC's Cassidy Cunningham was fourth with a toss of 37-0 ¼.
The javelin also saw a meet record and four state qualifiers.
Defending state champion Brooke Hinderliter broke her own record in winning the event with a toss of 155-01. Last year, she won the district title with a throw of 152-02.
Hinderliter discussed defending her title.
Coudersport's Adrian Page was second (131-02), Kane's Trinity Clark was third (131-02) and Moniteau's Cambrie Campbell was fourth (123-01).
DuBois Central Catholic's Riley Myers joined the Moniteau duo as the only multiple individual winners at the meet taking home both hurdle titles.
Myers won the 100-meter hurdles in a time of 16.20 and the 300-meter hurdles in a time of 47.21
Here is the 100 race at about midrace.
DCC had three champions, as Haley Frey won the high jump with a leap of 5-0.
ECC had three individual winners and a championship relay team as well.
Lauryn Wortman won the 800-meter run (2:26.90), Hannah Lenze took home the 1,600-meter run (5:20.77) and Hannah Wittman won the long jump (17-1 ½).
Lenze's victory in the 1,600 was perhaps one of the most exciting races of the day as she edged Northern Potter's Emma Ford in a photo finish by 2/100 of a second. Ford took second in 5:20.79.
Watch the ending of the race.
Lenze talked about winning a tight race in an event where tight races aren't always the norm.
Lenze was also a member of ECC's winning 4×800 relay team (9:59.71), which also consisted of Kara Detsch, Abby Bonfardin and Wortman.
Northern Potter had a pair of champions with Gracie Hamilton taking home the 400-meter dash crown (1:00.70) and Amanda Ford the 3,200-meter run title (12:05.80).
Johnsonburg's Caitlin Viglione won the always exciting 100-meter dash in a time of 12.78 and was excited afterward.
Viglione had a pair of gold medals, as she ran a leg on the 4×100-meter relay team for the Ramettes that won in a time of 49.93 joining Madeline Cowan, Cassidy King and Amanda Williams.
Viglione also qualified for states in the 200 finishing second (27.71).
Brookville's Mattisen Drake won the pole vault (9-0) and the Kane 4×400-meter relay team of Samantha Bigley, Raehana Pascarella, Galicia Fryzlewicz and Sydney Dyne took home the tile with a time of 4:11.49.
Additional second-place finishers and therefore state qualifiers were Clarion's Forest Madison Mills in the 800 (2:27.81), Cranberry's Samantha Woolcock in the 3,200 (12:11.31), A-C Valley' Emma Fox in the 100 hurdles (16.50), Brookville's Hali Olson in the 300 hurdles (47.83), Moniteau's Alazia Greaves in the high jump (4-10), Keystone's Jessica Cotton, Karns City's Kendall Colwell and Moniteau's Collette Grossman in the pole vault (8-6), King of Johnsonburg in the long jump (17-7 ¼) and Wittman of ECC in the triple jump (35-1 ¾).
Brookville 4×100 relay team of Maley Zents, Brooke Shattenberg, Jillian Taylor and Brooke Hummel was second in a time of 50.72.
ECC's 4×400 relay of Kara Detsch, Maddie Kear, McKayla Wilson and Wortman was second in a time of 4:11.99m and Kane's 4×800 relay of Bigley, Pascarella, Fryzlewicz and Dyne was second in a time of 10:03.80.